Linkages with International Organizations
DE LA SALLE UNIVERSITY PARTNER INSTITUTIONS (Bilateral) AY 2016-2017
COUNTRY

Memorandum of
Agreement

Memorandum of
Understanding

China

4

3

Indonesia

2

2

Hong Kong

0

1

Japan

24

4

Korea

7

0

Nepal

0

2

Malaysia

0

3

Singapore

1

3

Taiwan

4

2

Thailand

5

3

Vietnam

1

2

Myanmar

0

1

Cambodia

0

1

France

4

0

Germany

2

0

Spain

2

0

Northern Cyprus

1

0

Poland

1

0

Netherlands

3

1

UK

0

1

USA

5

4

Brazil

1

0

Canada

1

1

Mexico

1

0

Colombia

1

0

TOTAL

70

34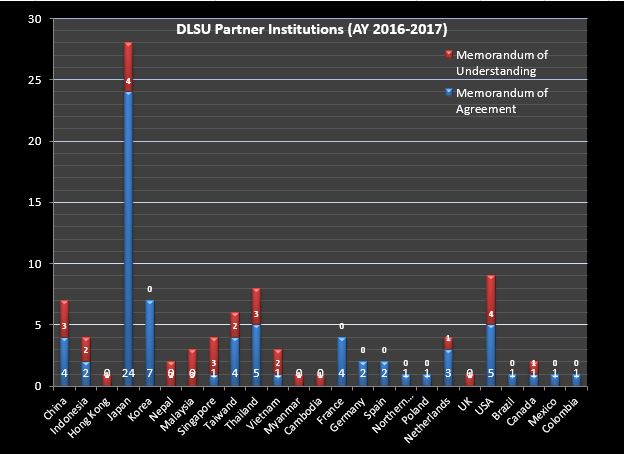 Institutional Partnerships under Multilateral Agreements
ACUCA Association Of Christian Universities And Colleges In Asia
AIMS 7 ASEAN International Mobility For Students 7
ASAIHL Association Of Southeast Asian Institutions Of Higher Learning
ASEAN UNIVERSITY NETWORK +3
AUN-ACTS ASEAN University Network – ASEAN Credit Transfer System
CAREN Center For The Advancement Of Research And Education Exchange Networks In Asia
GE4 Global Education For European Engineers And Entrepreneurs
IALU International Association Of Lasallian Universities
IAUP International Association Of University Presidents
IFCU International Federation Of Catholic Universities
TEMASEK FOUNDATION- Leadership Enrichment And Global Networking Programme
UMAP University Mobility For Asia And The Pacific
UNCOFIN University Cooperation For Internationalisation
ASEAN University Network (AUN); members apart from DLSU
BRUNEI DARUSSALAM

Universiti Brunei Darussalam
CAMBODIA

Royal University of Phnom Penh
Royal University of Law and Economics
INDONESIA

Universitas Airlangga
Universitas Gadjah Mada (Indonesia)
Universitas Indonesia (Indonesia)
Institut Teknologi Bandung (Indonesia)
LAO PDR

National University of Laos
MALAYSIA

Universiti Kebangsaan Malaysia
Universiti Malaya
Universiti Sains Malaysia
Universiti Putra Malaysia
Universiti Utara Malaysia
MYANMAR

Yangon Institute of Economics
University of Yangon
University of Mandalay
PHILIPPINES

University of the Philippines
Ateneo de Manila University
SINGAPORE

National University of Singapore
Nanyang Technological University
Singapore Management University
THAILAND

Burapha University
Chiang Mai University
Chulalongkorn University
Mahidol University
Prince of Songkla University
VIETNAM

Can Tho University
Vietnam National University-Hanoi
Vietnam National University-HCM
ASEAN-China Academic Cooperation and Exchange; members apart from DLSU
ASEAN UNIVERSITIES
Universiti Brunei Darussalam
Royal University of Phnom Penh
Bandung Institute Technology
University of Indonesia
National University of Laos
University of Malaya
University Sains Malaysia
University of the Philippines
National University of Singapore
Burapha University
Chulalongkorn University
Mahidol University
Vietnam National University, Hanoi
Vietnam National University, Ho Chi Minh
CHINESE UNIVERSITIES
Beijing Foreign Studies University
Fudan University
Guangxi University
Hunan University
Kunming University of Science and Technology
Ocean University of China
Peking University
Shandong University
South China University of Technology
Sun Yat-sen University
University of Science and Technology Beijing
Xiamen University
Yunnan Agricultural University
Yunnan Normal University
Yunnan University
Yunnan University of Finance and Economics
ASEAN University Network/Southeast Asia Engineering Education Development Network (AUN/SEEDNET); members apart from DLSU
Universiti Brunei Darussalam
Institute of Technology
Gadjah Mada University
Institut Teknologi Bandung
National University of Laos, acting through its Faculty of Engineering
University of Malaya, acting through its Faculty of Engineering
Universiti Sains Malaysia, acting through its School of Materials and Mineral Resources
University of Yangon
Yangon Technological University
University of the Philippines, acting through its College of Engineering
Nanyang Technological University
National University of Singapore, acting through its Faculty of Engineering
Burapha University
Chulalongkorn University, acting through its Faculty of Engineering
King Mongkut's Institute of Technology
Hanoi University of Technology, acting through its International Cooperation Dept.
Ho Chi Minh City University of Technology
ASEAN University Network Inter-Library Online (AUNILO)
Association of Christian Universities and Colleges in Asia (ACUCA),
56 member schools-including De La Salle University– in 7 countries
Association of Southeast Asian Institutions of Higher Learning (ASAIHL)
Association of Southeast and East Asian Catholic Colleges and Universities (ASEACCU),
45 members including De La Salle University
British Council
International Association of Lasallian Universities
(IALU; 72 members including De La Salle University)
International Association of University Presidents (IAUP)
International Federation of Catholic Universities (IFCU)
United Board for Christian Higher Education in Asia (UBCHEA);
8 partner schools in the Philippines including De La Salle University
University Cooperation for Internationalisation (UNCOFIN); members apart from De La Salle University
Universidad de Alicante
University of Saarland (Germany)
Amsterdam School of International Relations (Holland)
Universiti Sains Malaysia (Malaysia)
University of Indonesia (Indonesia)
University Kebangsaan Malaysia (Malaysia)
Foreign Trade University (Vietnam)
University of Social Sciences and Humanities (Vietnam)
Maharishi Vedic University (Cambodia)
Surindra Rajabhat University (Thailand)
Linkages with International Universities and Research Institutions
AMERICAS
Simon Fraser University, Canada (1994)

Arkansas Tech University

, USA  (1996)
California State University, Hayward, USA  (1995)
Old Dominion University Research Foundation, USA (2008)

Seton Hall University

, USA (1998)
Washington State University, USA (undated)
Universidad La Salle, Mexico (1998)

Universidad La Salle, Noroeste

, Mexico
Centro Universitario La Salle – Unilasalle, Mexico  (2007)
ASIA
Institute of Technology of Cambodia (2007)
Chung Yuan Christian University, Taiwan, ROC (2008)
Feng Chia University, Taiwan, ROC (1993, 2003)
Fujian Vocational College of Children's Education, China  (2008)
National Central University, Taiwan, ROC (2007)
National Ilan University, Taiwan, ROC  (2009)
National Yunlin Polytechnic Institute, ROC (1993)
Shanghai University of Finance & Economics, China  (1992)
Soochow University, Taiwan, ROC
Tamkang University, Taiwan, ROC (1988)
Xiamen University, P.R. China
Maranatha Christian University, Indonesia  (2005)
Universitat Gadjah Mada,  Indonesia (2006)

Doshisha University

, Japan (2003)

Fukouka University

, Japan (2002)
Hokkaido University, Japan  ( 2008)
Ibaraki University, Japan (1997)

Kobe University

, Japan (1999)
Kokushikan University, Japan (1997)

Meijo University

, Japan (2004)

Nihon University

, Japan (2003)
Obihiro University, Japan (2005)
Osaka University, Japan (2003)
Ritsumeikan University,  Japan (1997)
Soka University, Japan (1996)

Tokyo Institute of Technology

, Japan (2003)

Waseda University

, Japan (1988)
Biohitech Co. Ltd., Korea (2009)

Catholic University of Daegu

, Korea (2007)
Catholic University of Korea (2009)
Chung Ju National University, Korea (1996)
Han Nam University, Korea (1998)
Korea Research Society for Customs (2009)
Bethlehem University,  Palestine (2008)
Nanyang Technological University, Singapore (1998)
Burapha University, Thailand (2006)
Chulalongkorn University, Thailand  (2007)

Chung Ju National University

, Thailand (1996)
Thammasat University, Thailand (1995)
University of Malaya, Malaysia  (2007)
Universiti Sains Malaysia, Malaysia (2007)
South Asian Institute of Management, Nepal (2007)
Nepalese Ministry of Education and Sports, National Center for Educational    Development  (2008)
Eastern Mediterranean University, Turkey (2000)
Hanoi University of Technology, Vietnam (2007)
Ho Chi Minh City University of Technology, Vietnam (2007)
EUROPE
Center for International Mobility, Finland (1998)
Ecole d'Ingenieurs Louis de Broglie, France (2008)
L'Institut Polytechnique La Salle Beauvais, France (2008)
Universite Paul Sabatier-Tolouse III, France  (2008)
Freiberg University of Mining and Technology, Germany (1997)
Hochschule Mittweida-University of Applied Sciences, Germany (2004)

Eindhoven University of Technology

, Netherlands (1998)
The Haagse Hogeschool, University of Professional Education, Netherlands (1996)
University of Maastricht, Netherlands (1996)
La Salle Barcelona, Spain (2005)
OCEANIA
Linkage with International Industrial Organizations
BIOHITECH Co., Ltd Of Korea (2009)
Travelbird Scholarship Programme
To apply for this scholarship opportunity, answer the following question: "What has been your most inspirational travel experience?"
Whether it was the scuba diving session in Bali, that incredible dinner in Napoli or the back-breaking hike in North America, we want you tell us about your most inspirational and unforgettable travel experience using old photos, memories and anything else you can think of. There are no limits as to how you can approach the question; indeed, we would actively encourage you to think carefully about and approach the question from as wide, creative or inspiring a perspective as possible! You are also free to choose which format you want to answer the question with, be it a GoPro video, Youtube clip, Vimeo, blog, essay (no less than a 1,000 words please!), graphic, infographic, drawings, pictures, photos, an audio clip — whatever you think works best!
The winner of this scholarship will receive a monetary award of €3,000 to go towards their studies or work placement. They will also qualify for an internship position for 3 to 6 months at ​the ​Travelbird ​H​eadquarters in Amsterdam, Netherlands.This internship will give the student an opportunity to work for an international startup and gain useful and relevant work experience within the industry.
This is open to all current students, 18 years old or over.
The Travelbird Scholarship welcomes all nationalities but only entries in the following languages will be accepted: English, German, Dutch, French, Swedish, Danish, Finnish and Norwegian.​
More information about the scholarship and how to apply can be found here in http://travelbird.co.uk/scholarship/