Welcome to DLSU School of Economics
SOE pioneered many practices now considered standard within the profession: the emphasis on mathematical and econometric training for undergraduates, exposure to evidence-based research and the publication of new knowledge, development of a scientific discourse in Filipino, problem-based learning, and investment in new economic methodology.
Graduates and faculty members of SOE have been recipients of renowned national and international awards and recognition. SOE have been an active participant in economic inquiry and knowledge generation: faculty members actively participate in local and international research gatherings and collaboration, and also appeared in various platforms of media.
Upcoming Events
SOE10 Closing Ceremonies
We cordially invite you to the SOE10 Closing Ceremonies, as we mark the end of our year-long celebrations of our 10th anniversary.
September 17th, 2021, Friday
1000 to 1200 Philippine Standard Time
via Zoom and live stream in the DLSU SOE Facebook page
We hope you can join us as we discuss our country's prospects for and path to economic recovery and resilience, and the roles of the government, academe, civil society, and the private sector.
We look forward to seeing all of you there!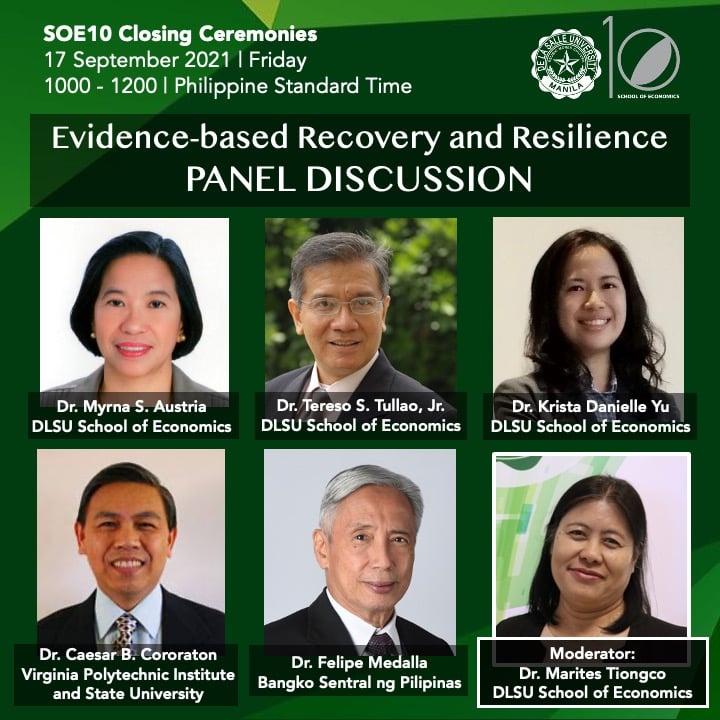 Panel Bios
Rational Choices and Welfare Changes in Philippine Family Energy Demand: Evidence from Family Income and Expenditure Surveys
by 
Jesus C. Dumagan, PhD
Senior Research Fellow, School of Government, Ateneo de Manila University
Affiliate Professor and Scientist-in-Residence, School of Economics, De La Salle University
Michael R. M. Abrigo, PhD
Senior Research Fellow, School of Government, Ateneo de Manila University
Senior Research Fellow, Philippine Institute for Development Studies
August 13th, Friday, 10:00 a.m to 11:30 a.m.
To join, register via:  https://zoom.us/meeting/register/tJUrc-yuqjMuG9fC_iWRAxZXTKNP9LbrBG9F

Abstract
This study found Philippine family demands for (1) electricity, (2) gas and liquid fuels, (3) solid fuels, (4) food, and (5) others—based on Family Income and Expenditure Surveys (FIES) in 2009, 2012, and 2015—are rational (i.e., expenditure-minimizing). Specifically, all own-price elasticities are negative. Cross-price elasticities between (1), (2), and (3) are positive (substitutes) while cross-price elasticities of (1), (2), and (3) with (4) or (5) are mostly negative (generally complements). Income elasticities are positive, except for (3), comprising "fuelwood, charcoal, and biomass residues" that are consumed less at higher incomes. These elasticities yield a Hicks-Slutsky substitution matrix that is symmetric and negative semi-definite—the necessary and sufficient conditions for expenditure minimization—a finding unprecedented in a Philippine demand study. These results validate computing compensating variation (CV) and equivalent variation (EV) that are changes in compensated incomes for restoring welfare after prices change. During 2009-2015, the overall Consumer Price Index increased 3.08 percent annually to which energy price increases contributed 0.23 percentage points, about equal to mid-point CV and EV estimates of welfare losses ranging 0.18 to 0.30 percent of 2009 total expenditures. However, improved household energy end-use efficiency by "waste" reduction compensated the above welfare losses even without increasing total expenditures or investing in efficiency improvements.
Bios:
Dr. Jesus C. Dumagan is Affiliate Professor & Scientist-in-Residence, School of Economics, De La Salle University, Manila.  Before his US graduate studies, he taught at the University of the Philippines, Diliman and Ateneo de Manila University, Quezon City.  He obtained his M.A. from the University of Minnesota (Minneapolis, MN) on a Fulbright-Hays Fellowship and his Ph.D. from Cornell University (Ithaca, NY) where he was elected to the Phi Kappa Phi international honor society.  In Washington, DC he worked for the US Department of Agriculture (1991-95) and the US Department of Commerce (1995-2005) where he retired as Senior Economist.  In 2008, he joined the Philippine Institute for Development Studies as Visiting Senior Research Fellow and in 2014 joined the School of Economics, DLSU-Manila as Visiting Professor.  His areas of interest are demand analysis, welfare measurement, and productivity analysis.  He has published and refereed papers in international journals (Applied Economics, Economics Letters, Economic Modelling, Energy Economics, Journal of Productivity Analysis, Resource and Energy Economics, and Review of Income and Wealth) and is on the editorial boards of DLSU Business & Economics Review and Philippine Journal of Development.  He is an occasional consultant and resource person to local and international economic organizations.
Michael R.M. Abrigo is a Senior Research Fellow at the Philippine Institute for Development Studies, where he studies the welfare implications of population dynamics and health policies, among others. He is also a Senior Research Fellow at the Luzon Clean Energy Living Laboratories at the Ateneo de Manila University School of Government. He has published numerous academic papers in journals such as Stata Journal, Public Finance Review, National Tax Journal, Lancet, and Nature. He obtained his MA and PhD in Economics degrees from the University of Hawai`i, and his BA (magna cum laude) and Master of Statistics degrees from the University of the Philippines.
The full paper can be accessed at: https://papers.ssrn.com/sol3/papers.cfm?abstract_id=3837066.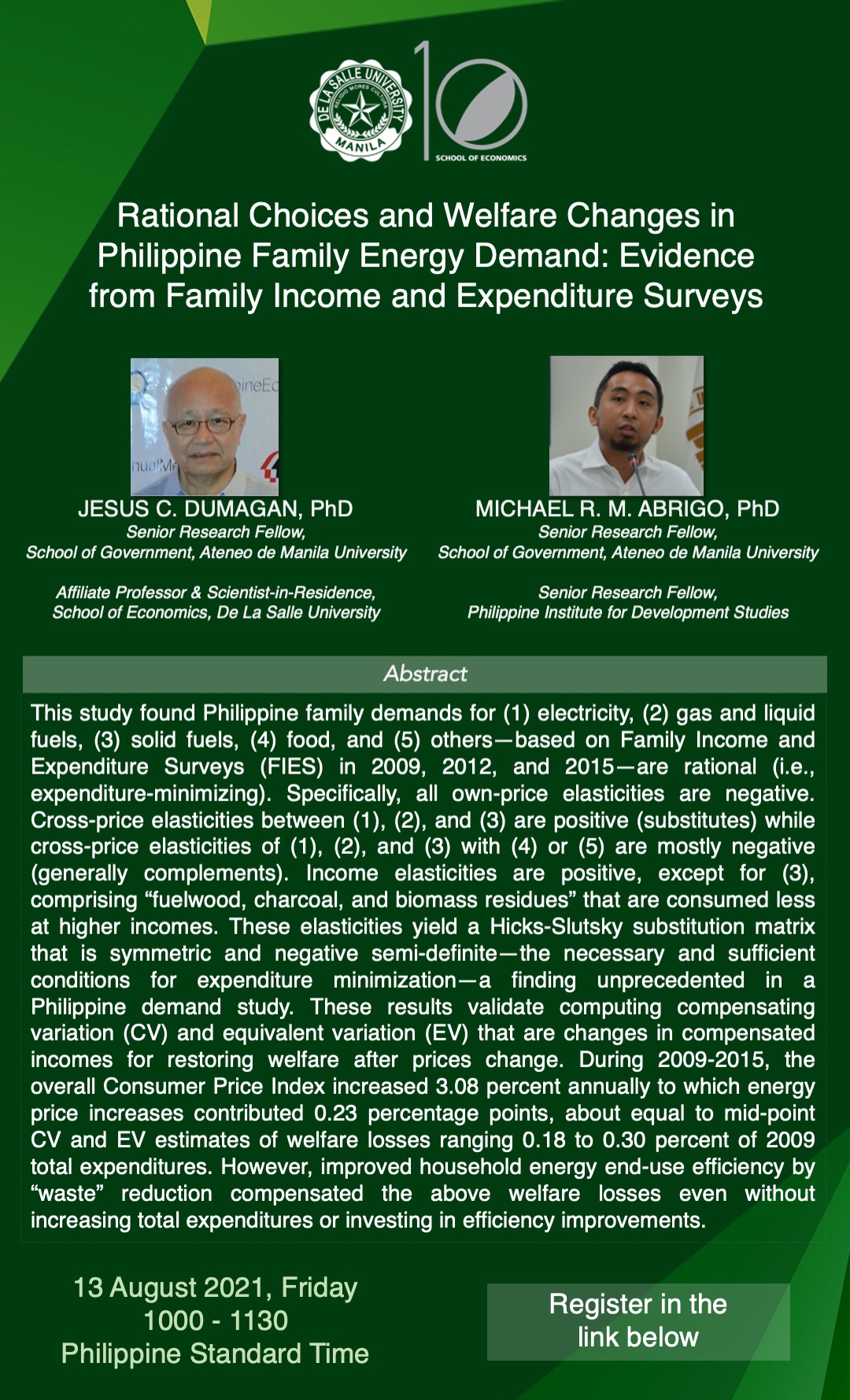 Resurgence of Bundling Mechanisms in Digital Services Trade
Speaker:
Tereso S. Tullao, Jr., Ph.D.
Br. Vincenzo Dela Croce Professorial Chair in Business Economics
Date and Time: 09 July 2021, Friday, 10:00 a.m. – 11:30 a.m.
Professor TERESO S. TULLAO, JR. is a University Fellow, Adjunct Professor of Economics, and the Director of the Angelo King Institute for Economic and Business Studies. He is also the Editor-in-Chief of the DLSU Business and Economics Review. He was former Dean of the College of Business and Economics (CBE) at De La Salle University (DLSU). He has been teaching for more than four decades at DLSU. He was visiting professor and scholar at various institutions in Japan, USA, China, Thailand, France, and Laos. As a researcher, he has published several articles, monographs, and books in Filipino and English in the fields of economics of education, trade in services, movement of natural persons, migration and remittances.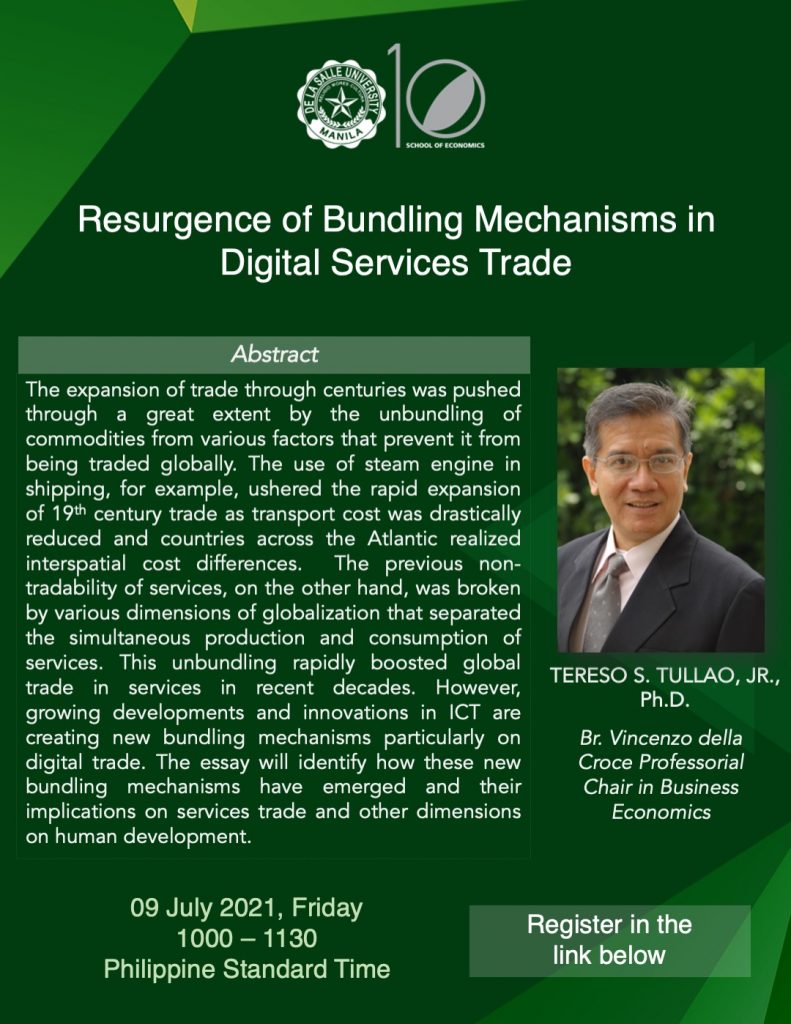 Does formalization make a difference in small-scale gold mining? 
Maria Eugenia Robles Mengoa
Boris Verbrugge
Sara Geenen
Policy makers and governments have looked at formalization as a remedy for several of the social  and environmental challenges associated with informal and illegal mining. Around the globe, formal  and certified small-scale mining companies have been portrayed as exemplary cases providing decent  working conditions, diminishing environmental damage and avoiding conflict with local population.  Yet this overly optimistic view of formal small-scale mining conceals the fact that it replicates rather  than alleviates some of these challenges. We collected both quantitative and qualitative data on  labor conditions in formal and informal mines in the province of Agusan del Sur, the Philippines. More  specifically, we study similarities and differences at the level of the composition of the workforce,  payment systems, and health and safety conditions. The findings show that formal mining replicates  some of the structural disadvantages faced by workers at the lower end of the labor hierarchy. They  also demonstrate a preference for informal revenue-sharing systems. Based on these findings, we  discuss key challenges and possible improvements for formalization policies. 
Boris Verbrugge is a senior researcher at HIVA-KU Leuven. He specializes in decent work challenges  in global value chains, and in whether different governance initiatives (e.g. certification,  formalization, due diligence) make a difference for workers and small firms that vitally depend on  these value chains. Boris is currently involved in action research on together with companies and  public actors, attempting to develop supply chain policies that are both feasible (for companies) and  effective in realizing impact throughout the supply chain. 
Sara Geenen is an assistant professor in International Development, Globalization and Poverty at  the Institute of Development Policy (IOB), University of Antwerp, Belgium. She is co-director of the  Centre d'Expertise en Gestion Minière (CEGEMI) at the Université Catholique de Bukavu, Democratic  Republic of Congo (DRC). Her current research interests lie in the global and local development  dimensions of extractivist projects, addressing questions about more socially responsible and  inclusive forms of globalization. She is the principal investigator in the InForMining project which is  funded by the Research Foundation Flanders (FWO). 
Maria Eugenia Robles is a PhD Candidate in development studies at the Institute of Development  Policy (IOB), University of Antwerp, Belgium. She is part of the InforMining Project, together with  Sara Geenen and Boris Verbrugge. Her current research aims to understand global to local  connections, labor relations and commercialization in artisanal and small-scale gold mining (ASGM)  by looking at the cases of Colombia, Peru and the Philippines. She is also interested in the topics of  health, gender relations and gender-based violence in ASGM.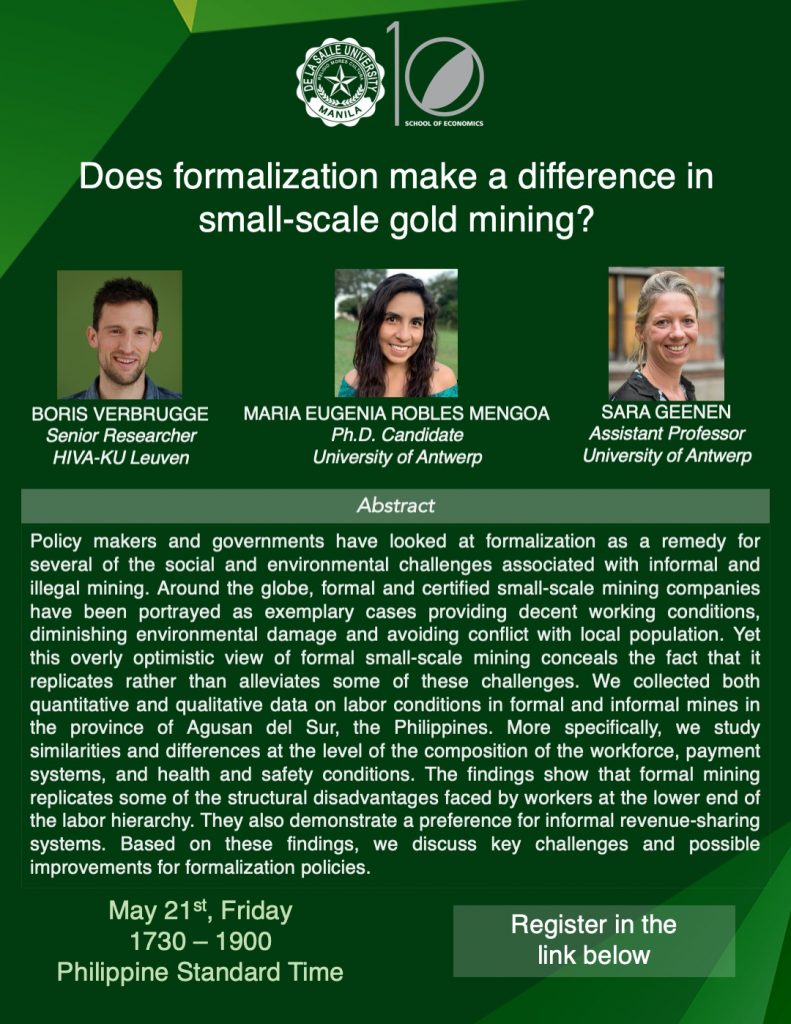 Endogeneity bias and other problems in the estimation of production functions
by
Jesus Felipe, Ph.D. 
Asian Development Bank (ADB) Advisor
Economic Research and Regional Cooperation Department 
Date: May 7th, Friday, 1:00 p.m to 2:30 p.m. 
Abstract: 
The possible endogeneity of labor and capital in production functions, and the consequent bias  of the estimated elasticities, has been discussed and addressed in the literature in different  ways since the 1940s. This paper revisits a very much neglected argument, first outlined in the  1950s, that questioned the usefulness of production function estimations. It has implications for  understanding and solving the potential problem of regressors' endogeneity. The argument is  that the series of output, employment and capital used in empirical exercises are linked through  a distribution accounting identity. This identity can be rewritten as a form that resembles  exactly a production function (Cobb-Douglas, CES, translog). This happens because the series  used are not physical quantities (for output and capital) but value data. The argument has clear  predictions about the size of the factor elasticities and about the bias of the estimated  elasticities. To test these predictions, we estimate a typical Cobb-Douglas function with five  estimators and show that the identity is responsible for the fact that the elasticities are often  close to the factor shares. We also show that the bias of the estimated elasticities is, in reality,  caused by the omission of a term in the identity. Estimation methods that theoretically deal with  endogeneity, including the most recent ones, cannot not solve this problem. It is concluded that  the use of value rather than physical data poses an insoluble problem for the estimation of  production functions. This is, consequently, far more serious than any supposed endogeneity  problems.  
Bio: 
Jesus Felipe has been Advisor in the Asian Development Bank's Economic Research and  Regional Cooperation Department since 2012. He has been with ADB since 1996, and he is a  member of the Editorial Board, as well as the Managing Editor of the Asian Development  Review.
He has also held academic positions with the Georgia Institute of Technology and the Hong  Kong University of Science and Technology. He holds a Ph.D. from the University of  Pennsylvania. 
His research interests spread across areas such as long-run growth in Asia, the dynamics of  structural transformation, industrial policy, inclusive growth and full employment, the impact of  technology on employment, productivity, technological progress, the functional distribution of  income, business cycles, and the path of profit rates.  
He has published extensively in academic journals on different aspects of Asia's development,  productivity and structural transformation; as well as books on labor markets, structural  transformation, industrial policy and the foundations of the aggregate production function. 
Jesus Felipe is a national of Spain, but has lived most of his life abroad, in Asia in particular (a  continent that he has travelled extensively), and most of it in the Philippines (since 1996).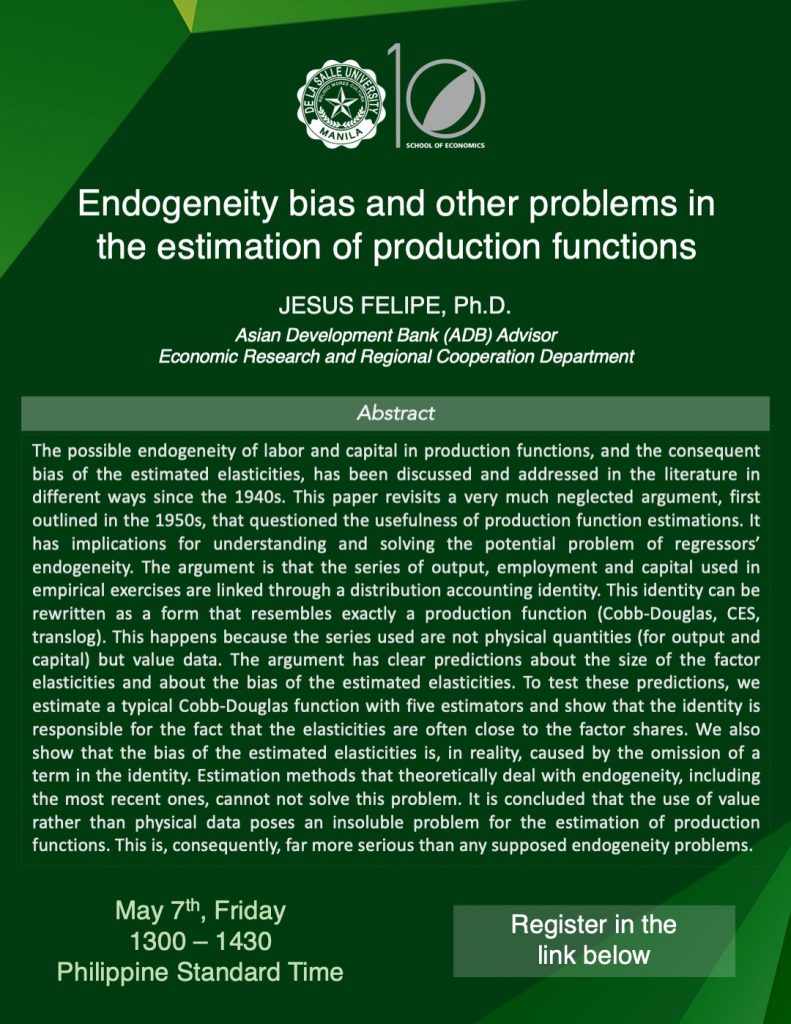 Unemployment insurance and moral hazard in equilibrium 
Nikolaos Kokonas, Ph.D.
University of Bath 
Paulo Santos Monteiro, Ph.D.
University of York 
Date: April 23rd, Friday, 4:00 p.m to 5:30 p.m. 
Abstract: 
We study optimal unemployment insurance in an economy with heterogeneous agents,  in which markets are complete but moral hazard restricts the set of incentive compatible  competitive equilibrium allocations. We show that in such an environment generous  benefits may be optimal even when the resulting disincentive effects from moral hazard  far exceed the measured private value of additional insurance. The reason is that in  equilibrium the macro elasticity of effort is zero, even for an arbitrarily large micro  elasticity of unemployment duration to insurance benefits extension. 
Speaker's Bio: 
Nikolaos Kokonas joined the Department of Economics at the University of Bath in  September 2013 as a Lecturer (Assistant Professor). Nikolaos completed his PhD at the  University of Warwick in June 2013. His interests lie in the areas of Macroeconomics and  Labour markets.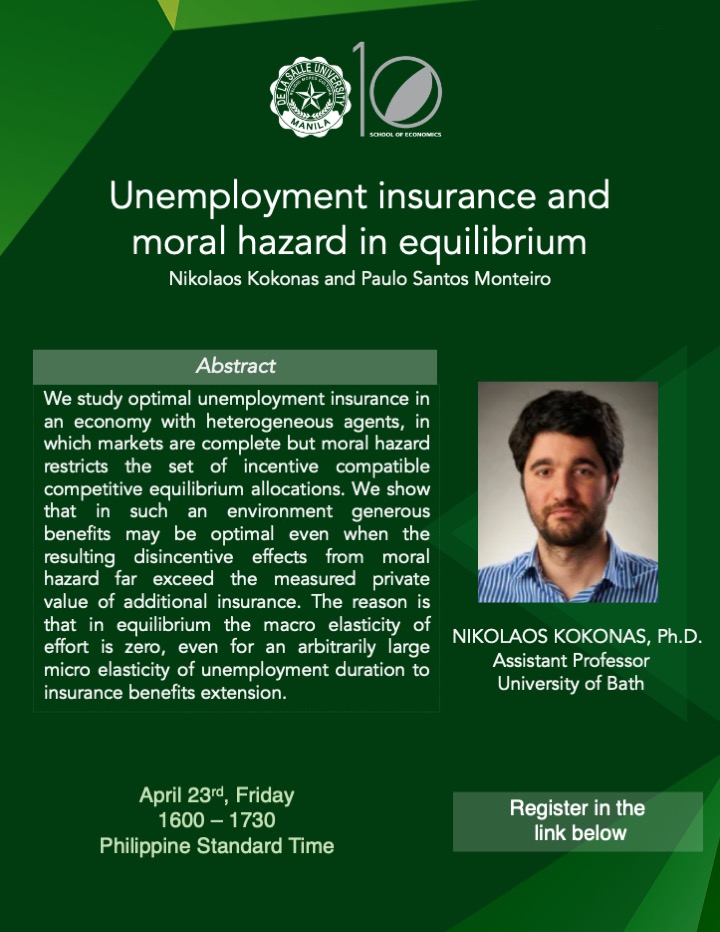 The Linear Probability Model and Its Discontents 
by 
Andrew Pua, PhD 
Xiamen University 
Date: March 19th, Friday, 10:00 a.m to 11:30 a.m. 
To join, register via 
https://zoom.us/meeting/register/tJModO2ppz4oGd0WVrgTcDTZea7z_3gbZ8Ku
Abstract: 
The temptation to use straightforward and readily available methods is very strong,  especially if we desire immediate answers to research questions. An example showing up  often in applied work is to determine marginal effects in a panel setting with binary  outcomes, which naturally leads to a default procedure of using a linear probability model  with fixed effects and sometimes with dynamics. I give a set of pros and cons of this  procedure and conclude that this procedure should be treated with caution. I also show  that there exist certain DGPs that can push the large-n, fixed-T limits of these estimators  outside the identified set for the true average marginal effect. The only good news is that  nonparametrically testing the point null of zero first-order state dependence is possible  with default routines. Unfortunately, this nonparametric test can have low power. 
Bio: 
Andrew Pua is an Assistant Professor of Quantitative Economics at the Wang Yanan  Institute of Studies in Economics and at the Department of Statistics of Xiamen University.  He is also the current director of the International Graduate Programs in Economics at  these institutions. His research interests are broadly in econometrics but has mainly  worked on providing theory for existing practices in econometrics and for providing  practical procedures that would hopefully be of use to applied economic research. He is  no stranger to double degrees as he received his PhD in Economics from the University  of Amsterdam and the Université Catholique de Louvain in 2016, his Master in 
Quantitative Economics from the Université Paris 1 and Universität Bielefeld, and his AB  in Economics and BS in Accountancy from De La Salle University.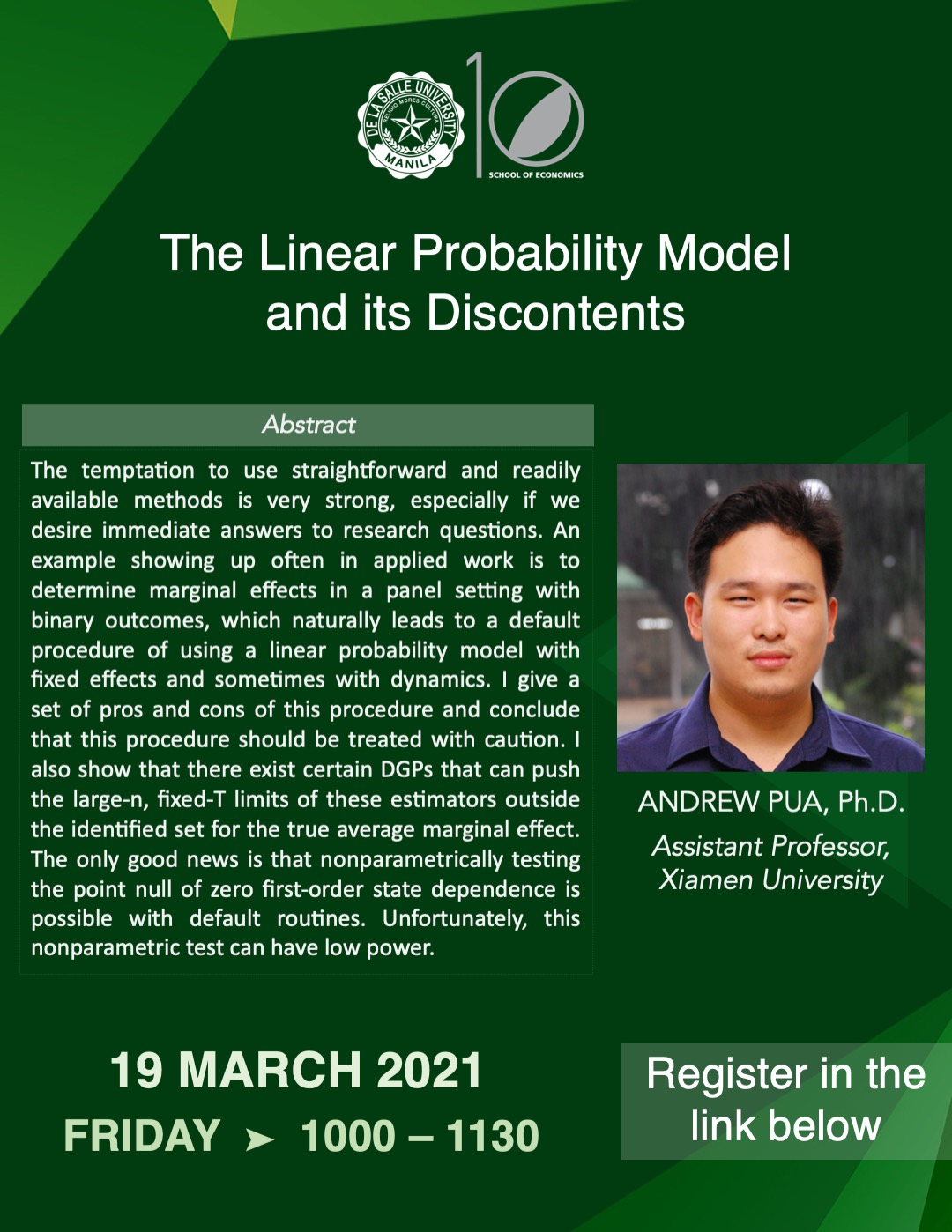 Philippine Growth and the  Balance of Payments Constraint 
Jesus Felipe
Asian Development Bank 
Date: February 5, 2021, 1:00 pm – 2:30 pm
The presentation provides an analysis of the Philippine long-term  growth rate. It is argued that the country's main constraint on growth  is the need to maintain a healthy current account on the balance of  payments. This is because most countries (certainly developing  countries) cannot run current account deficits permanently. We derive  the balance-of-payments equilibrium (BOPE) growth rate of the  Philippines by estimating time-varying coefficients of the price and  income elasticities of the demands for exports and imports. We show  that the estimated BOPE growth rate tracks well Philippine actual  growth. We disaggregate it into its components and analyze their  relevance for policy. We conclude with a discussion of what the  Philippines needs to do if it wants to return to the high growth rates  experienced during 2010-2019.
Non-Tariff Measures and Their Impacts on ASEAN Economic Integration
by Professor Myrna S. Austria
DLSU School of Economics
Abstract:
Using a gravity model that accounts for the asymmetric effects of non-tariff measures (NTMs), the study examined the impact of the five (5) most prevalent NTMs in the region on intra-ASEAN imports. The study found that all five NTMs are significant factors affecting intra-ASEAN imports. However, their effects vary at the sectoral level, by pairs of trading partners, and by MRA status. For example, sanitary and phytosanitary (SPS) measures, in general, negatively affect imports and are trade-reducing. Exceptions are prepared foodstuff and medicinal products, both of which are covered by MRAs & harmonization agreements among the ASEAN. The positive effects of SPS measures on these two sectors provide evidence that measures that assure consumer safety and protection, while they could increase costs and price, increase consumer trust and hence, promote trade. Also, technical barriers to trade (TBT) measures are also deterrent to imports, in general. However, they are found to promote imports and are trade-enhancing for products covered by MRAs and harmonization agreements such as electrical machinery and equipment, prepared foodstuff, telecommunications equipment, and medical devices. The study also found that regulatory distance between ASEAN Member States (AMS) contributes positively to the effects of SPS and TBT. This means that in instances when an SPS or TBT measure is a deterrent to imports, regulatory distance lessens the negative effects.
Bio:
Dr. Myrna S. Austria is a University Fellow and Full Professor at the School of Economics, De La Salle University (DLSU). Her areas of specialization include: trade, investment and industrial policy, development economics, competition policy, and regional economic integration. She has published journal articles, monographs, chapters in books and policy briefs along these areas. She earned both her Master degree and Doctor of Philosophy in Economics at The Australian National University. She has served De La Salle University in various capacities: Vice-Chancellor for Academics (May 2010–July 2015); Dean of the College of Business & Economics (May 2006-May 2010); and Director for the Center for Business and Economics Research and Development (January 2003- May 2006). She has assessed several top universities in ASEAN as Chief and Lead Quality Assurance Assessor under the ASEAN University Network (AUN).

Prior to joining the academe, she was a Senior Research Fellow at the Philippine Institute for Development Studies (PIDS), and Director of the Philippine APEC Study Center Network (PASCN) Secretariat. She was also involved in regional economic planning during her stint with the National Economic and Development Authority (NEDA). She has done consultancy work with international agencies such as the World Bank (WB), Asian Development Bank (ADB), International Development Research Centre (IDRC-Canada), U.S. Agency for International Development (USAID), APEC Business Advisory Council (ABAC), Regional Economic Policy Support Facility (REPSF) of the ASEAN-Australia Development Cooperation Program, and the Economic Research Institute for ASEAN and East Asia (ERIA).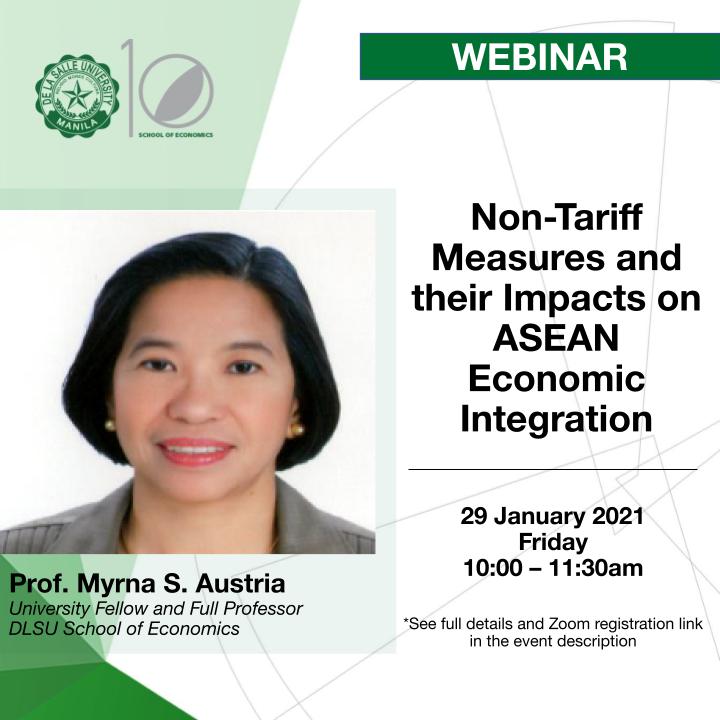 Automation, Tasks, and Wages 
by Professor Daron Acemoglu 
Massachusetts Institute of Technology 
The lecture will feature Prof Daron Acemoglu's body of theoretical and empirical work on automation, artificial intelligence or robots. He will also discuss policy implications for consideration especially within the context of shifting labor market dynamics. 
Daron Acemoglu is an Institute Professor at MIT and an elected fellow of the National Academy of Sciences, the American Academy of Arts and Sciences, the Econometric Society, and the Society of Labor Economists. His academic work covers a wide range of areas, including political economy, economic development, economic growth, inequality, labor economics, and economics of networks. He is the author of five books, including Why Nations Fail: Power, Prosperity, and Poverty and The Narrow Corridor: States, Societies, and the Fate of Liberty (both with James A. Robinson). 
Acemoglu has received numerous awards and prizes, including the Carnegie Fellowship in 2017, the Jean-Jacques Laffont Prize in 2018, and the Global Economy Prize in 2019. He was awarded the John Bates Clark Medal in 2005, the Erwin Plein Nemmers Prize in 2012, and the 2016 BBVA Frontiers of Knowledge Award.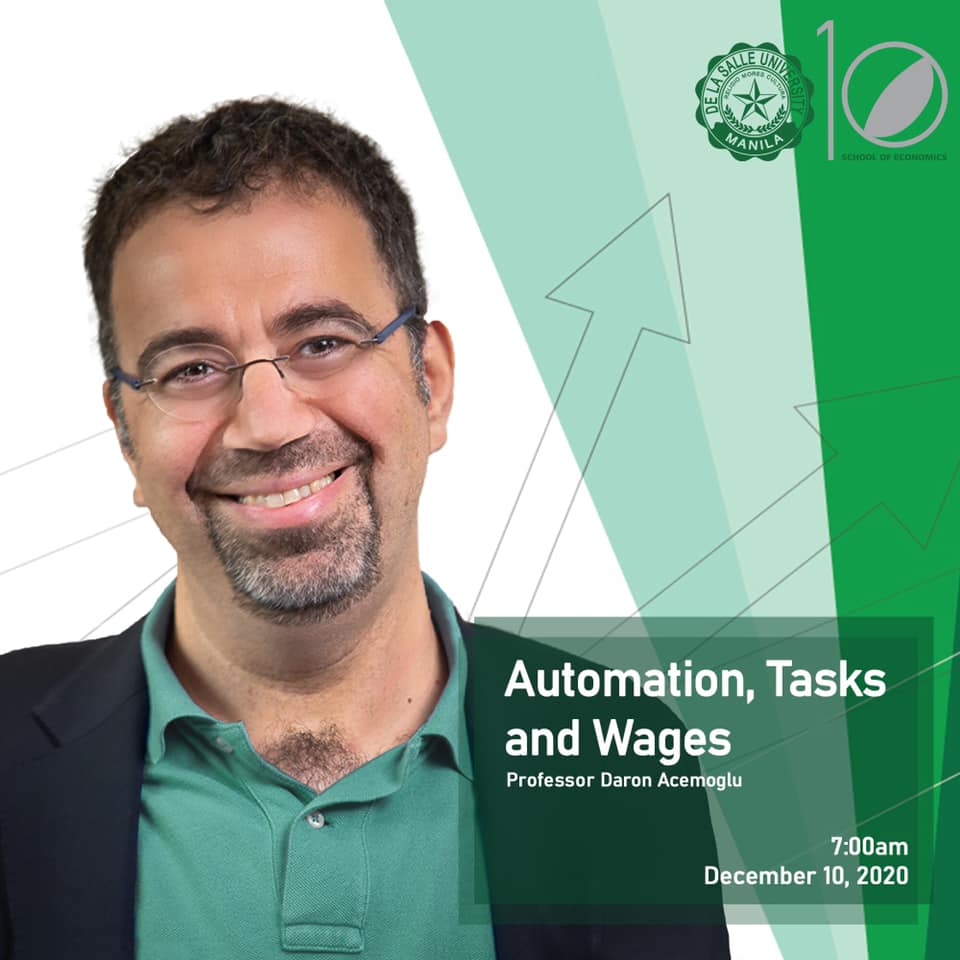 Making Social Cost Salient: A Natural Field Experiment 
by Prof Yohanes Eko Riyanto
Nanyang Technological University 
Abstract: 
We report findings from a natural field experiment conducted in a university where staff  members order stationeries for work-related purposes online, and the university bears  the cost entirely. We randomize staff members into a treatment and a control group. Only  the former observes the cost information in the online ordering interface. We find that  displaying the social cost did not change the ordering frequency, nor the quantity of  requested items conditional on the items being ordered (the intensive margin), but did  reduce the variety of items ordered (the extensive margin). Overall, the intervention led  to around 27% reduction in the quantity of stationery consumption, saving considerable  cost for the university. Thus, individuals at least partially internalize the external effects  of their actions when the social cost is made salient. 
Bio: 
Professor Yohanes Eko Riyanto joined the Division of Economics, School of Humanities  and Social Sciences NTU in July 2009. Previously he was with the Department of  Economics, Faculty of Arts and Social Sciences NUS. Prior to that, he was a postdoctoral  fellow at the Department of Economics of the University of Groningen in the Netherlands.  He obtained his Ph.D. in Economics from the Catholic University of Louvain/ Katholieke  Universiteit Leuven (Leuven-Belgium). His research focuses on Experimental and  Behavioral Economics topics. He has published his research in leading international  refereed journals such as Journal of Finance, International Economic Review, Review of  Economics and Statistics, European Economic Review, Experimental Economics, and  Journal of Economic Behavior and Organization (JEBO). He is an Associate Editor of JEBO. 
He teaches Behavioral Economics and Microeconomics courses at both undergraduate  and graduate-level at Nanyang Technological University.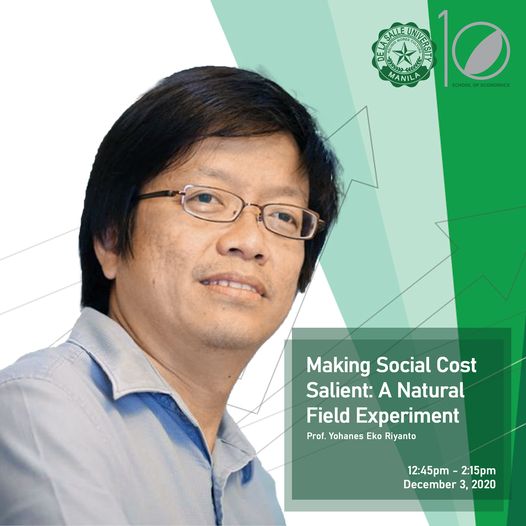 The Linkage between shared Prosperity, Labor markets, and Social Programs Explained 
by Prof Nanak Kakwani 
Summary: 
Every economy produces thousands of goods and services in a day. GDP is the monetary value of all goods and services produced in the economy. The population ultimately consumes the output so made in the economy. Individuals' entitlement to consumption may depend on their contribution to production. Income is a composite measure of people's entitlement, which they exchange for goods and services. People contribute to production through labor markets that provide them income, which is rewarded to them through employment. At times, people also get income through public and private transfers. Many governments have social welfare programs through which cash transfers are made to families to reduce poverty and income inequality. 
This lecture provides a linkage between income inequality, labor markets, and social welfare programs. How much is the impact of labor markets and social safety net programs on income inequality? I measure these impacts using the real-world data obtained from Brazil. 
My main aim is to explore the causes of a significant inequality reduction in Brazil between 2001 and 2012.The methodology presented in the lecture applies to any country, which has the appropriate data. 
Bio: 
Nanak Kakwani is currently a visiting Professor of Economics in China Institute for Income Distribution at Beijing Normal University. He has been a Professor of Economics for 30 years at the University of New South Wales in Sydney, Australia, and until 2006 was Principal Researcher and Director at United Nations Development Programme's International Policy Centre for Inclusive Growth in Brazil.
His research areas include poverty, inequality, pro-poor growth, taxation, public policies, and human development. He has published more than 100 articles in leading international journals (including nine papers in Econometrica) and five books. He was an elected fellow of the Australian Research Committee of Social Science, and has been awarded the Mahalanobis gold medal for outstanding contribution in quantitative economics. He is well known for the Kakwani Index, which has been a standard measure for progressivity for taxation and other social intervention.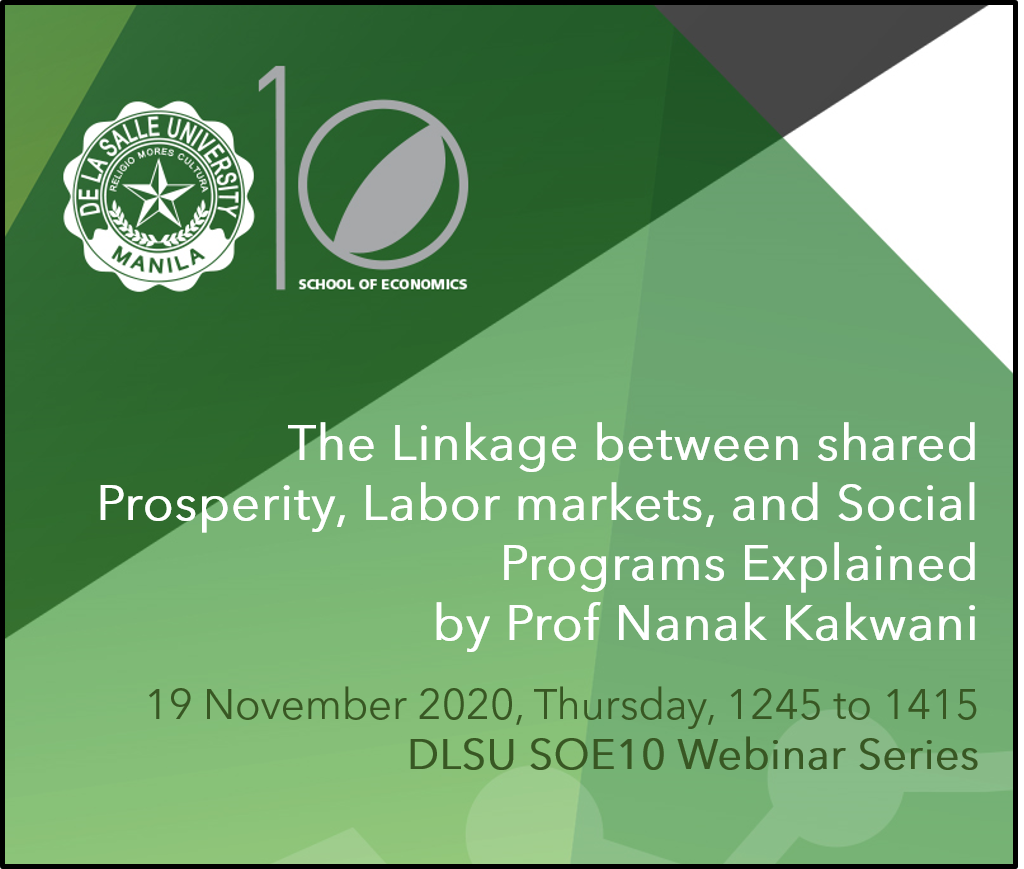 The School of Economics
is having year-long celebrations for its tenth anniversary
and we would like to
cordially invite you to the
opening ceremonies
on November 6th, Friday, 10:15 a.m. to 12 noon
and 1:00 to 2:00 p.m. (for ID120)
Attached is the program.
For the morning session, 10:15 a.m. to 12 noon: 
For faculty, administrators, and staff, kindly register via this link: https://zoom.us/meeting/register/tJAlcOCgrzssEtFQAFJp779UOUKzTQtm0T-x
For students, kindly follow our page on FB for details on the livestream: 
https://www.facebook.com/dlsusoe
Contact: [email protected], [email protected] 
For the afternoon session, 1:00 to 2:00 p.m. for SOE students with ID120:
Kindly register via this link: https://bit.ly/SOEireeFroshID120
Contact: [email protected], [email protected] 
Thank you!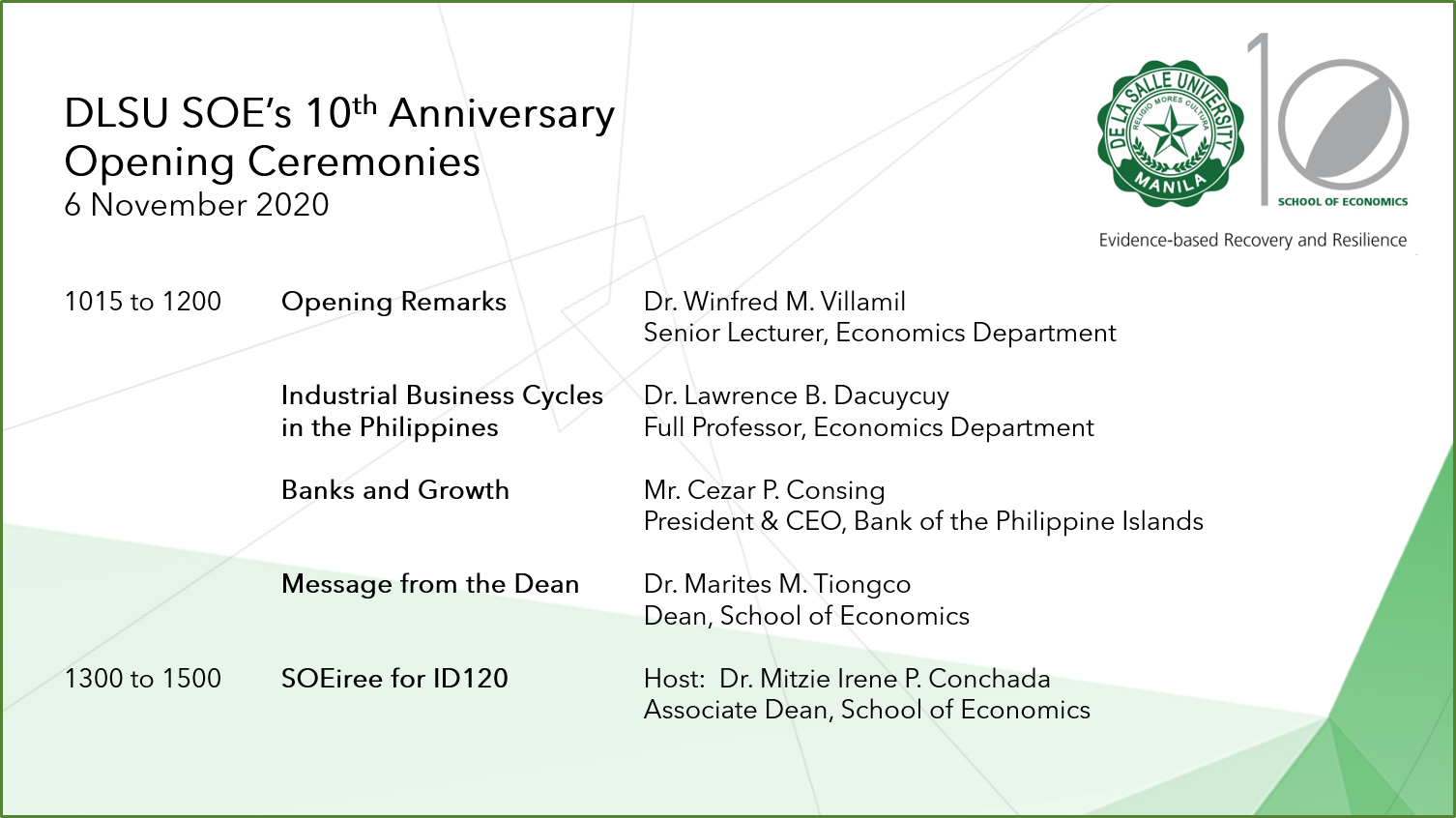 School of Economics (LS221)
Ms. Myra Legazpi (Secretary to the Dean)
Trunkline: +632 5244611 local 380
Telefax:  +632 5264905
Economics Department (LS207)
Ms. Leslie Paule (Department Secretary)
Trunkline: +632 5244611 local 137
Direct Line: +632 3030867
DLSU School of Economics video presentation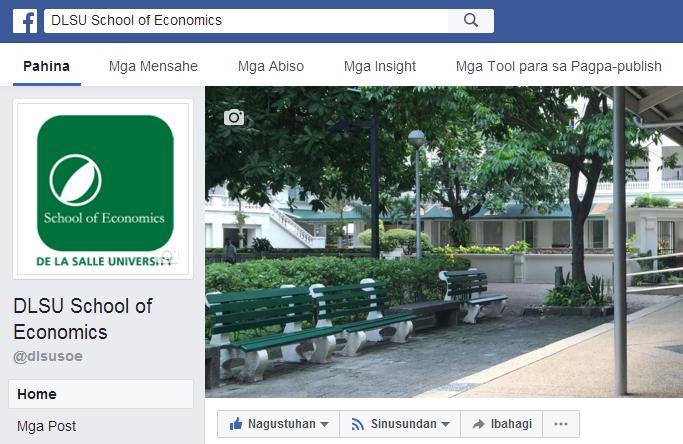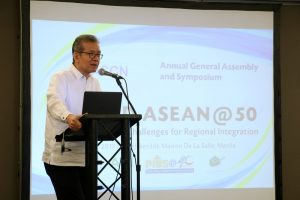 History
​​Five decades of Lasallian presence and leadership in economics education

Faculty
​​Regular faculty, lecturers, university fellows, affiliate and visiting professors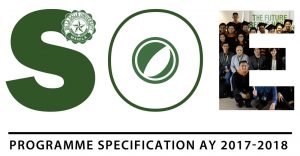 Courses
​​Undergraduate and postgraduate degree programs, guidelines


Seminars
​​Brownbag lectures, presentations, workshops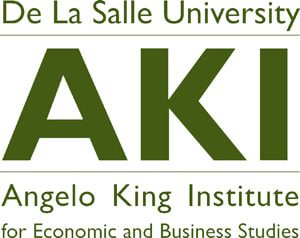 Angelo King Institute
​​Research themes, institutional tie-ups and partnerships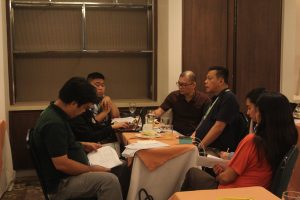 Communities
​​Professional learning communities, discussion groups, research groups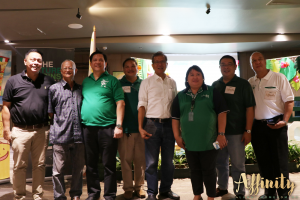 Alumni
​​Economics graduates in the government, industry, research


Senior HS
​​Course offerings, institutional tie-ups, instruction materials

School of Economics
De La Salle University
St La Salle Hall, De La Salle University 2401 Taft Avenue, Malate 1004, Manila, Philippines
Website since 18 July 2015. All rights reserved.