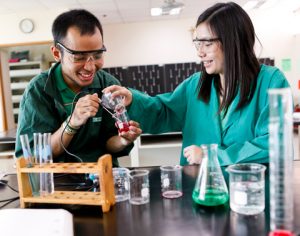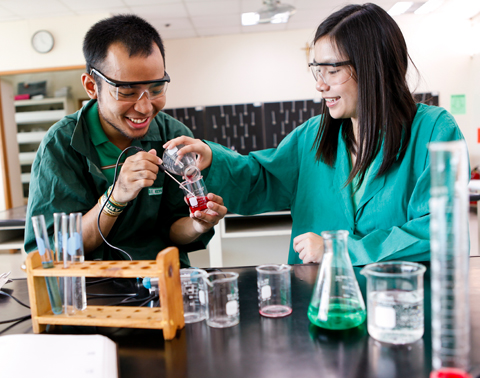 The DLSU Chemistry Department, with the support of the College of Science and the University, has been, for many years, a significant contributor to chemical education and research in the country.
All of the department's programs are regularly updated based on inputs from different stakeholders and compliance with national and international standards. Pedagogy and research go hand – in – hand to mold students into competent professionals with imbued Christian values and lifelong abilities to offer service and leadership, committed to the responsible practice of chemistry.
The department offers a range of chemistry degree programs at the graduate and undergraduate levels. The undergraduate curricula – BS Chemistry, BS Chemistry minor in Business, BS Biochemistry – are designed to suit individual interests and to develop and reinforce in students the fundamental and practical knowledge and skills to enhance their employability and thus their ability to contribute to the country. Many of our graduates pursue advanced studies in chemistry and related fields or venture into courses such as medicine and even those not stereotypically linked to chemistry. They are in an excellent position to choose from a wide variety of interesting, useful and rewarding careers and eventually assume professional positions in the academe, industry and government; others are able to create jobs through the vast market of consumer goods.
The department also offers opportunities for graduate study in different areas of chemistry through the Doctor of Philosophy (PhD) in Chemistry, Straight PhD Chemistry, Master of Science (MS) in Chemistry programs and, in collaboration with the Osaka University in Japan, will now implement a Double Degree PhD Chemistry.
5th Floor, William Hall
2401 Taft Avenue
1004 Manila, Philippines
Tel. Nos.: (632) 536-0230 (direct line)
or (632) 524-4611 loc. 430 (trunk line)
Email: [email protected]