Department Awards
DLSU consistently belongs to the Top Performing Schools in the Civil Engineer Board Exams: with 50 or more examinees passed and with at least 80% overall passing percentage courtesy of Professional Regulation Commission (PRC).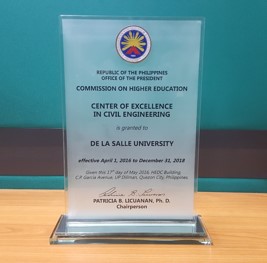 The Department of Civil Engineering is consistently recognized by the Commission on Higher Education (CHED) as a Center of Excellence.
Student Awards
[L-R] DLSU Civil Engineering Board Exams Topnotchers: Engr. Victor Torres Top 4 May 2014, Engr. Paul Alvarez Top 5 May 2014, Engr. Arnel Telan Top 6 May 2014, Engr. Syrus Gomari Top 9 May 2014, and Engr. Janssen Valbuena Top 2 May 2015.
L-R] Philippine Institute of Civil Engineers (PICE) Most Outstanding Civil Engineering Students (MOCES) from De La Salle University: Engr. Syrus Gomari MOCES 2012, Engr. Vince Imperial MOCES 2013, and Engr. Kristian Caringal MOCES 2014.