The Engineering Research and Development for Technology (ERDT) is a consortium of eight member universities in the country that offers masters and doctoral degrees in various engineering fields. This consortium is composed of: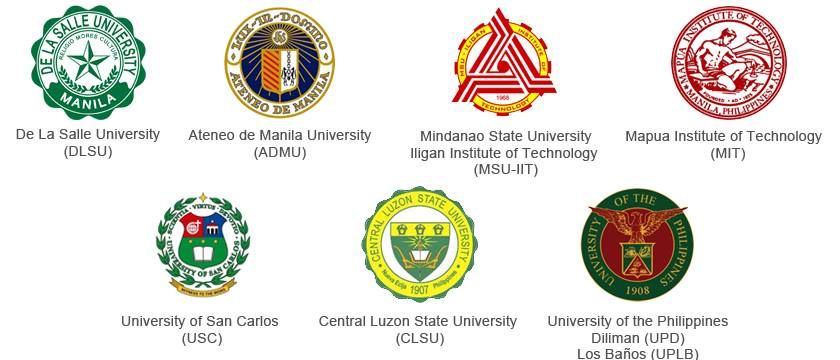 Goals
ERDT was created to:
Implement high impact research agenda that are aligned with the National Science and Technology Plan (NSTP) and Medium Term Philippine Development Plan (MTPDP)
Attain a critical mass of graduates with Master's and PhD degrees
Upgrade the qualifications of practicing engineers
Upgrade the quality of engineering colleges and make engineering graduate education accessible
Develop a culture of research and development (R&D)
The applicant must:
be a Filipino citizen
NOT be more than 45 years old at the time of application
have passed the admission requirements of the graduate program supported by ERDT
have a BS/MS degree in engineering or related field
be in good health
NOT have criminal/administrative case (NBI certification is required)
Have cummulative grade point average of 85 or better
Not have a failing grade
Curriculum Vitae
Birth Certificate (Photocopy)
Certified True Copy of Grades/Transcript of Records
Recommendation letter from 3 past professors or supervisors
Narrative essays (Career plans)
A narrative, not more than 1000 words, describing your current work or project (or research) that you worked on and your contribution towards the completion of the project.
Future Plans (After Graduation)
For PhD applicants, a narrative describing your intended research area
If employed, must be recommended by the head of agency and secure permission to take a leave of absence while on scholarship
Medical Certificate as to health status from a licensed physician indicating PRC License No.
Valid NBI Clearance
One passport size picture
The successful awardee must:
execute a Scholarship Agreement with DOST
officially enroll as full-time graduate student in any of the DOST priority fields/consortium member—university
submit periodic report of registration form and report of grades each semester/term which shall be evaluated to determine his/her scholarship status
NOT avail or enjoy other scholarships
have a full-time commitment to the scholarship and must NOT engage in any form of employment during the period while enjoying the scholarship
be willing to render the required service obligation equiva- lent to the length of time that he/she enjoyed the scholar- ship—one year of service for every year of scholarship or a fraction thereof.
| | | |
| --- | --- | --- |
| | MS | PhD |
| Tuition Fee | Actual | Actual |
| Stipend | P 25,000.00/month | P 33,000.00/month |
| Book Allowance | P 10,000.00/year | P 10,000.00/year |
| Thesis/ Dissertation Grant | P 30,000.00 | P 60,000.00 |
| Research Grant | P 225,000.00 | P 450,000.00 |
| Transportation Allowance | Transportation allowance up to P10,000/year.. | Transportation allowance up to P10,000/year. |
DLSU:
1st Term: April 30
2nd Tem: September 30
3rd Term: February 28
Master of Science
Chemical Engineering
Civil Engineering
Computer Science
Electronics and Communications Engineering
Environmental Engineering and Management
Industrial Engineering
Manufacturing Engineering and Management
Mechanical Engineering
Doctor of Philosophy
Chemical Engineering
Civil Engineering
Computer Science
Electronics and Communications Engineering
Industrial Engineering
Mechanical Engineering

Engineering Research and Development for Technology (ERDT)
De La Salle University
College of Computer Studies
CCS Faculty Field of Specialization
Computer Technology Department
No.
Name of Expert
Field of Specialization
1
 Azcarraga, Judith (PhD)

Data Mining
Bio-signals processing
Multimodal Emotion Analysis

_________________________
2
Cordel, II Macario

Bio-signals, Speech and Image Processing
Echo Control and Noise Reduction
Digital Communications
Digital Controls
Digital Signal Processing
Power Electronics

_________________________
3
Cu, Jocelynn

Bio-signals, Speech and Image Processing
Machine Learning
Multimodal affect analysis and synthesis
Intelligent agents / Embodied Conversational Agents

_________________________
4
Franco, Geanne

Database Management System
Web Programming and Development

_________________________
5
Gonzalez, Emmanuel

Fractional-order systems
Control systems engineering
Electronic systems design
Fuzzy systems

_________________________
6
Ilao, Joel (PhD)

Bio-signals, Speech and Image Processing
Machine Vision
Natural Language Processing
Statistical Signal Processing

_________________________
7
Ong, Clement

Microelectronics
Embedded Systems Design
Digital Control Systems

_________________________
8
Ong, Arlyn

Computer Networks
Enterprise Network Design and Management
Wireless Sensor Networks

_________________________
9
Pantola, Alexis (PhD)

Computer Networks
Information Security
Analytics

_________________________
10
Uy, Roger

Computer Organization
Computer Architecture
Digital Signal Processing
Machine Learning

…back to top
Software Technology Department
No.
Name of Expert
Field of Specialization
1
Azcarraga, Arnulfo (PhD)
_________________________
2
Borra, Allan

Natural Language Processing
Information Extraction
Summarization

_________________________
3
Bulos, Remedios (PhD)
_________________________
4
Cabredo, Rafael (PhD)

Automatic Behavior Analysis
Music Information Retrieval
Machine learning
Data mining

_________________________
5
Cheng, Charibeth

Natural Language Processing
Sentiment Analysis

_________________________
6
Chu, Shirley

Natural Language Processing

_________________________
7
Cu, Gregory

Computer Networks
Wireless Sensor Networks
Microelectronics

_________________________
8
Lim-Cheng, Nathalie Rose

Natural Language Processing

_________________________
9
Limoanco, Teresita

Intelligent Tutoring Systems
Student Modelling

_________________________
10
Marcos, Nelson (PhD)

Algorithms and Complexities
Modelling and Simulation

_________________________
11
Ong, Ethel

Natural Language Processing
Story and Text Generation
Semantic Ontology

_________________________
12
Regalado, Ralph Vincent

Natural Language Processing
Sentiment Analysis
Mobile and Web Applications

_________________________
13
Ruiz, Conrado Jr.

Computer Graphics
Multimedia Information Retrieval
Computational Photography

_________________________
14
Salvador, Florante (PhD)

Computer Graphics (3D Modeling)

_________________________
15
Samson, Briane Paul

Natural Language Processing
Relation Extraction
Mobile Computing

_________________________
16
See, Solomon

Natural Language Processing
Game Development and Virtual Worlds
Mobile and Web Computing

_________________________
17
Sison, Raymund (PhD)

Intelligent Tutoring Systems
Software Engineering

_________________________
18
Suarez, Merlin Teodosia (PhD)

Automatic Behavior Analysis
Multimodal Emotion Analysis as applied to Intelligent Tutoring Systems and Autism Research

…back to top

Engineering Research and Development for Technology (ERDT)
De La Salle University
Gokongwei College of Engineering
GCOE Faculty Field of Specialization
Chemical Engineering Department
Full-time Faculty
No.
Name of Expert
Highest Educational Attainment
Field of Specialization
1
Dr. Susan M. Gallardo
Doctor of Engineering (ChE)
Post Doctoral Fellowship

Catalysis – Chemical Reaction Engineering and Surface Chemistry
Environmental Engineering

_____________________________________________
2
Dr. Pag-asa D. Gaspillo
Doctor of Engineering (ChE)

Water and Waste Water Engineering Technology and Management
Extraction of Oil from Natural Products by Supercritical Fluid Extraction Technology
Reaction Engineering: Gas-Liquid and Solid
Toxic and Hazardous Wastes Management and Treatment

_____________________________________________
3
Dr. Leonila C. Abella
Doctor of Engineering (ChE)

Catalysis
Environmental Engineering
Toxic and Hazardous Wastes Management and Treatment

_____________________________________________
4
Dr. Susan A. Roces
Doctor of Engineering

Carbon Capture Technology
Energy Engineering

_____________________________________________
5
Dr. Luis F. Razon
Doctor of Engineering (ChE)
Post Doctoral Fellowship

Chemical Reactor Engineering
Biodiesel
Life Cycle Assessment

_____________________________________________
6
Dr. Joseph L. Auresenia
Doctor of Engineering (ChE)
Post Doctoral Research Fellowship

Environmental Biochemical Engineering
Hazardous Wastes and Domestic Wastewater Treatment
Biotechnology and Bioenergy
Process Simulations and Control
Nanotechnology

_____________________________________________
7
Dr. Raymond R. Tan
Doctor of Engineering (ChE)

Process Optimization
Life Cycle Analysis

_____________________________________________
8
Dr. Julius B. Maridable
Doctor of Engineering (ChE)

Environmental Engineering
Novel Separation Techniques
Synthesis & Characterization of Inorganic Polymers

_____________________________________________
9
Dr. Josephine Q. Borja
Doctor of Engineering (ChE)

Biotechnology and Bioenergy
Energy Management: Energy Audit

_____________________________________________
10
Dr. Florinda T. Bacani
Doctor of Engineering (ChE)

Biochemical Process Engineering
Fermentation Technology
Plant and Root Culture Technology

_____________________________________________
11
Dr.Nathaniel P. Dugos
Doctor of Engineering (ChE)

Solution Thermodynamics
Carbon Capture Technology
Extractive Distillation

_____________________________________________
12
Dr. Michael Angelo B. Prometilla
Doctor of Engineering (ChE)

Material Science
Environmental Engineering and Management

_____________________________________________
13
Dr. Kathleen B. Aviso
Doctor of Engineering (ChE)

Environmental Engineering
Environmental Management
Life Cycle Assessment

_____________________________________________
14
Dr. Cynthia B. Fabian
Doctor of Engineering (ChE)
_____________________________________________
15
Ms. Wilheliza A. Baraoidan
MS ChE

Water Purification Systems

_____________________________________________
16
Ms. Marylou M. Uy
MS ChE

Microwave Essential Oil Extraction System

_____________________________________________
17
Mr. Dennis N. Yu
MS ENVI ENG

Environmental Science and Engineering

…back to top
Part-time Faculty
1
Dr. King U. Co
Doctor of Engineering (ChE)

Mass Transfer Operations
Statistical Mechanics
Unit Operations

_____________________________________________
2
Dr. Yolando P. Brondial
Doctor of Engineering (ChE)

Atmospheric Corrosion
Chemical Engineering
Corrosion
Geothermal Fluids-Ph Buffering

_____________________________________________
3
Dr. Carl Renan E. Estrellan
Doctor of Engineering (ChE)

Hazardous Waste Management
Advance Oxidation Process

_____________________________________________
4
Dr. Aileen P. Huelgas
Doctor of Engineering (ChE)

Wastewater Treatment System
Environmental Engineering

…back to top
Civil Engineering Department
No.
Name of Expert
Highest Educational Attainment
Field of Specialization
1
Ms. Cheryl Lyne E. Capiz
Master of Engineering
Chulalongkorn University – Thailand

Construction Engineering and Management – General

_____________________________________________
2
Dr. Mario P. De Leon
PhD in Engineering
Kagoshima University -Japan
_____________________________________________
3
Dr. Jonathan R. Dungca
Doctor of Engineering Major in Civil Engineering
Tokyo Institute of Technology – Japan

Geotechnical Engineering
Structural Engineering – General

_____________________________________________
4
Dr. Alexis M. Fillone
PhD in Urban and Regional Planning
University of the Philippines- Diliman, Philippines

Urban and Regional Development Planning
Travel Demand Management

_____________________________________________
5
Mr. Ronaldo S. Gallardo
Master of Science in Civil Engineering
DLSU-Philippines

Engineering – General
Civil Engineering – General
Construction Management

_____________________________________________
6
Dr. Bernardo A. Lejano
Doctor of Engineering
Nihon University-Japan

Structural Engineering – General
Civil Engineering
Earthquake Engineering
Structural Modeling and Lab Testing

_____________________________________________
7
Mr. Jason Maximino C. Ongpeng
Master of Science in Civil Engineering
DLSU-Philippines

Construction Materials
Construction Technology
Neural Networks
Construction Management

_____________________________________________
8
Dr. Andres Winston C. Oreta
Doctor of Engineering Major in Civil Engineering
Nagoya University – Japan

Earthquake Engineering: Dynamic
Structural Engineering – General

_____________________________________________
9
Dr. Renan Ma. T. Tanhueco
PhD in Urban Planning and Regional Planning
University of the Philippines

Water Resources Engineering
Sanitary Engineering
Urban and Regional Planning

_____________________________________________
10
Dr. Danilao C. Terante
PhD in Urban Planning and Regional Planning
University of the Philippines – Diliman, Philippines

Structural Design
Hydraulic Engineering
Water Resources Engineering

_____________________________________________
11
Dr. Mary Ann Adajar
PhD in Civil Engineering
University of the Philippines – Diliman, Philippines

Construction Management
Structural Engineering – General
Geotechnical Engineering

_____________________________________________
12
Mr. Alden Pual D. Balili
Master of Science in Civil Engineering
DLSU-Philippines

Structural Engineering
Computer Programming

_____________________________________________
13
Mr. Richard M. De Jesus
Master of Science in Civil Engineering
University of the Philippines – Diliman, Philippines
_____________________________________________
14
Mr. Juanite V. Eje
Master of Science in Civil Engineering
DLSU-Philippines

Construction Engineering and Management

_____________________________________________
15
Ms. Maria Cecilia R. Paringit
Doctor of Engineering
Tokyo Institute of Technology – Japan
_____________________________________________
16
Mr. Ruel R. Ramirez
Master of Science in Civil Engineering
University of the Philippines – Diliman, Philippines

Design of Experiment and Clinical Trials
Structural Engineering – General

_____________________________________________
17
Mr. Nicanor R. Roxas Jr.
Master of Engineering
Chulalongkorn University – Thailand

Transportation Engineering – General

_____________________________________________
18
Ms. Irene Olivia M .Anongphouth
Master of Engineering
Chulalongkorn University – Thailand

Structural Engineering – Concrete (General)

…back to top
Electronics and Communications Engineering Department
No.
Name of Expert
Highest Educational Attainment
Field of Specialization
1
Ms. Ann E. Dulay
MS ECE

Power Line Communications
Analog IC Design
ECE Laws and Ethics

_____________________________________________
2
Mr. Cesar A. Llorente
MEP in Electrical Engineering
_____________________________________________
3
Mr. Elmer Magsino
MS in Electrical Engineering

Instrumentation and Control
Mechatronics

_____________________________________________
4
Mr. Alexander C. Abad
MS ECE
_____________________________________________
5
Mr. Roman A. Palo
MEP-ECE

Facilites Management and Design
Broadcast Acoustics
Internet Marketing

_____________________________________________
6
Mr. Edwin Sybingco
MS ECE
_____________________________________________
7
Mr. Roderick Y. Yap
MS ECE – DLSU
MS Electronics Engineering – CYCU Taiwan
_____________________________________________
8
Mr. Aaron Don M. Africa
MEP in ECE
_____________________________________________
9
Ms. Maria Antonette C. Roque
MS ECE

Electronics Systems Design

_____________________________________________
10
Mr. Gerald P. Arada
MEP in ECE
_____________________________________________
11
Mr. Miguel O. Gutierez
MS-ECE

Electrical Engineering
Biomedical Instrumentation
Power System

_____________________________________________
12
Mr. Oswald L. Sapang
BS-EE

Electrical Engineering
Biomedical Instrumentation
Power System

_____________________________________________
13
Mr Enrique M. Manzano
MS-EE

Electrical Engineering
Communications System

_____________________________________________
14
Mr. Bernardo R. So Jr.
BS Computer Engineering
_____________________________________________
15
Mr. Jose Antonio M. Catalan
MS-ECE

ICT
Electronics System Design
Renewal Electrical System

_____________________________________________
16
Mr. Melvin K. Cabatuan
Master of Engineering
_____________________________________________
17
Mr. Reggie C. Gustilo
MS-ECE
…back to top
Industrial Engineering Department
No.
Name of Expert
Highest Educational Attainment
Field of Specialization
1
Mr. Rumel V. Atienza
MBA

TQM
Systems Analysis and Design
Methods Engineering
Just-in-Time
Business Reengineering
E-commerce
MIS

_____________________________________________
2
Mr. Dennis T. Benghui
MS-IE

Mathematical Modeling and Optimization
Systems Simulation, Scheduling, Systems Dynamics
Design and Analysis of Experiments

_____________________________________________
3
Mr. Shun Fun Chiu
DBA

Cleaner Production
Industrial Ecology

_____________________________________________
4
Dr. Eppie E. Clark
PhD in Policy Research in Engineering Science and Technology

Operations Management of SMEs
Lean Operations Techniques
Service and Production Teamworking
Japanese Management Techniques

_____________________________________________
5
Mr. Dennis E. Cruz
MS-IE

Mathematical Modeling
Facilities Planning

_____________________________________________
6
Mr. Bryan O. Gobaco
MS-IE

Mathematical Modeling
Systems Simulation
Location Science

_____________________________________________
7
Dr. Alma Maria Jennifer A. Gutierrez
PhD IE

Workstation Design
Postural Analysis
Usability Engineering
Shiftwork
Methods Engineering

_____________________________________________
8
Mr. Richard C. Li
MS-IE

Systems Analysis and Design
Mathematical Modeling

_____________________________________________
9
Dr. Jose Edgar S. Mutuc
PhD-MoT

Systems Dynamics Modeling
TQM
Methods Engineering
Lean Manufacturing
Supply Chain Management

_____________________________________________
10
Mr. Ronaldo V. Polancos
MS-IE

Manufacturing Applications Systems
Enterprise Resource Planning Systems
Business Process Reengineering

_____________________________________________
11
Dr. Rosemary R. Seva
PhD IE

Fatigue Analysis
Workstation Design
Facilities Planning
Layout Analysis and Design
Affective Product Design
Usability

_____________________________________________
12
Dr. Anna Bella D. Siriban-Manalang
PhD-IE

TQM
Business Process Reengineering
Systems Analysis and Design
Management Information System

_____________________________________________
13
Mr. Eric A. Sy
MS-IE

Production Planning
Operations Scheduling
SQC
Industrial and Organizational Psychology

_____________________________________________
14
Ms. Jazmin C. Tangsoc
MS Human Factors Engineering

Cognitive Ergonomics
Usability
Workstation Design
Production Management
Product Design

_____________________________________________
15
Mr. Willy F. Zalatar
MS-IE

Advanced Manufacturing Systems/Technologies
Statistical Quality Control

…back to top
Manufacturing Engineering and Management Department
No.
Name of Expert
Highest Educational Attainment
Field of Specialization
1
Dr. Nilo T. Bugtai
PhD in Manufacturing Engineering
Loughborough University-England UK

Biomedical and Clinical Engineering
Health Technology Assessment
E-Health and Medical Informatics
Decision Support Systems for Product Design and Manufacture
Concurrent Engineering and Integrated Information Systems
CAE/CAD/CAM/CIM Systems

_____________________________________________
2
Dr. Edwin J. Calilung
Doctor of Engineering in Agricultural Machinery and Management
Asian Institute of Technology – Bangkok, Thailand

Mechatronics and Robotics
CAE/CAD/CAM/CIM Systems
Design of Agricultural Machineries
Machine Design and Kinematics
Instrumentation and Control Technology
Computer Applications

_____________________________________________
3
Mr. Homer S. Co
MS ME University of New Mexico
New Mexico, USA

Control Engineering
Biomechanics
Transport Phenomena
Machine Design
Fluid Mechanics
Materials Engineering
Vibration Engineering
Finite Element Method
Linear Algebra with Applications
Advanced Material Processing
CAD/CAM Systems

_____________________________________________
4
Dr. Elmer P. Dadios
PhD in Manufacturing Engineering
Loughborough University-England UK

Applied Robotics
Mechatronics and Robotics
Electrical and Electronics Engineering
Instrumentation and Control Technology
Computer Applications
Artificial Intelligence
Evolutionary Systems
Fuzzy Logic
Genetic Algorithm
Neural Networks

_____________________________________________
5
Mr. Marlon M. Musngi
Master of Engineering in Mechanical Engineering (Robotics and Mechatronics)
National University of Singapore – Singapore

Applied Robotics
Mechatronics and Robotics
Industrial Electronics
Vibration Engineering
Linear Algebra with Applications
Biomedical Signal and System Analysis
Control Engineering
Computer Graphics

_____________________________________________
7
Mr. Arthur Pius P .Santiago
MS in Manufacturing Engineering
DLSU

Microcontrollers and Embedded Design
Digital Electronics Design
Analog Electronics Design
Tool Design
Physiology
Biomedical Signal and Systems Analysis
CAD/CAM Systems

_____________________________________________
8
Mr. Oscar G. Unas
Master of Engineering in Engineering Education (Mechanical Engineering)
DLSU, Manila

Manufacturing Processes and Practices
Foundry and Welding Processes
Milling Operations
Materials Engineering
Tool Design
CAE/CIM Systems

_____________________________________________
9
Mr. Giovanni L. Fabian
MS in Manufacturing Engineering
DLSU, Manila

CAD/CAM/CIM Systems
CATIA V5

_____________________________________________
10
Mr. Siegfred I. Lopez
Master of Engineering in Engineering Education (Mechanical Engineering)
DLSU, Manila

CAD/CAM/CIM Systems
Gibbs Cam

…back to top
Mechanical Engineering Department
No.
Name of Expert
Highest Educational Attainment
Field of Specialization
1
Dr. Alvin Y. Chua
PhD in Mechanical Engineering
DLSU, Manila

Mechatronics
Instrumentation and Controls
Optimal Estimation

_____________________________________________
2
Dr. Alvin B. Culaba
PhD in Mechanical Engineering
University of Portsmouth, UK

Energy and Environmental System Engineering and Management

_____________________________________________
3
Dr. Archie B. Maglaya
Doctor of Technology
Technological University of the Philippines

Equipment Design
Fabrication and Testing
Environmental Protection and Pollution Control
Energy Conservation and Conversion

_____________________________________________
4
Mr. Efren G. Dela Cruz
Master in Engineering Management – Manufacturing
Pamantasan ng Lungsod ng Maynila

Energy and techno-design Engineering
Engineering Management

_____________________________________________
5
Mr. Martin Ernesto L. Kalaw
MS in Mechanical Engineering
DLSU, Manila
_____________________________________________
6
Dr. Laurence A. Gan Lim
PhD in Mechanical Engineering
Coventry University in UK

Mechatronics
Robotics
Fuzzy Logic Control

_____________________________________________
7
Mr. Isidro Antonio V. Marfori III
MS Mechanical Engineering
DLSU

CAD/CAM/CFD
Micro/Pico Hydro Technology

_____________________________________________
8
Mr. Byron Michael Omboy
MS Mechanical Engineering
DLSU
_____________________________________________
9
Dr. Jose Bienvenido Manuel Biona
PhD in Mechanical Engineering
DLSU

Environmental Modeling
Renewable Energy
Sustainable Transport

_____________________________________________
10
Dr. Aristotle M. Ubando
PhD ME
DLSU

CAD/CAM/CFD
Thermo Fluid Engineering

_____________________________________________
11
Dr. Manuel Belino
PhD ME
DLSU

Safety Engineering
Engineering Ethics
Engineering Education
Indoor Air Quality

_____________________________________________
12
Ms. Nenet Graza
Master of Engineering
University of Melbourne
…back to top
Engineering Research and Development for Technology (ERDT)
De La Salle University
DISSERTATION/THESIS
DISSERTATION
Dissertation Title
Year
Name of Scholar
Adviser
(Corresponding Author)
ECE
1
Heuristic Approach in Modeling Radio Path Loss Inside Residences for Fixed & Portable Digital Terrestrial Television at 677 MHZ
2012
Dela Cruz, Jennifer C.
Dr. Felicito Caluyo
fscaluyo@mapua.edu.ph

THESIS

Thesis Title
Year
Name of Scholar
Adviser
(Corresponding Author)
ChE
1
Bioremediation of Endosulfan-Contaminated Soil
2010
Mercado, Jericho Victor L.
Dr. Josephine Borja
josephine.borja@dlsu.edu.ph
2
Vapor Liquid Equilibria for N-Decylamine, Ethylene Glycol and Water System
2010
de Jesus, Erwin A.
Dr. Josephine Borja
josephine.borja@dlsu.edu.ph
3
The Effect of Catalyst Preparation on the Catalytic Activity of Ni/ MgO-ZrO2 for Methane Dry Reforming
2010
Shieh, Louie C.
Dr. Leonila Abella
leonila.abella@dlsu.edu.ph
4
Optimization of the Transesterification Process for Biodiesel Production from Coconut Oil using Conventional and Microwave-Assisted Heating
2011
Conejos, Joy Rochelle V.
Dr. Susan Roces
susan.roces@dlsu.edu.ph
5
Optimization of Process Parameters of Methane TCD in a Fluidized Bed Reactor Using Ni-Cu/A1203 Catalyst
2012
Palero, Marie Loren Y.
Dr. Leonila Abella
leonila.abella@dlsu.edu.ph
6
Effect of Pre-treatment in ITDI Coconut shell-based Activated Carbon for Arsenic Absorption
2012
Pulutan, Maria Katrina A.
Dr. Leonila Abella
leonila.abella@dlsu.edu.ph
7
Optimization of Photocatalytic Degradation of Lignin in Water Matrix using Immobilized Nano TiO2 Catalyst by RSM
2012
Belmonte, Beatriz A.
Dr. Susan Gallardo
susan.gallardo@dlsu.edu.ph
8
A Bi-Level Multi-Feedstock Multi Period Optimization Model for Bioenergy Supply Chains
2012
Barilea, Ivan Dale U.
Dr. Raymond Tan
raymond.tan@dlsu.edu.ph
9
The Effect of Surface Modification of Coconut Shell-Based Activated Carbon on Methomyl Absorption
2012
Tañala, Francis Narvin A.
Dr. Susan Gallardo
susan.gallardo@dlsu.edu.ph
10
Continuous Transesterification of Jatropha Oil Via Microwave Irradiation
2012
Lee, Carlo Luis N.
Dr. Susan Roces
susan.roces@dlsu.edu.ph
11
The Effect of Ni:Cu Ratio on the Catalytic Activity of Ni-Cu/AC Catalysts for the Thermocatalytic Decomposition of Methane
2012
Sy, Franz Adrian L.
Dr. Leonila Abella
leonila.abella@dlsu.edu.ph
12
Production of Bioethanol Through Cofermentation of Rice Straw Hydrolysates by Saccharomyces Cerevisiae and Pachysolen Tannophilus
2012
Kang, Jimmie Neil C.
Dr. Josephine Borja
josephine.borja@dlsu.edu.ph
13
Optimization of Coco-Biodiesel Production Through Conventional and Microwave Heating and Phase Equilibria Analysis of the Transesterified Coconut Oil Using UNIFAC-LLE Model
2012
Dizon, Clarissa S.
Dr. Florinda Bacani
florinda.bacani@dlsu.edu.ph
14
CNT Production through the Thermal Catalytic Decomposition of Methane over Ni-Cu/Al2O3
2012
Bernardo, Gian Paolo O.
Dr. Leonila Abella
leonila.abella@dlsu.edu.ph
…back to top
ENVI
1
Study of the Catalytic Activities of Activated Carbon-Supported Catalysts and Manganese Oxide Catalysts for Complete Oxidation of Xylene
2010
Mariquit, Eden G.
Dr. Susan Roces
susan.roces@dlsu.edu.ph
2
Microwave Chemical Vapor Deposition Synthesis of Carbon Nanotubes from CO2 and C2H2 using nickel,cobalt and molybdenum catalysts
2013
Balean, Fritzie Hannah O.
Dr. Joseph Auresenia
joseph.auresenia@dlsu.edu.ph
…back to top
CE
1
Assessment of Reinforcement Corrosion in Fully Carbonated Concrete Through Half Cell
2010
Bohol Perlie F.
Mr. Ronaldo Gallardo
ronaldo.gallardo@dlsu.edu.ph
2
Strength and Permeability Characteristic of Road Base Materials Blended with Fly Ash and Bottom Ash
2012
Jao, Julie Ann L.
Dr. Jonathan Dungca
jonathan.dungca@dlsu.edu.ph
3
Blending of Processed Lime Materials for Use in Sub-grade, Sub-base and Base Construction
2012
Dychangco, Lydia Francisca T.
Dr. Jonathan Dungca
jonathan.dungca@dlsu.edu.ph
4
Influence of Seawater Mixing on Reinforced Mortars with the Comparison of Varying Fly Ash, Replacement Ration, Water Binders Ration, Curing Conditions and Type of Steel Bars
2012
Lim, Edrick Dan P.
Mr. Ronaldo Gallardo
ronaldo.gallardo@dlsu.edu.ph
5
Application of Response Surface Methodology: Optimum Mix Design of Concrete with Slag as Coarse Aggregate
2013
Regulacion, Rhea E.
Dr. Andres Winston C. Oreta
Andres.oreta@dlsu.edu.ph
…back to top
ECE
1
A 0.35um Low Voltage ADC Using Delta-Sigma Modulator with CIC Decimation Filetr
2011
Abad, Alexander C.
Mr. Roderick Yap
roderick.yap@dlsu.edu.ph
2
Development of Speech-activated Servo Motor Controller in FPGA
2011
Marquez, Richard N.
Mr. Roderick Yap
roderick.yap@dlsu.edu.ph
3
Noise Robust Automatic Speech Recognition System Through Spectral Subtraction Implemented on FPGA
2012
Orillo, John William F.
Mr. Roderick Yap
roderick.yap@dlsu.edu.ph
4
Geographic Routing for VANET in Real Highway and City Scenarios
2012
Magtoto, Joseph M.
Ms. Antonette Roque
antonette.roque@dlsu.edu.ph
5
Image Fusion of Multidirectional Wavelet Transform for Image Denoising
2013
Ochotorena, Carlo Noel E.
Mr. Edwin Sybingco edwin.sybingco@dlsu.edu.ph
6
Design and Development of a Wireless Communication Link for Underwater Robot System
2013
Simbulan, Kristan Bryan C.
Dr. Elmer Dadios
elmer.dadios@dlsu.edu.ph
7
Design and Development of an Autonomous Underwater Vehicle (AUV) with Fuzzy Logic-based Controller
2013
David, Kanny Krizzy A.
Dr. Elmer Dadios
elmer.dadios@dlsu.edu.ph
8
Development of a Fuzzy Logic Controller for DC/DC Buck and Boost Converter in a FPGA
2013
Caldo, Rionel B.
Mr. Roderick Yap
roderick.yap@dlsu.edu.ph
…back to top
IE
1
A System Dynamics Approach to Enhance the Performance of Emergency Disasters Relief Operations
2009
Ngo, Al Benjamin T.
Dr. Jose Edgar Mutuc
jose.edgar.mutuc@dlsu.edu.ph
2
Optimal Mix of Push-Pull Mechanisms Considering a Dynamic High Volume Low Variety Fabrication Environment for WIP Management
2009
Sio, Dhesirey Beryl K.
Mr. Dennis Beng Hui
dennis.benghui@dlsu.edu.ph
3
A Benchmarking Model with Process Selection and Performance Prediction for Service Process Improvement
2010
Tan, Martha Lauren L.
Mr. Richard Li
richard.li@dlsu.edu.ph
4
Dynamics of Product and Process Innovation- A system Dynamics Perspective
2010
Fernandez, Emil Adrian V.
Mr. Dennis Beng Hui
dennis.benghui@dlsu.edu.ph
5
Design of an Emergy-based Model for Economic and Environmental Sustainability of Energy Supply Chains
2011
Felix, Nathaniel Isidore B.
Dr. Antony Chiu
6
A Multi-objective Reverse Logistics Model for Recovery Options of E-waste Considering Uncertain Supply and Integration of the Formal and Informal Waste Sector
2011
Tee, Tarin Janelle C.
Mr. Richard Li
richard.li@dlsu.edu.ph
7
A Pricing-Production Model for a Company Implementing Kanban Control Manufacturing System Principles Stochastic Demand
2011
Cabiles, Christine Anne V.
Mr. Dennis Beng Hui
dennis.benghui@dlsu.edu.ph
8
Development of a Service Recovery Decision Support Model: Matching Service Failures & Recovery Options
2012
Cantor, Victor John M.
Mr. Richard Li
richard.li@dlsu.edu.ph
9
The Measurement of the Cognitive Work Ability of Nurses
2012
Rustia, Maria Dominique B.
Dr. Rosemary Seva
rosemary.seva@dlsu.edu.ph
10
Tactical Risk Mitigation Strategies in a Global Supply Chain with Continuous Risk
2013
Chen, Harwin Maynard C.
Mr. Bryan Gobaco
bryan.gobaco@dlsu.edu.ph
11
A Product Line Design and Strategy Model for Manufacturing and Marketing Tradeoffs
2013
Que, Wesley Manfred L.
Mr. Bryan Gobaco
bryan.gobaco@dlsu.edu.ph
12
Modeling mobile phone user preferences on incentives and convenience of mobile phone take-back program in the Philippines: A Choice Experimental Approach
2013
Balisado, Sheila C.
Mr. Dennis Beng Hui
dennis.benghui@dlsu.edu.ph
…back to top
ME
1
CFD Modeling, Fabrication, and Evaluation of a Small-Scale Natural Convection Solar Dryer for Microalgae Biofuel Production
2012
Lopez, Neil Stephen A.
Mr. Aristotle Ubando
aristotle.ubando@dlsu.edu.ph
2
Vision Based Pedestrian Detection Using Motion and Boosted Histogram of Oriented Gradients
2012
Hilado, Samantha Denise F.
Dr. Alvin Chua
alvin.chua@dlsu.edu.ph
3
Automated Bulk Cartoning of Folded Sachet Linked Strips Using Constrained Gravity Stacking
2012
Bea, Aaron Ferdinand D.
Dr. Alvin Chua
alvin.chua@dlsu.edu.ph
4
A Molecular Dynamics Study on the Effects of Osmotic Pressure on the Lipids of Microalgae Chlorella Vulgaris
2013
Manrique, Robby B.
Mr. Aristotle Ubando
aristotle.ubando@dlsu.edu.ph
…back to top
MEM
1
Development of a control Algorith for Robotic Rehabilitation Devices using Co-Activation Principle
2010
Sy, Armyn C.
Dr. Nilo Bugtai
nilo.bugtai@dlsu.edu.ph
2
Rapid Prototyping Methodology of a Non-Assembly Robotic Structure with a Shape Memory Alloy (SMA) Actuator
2012
Geslani, Janina Marie A.
Dr. Nilo Bugtai
nilo.bugtai@dlsu.edu.ph
3
Comprehensive Gait Data Acquisition System
2012
Agustin, Chrissette C.
Dr. Nilo Bugtai
nilo.bugtai@dlsu.edu.ph
…back to top
CCS
1
Inferencing Over Common-Sense Knowledge for Story Generation
2012
Yu, Sherie C.
Ms. Ethel Ong
ethel.ong@dlsu.edu.ph
2
Enhancing Event-Based Semantics in the Ontology of Picture Book 2
2012
Ang, Karen S.
Ms. Ethel Ong
ethel.ong@dlsu.edu.ph
…back to top