Why Green and White?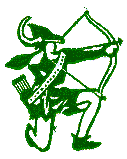 The maiden issue of the student publication that came out in August 1924 was called "Green and White" which originated from the national colors of Ireland, (the "Emerald Isles" where the founding fathers of the De La Salle Brothers in the Philippines came from) and, of course, the Philippines ("Pearl of the Orient Seas", that is "pearly white").
Before 1939, the high school team took the nickname the "Greenies" (G&W 1938), following the school's colors.
The first Archer symbol appeared in the 1940 G&W, and the Sports Section featured articles covering the NCAA games of the 1939-1940 season, wherein our famous basketball players were referred to as the "Green Archers."
The 1941 G&W featured a photo of four graders who formed the original (first) Green Archers Cheer Squad.
The Green Archer, statue, now standing at the Chess Plaza, was done by Ed Castrillo in 1985, as commissioned by Class 1966 under the leadership of Muniosguren. It was first exhibited during the celebration of the Diamond Jubilee in 1986. The pedestal was transfered to its present location in 1992.