Results of Mental Health Study Published by Global Forum
Categories

SDRC

Date

2008-02-01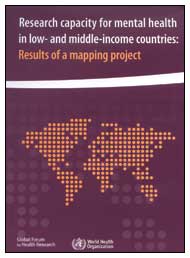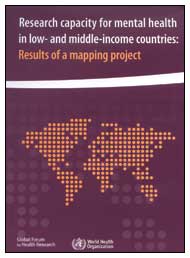 The Global Forum for Health Research and the World Bank recently published the results of a study participated in by DLSU's Social Development Research Center entitled "Mapping of Mental Health Research Capacity in Low and Middle Income Countries (LMICs) in Asia and the Pacific." The report provides an account of the current status of mental health research in 114 low- and middle-income countries of Africa, Asia, and Latin America and the Caribbean.
Mental and neurological disorders are responsible for 13% of the global burden of disease. In addition, more than half of the 10 leading risk factors that cause one third of premature deaths worldwide have behavioral determinants, such as unsafe sex, and tobacco or alcohol consumption. Despite this evidence, mental health is a neglected and an underresearched area of public health, particularly in LMICs.
The findings of the Mapping of Mental Health Research Capacity study highlights the need to review and strengthen the management of mental health research so that it meets the national needs of LMICs as well as contributes to the global fund of knowledge.
The report enables evidence-based decision-making in funding and priority setting in the area of mental health research in LMICs.
Members of the Mental Health Research Mapping Project Group were from Brazil, Nigeria, Peru, the Philippines, South Africa, and South Asia. SDRC represented the Philippines through Dr. Exaltacion E. Lamberte, principal investigator, and Avelia V. Lapitan and Cecille C. Pascasio, researchers.