PROJECT 1: Writing Fellowships
The BNSCWC awards an annual fellowship to a deserving member of the faculty or a non-teaching staff of De La Salle University who is completing a work in any of the following genres: poetry, fiction, drama, creative nonfiction, and criticism. Fellows are nominated and selected by the Center's Director and Associates.
The fellows are expected to complete a publishable writing project during the academic year covered by the writing grant.
Since its initial offering in 1991, the writing fellowships have enabled writers to make contributions to the diverse and growing body of Philippine literature. Past fellows include Marjorie Evasco, Connie Jan Maraan, Buenaventura S. Medina Jr., Juaniyo Arcellana, Gerardo Z. Torres, David Jonathan Bayot, Vicente Garcia Groyon, Jhoanna Lynn Cruz, Ronald Baytan, Dinah Roma, Genevieve Asenjo, Manolito Sulit, John Iremil Teodoro, Ernesto Carandang II, Genaro Gojo-Cruz, among others. Ma. Teresa Wright was awarded Writing Fellow for Cultural Studies in AY2011-2012.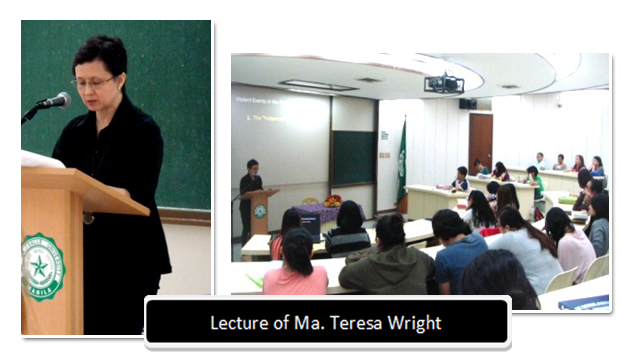 PROJECT 2: KRITIKA and IYAS Workshops
In cooperation with the National Commission for Culture and the Arts (NCCA) and the University of St. La Salle-Bacolod (USLS), BNSCWC has organized two national workshops: KRITIKA National Workshop on Art and Cultural Criticism and the IYAS Creative Writing Workshop.
KRITIKA focuses on critical writing in the following arts: literature, visual arts, architecture, film, music, performing arts, and multi-art. The first KRITIKA was held in May 2002. KRITIKA 2012, held on April 22-28 at USLS-Bacolod, awarded eleven fellowships. Rolando Tolentino, BNSCWC Associate for Criticism, served as director. The panel of art critics included Paulo Alcazaren (architecture), Isagani R. Cruz (cultural studies), Cid Reyes (visual arts), Isidoro Cruz (literature), and Jose Victor Torres (cultural history).
IYAS, first conducted in 2001, annually awards fifteen fellowships in the genres of fiction, poetry, and drama, and the languages English, Filipino, Cebuano, and Hiligaynon. The 2012 IYAS was directed by Marjorie Evasco and supported by a panel of writers headed by Elsa Coscolluela.
Other workshops undertaken in the past include De La Salle Lipa Creative Writing Workshop, De La Salle-Dasmariñas Creative Writing Workshop, Barlaya Writing for Children Workshop with Adarna House, Bohol's Bansay sa Ting-Init, and the Playwriting Workshop for Cordillera Women, among others.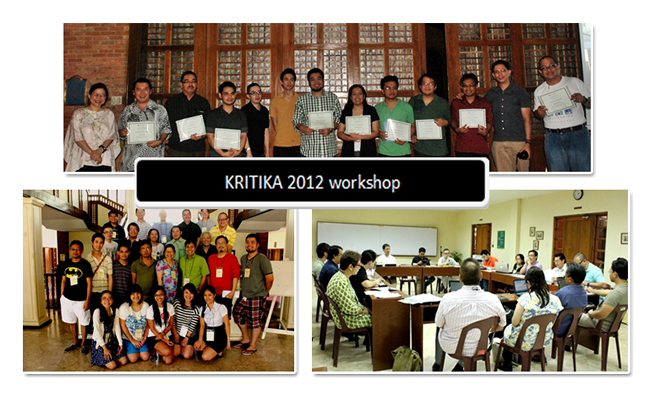 PROJECT 3: The Bienvenido N. Santos Centenary Celebration
2011 marked the birth centenary of Bienvenido N. Santos. The commemoration kicked off in March 2010 with a professorial chair lecture "The Filipino Exile in Bienvenido N. Santos's 'Scent of Apples' and 'The Day the Dancers Came'" by Gerardo Z. Torres. Subsequently, performance-readings by Isagani R. Cruz and Marjorie Evasco were held on January 19, 2011. This, co-sponsored by the University of Santo Tomas and the National Commission for Culture and the Arts, was part of the 2011 TABOAN National Literary Arts Fest.
"A Lovely and Saintly Life: Remembering Bienvenido N. Santos on His Centenary" took place on his 100th birthday. This grand tribute featured testimonials, performances, an essay competition, and the launching of Ben on Ben: Conversations with Bienvenido N. Santos by Leonor Aureus Briscoe.
"Memory's Fictions: The Bienvenido N. Santos Centenary Conference," held on March 20, 2012, culminated the year-long celebration. Distinguished critic Isagani Cruz was the BNS Centenary Lecturer while Filipino-American studies scholar Oscar Campomanes delivered the keynote address. The Panel on Transnational Themes in Philippine Literature was composed of Charlie Veric, Francisco Benitez, and Jonathan Chua. The Panel on Reading, Teaching, and Adapting BNS was composed of Vicente Garcia Groyon, Ferdinand Lopez, and John Iremil Teodoro.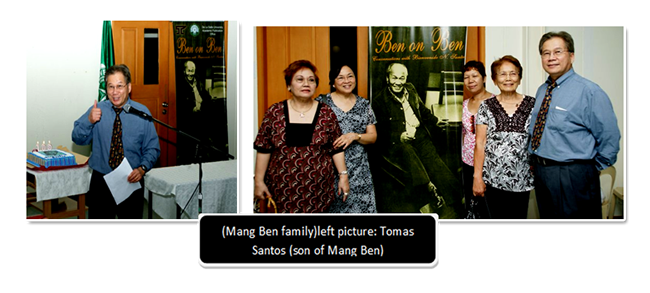 PROJECT 4: Poetry for Peace: World Poetry Movement in Manila
"Poetry for Peace: World Poetry Movement in Manila" was organized in response to the World Poetry Movement's (WPM) call for a poetic global action by holding simultaneous readings across the earth on September 24, 2011. WPM was founded in the context of the World Gathering of Directors from 37 International Poetry Festivals, in Medellin, Colombia in 2011. (http://www.wpm2011.org/).
WPM supports "the thoughts, actions and measures that can contribute to world peace, the defense of all life on earth, the sustainable development of a new world, the restoration of beauty, dignity and truth, in the process of a persistent strengthening of poetry's presence in contemporary society worldwide" ("Statement of the World Poetry Movement").
The DLSU event was participated by writers and artists including Ronald Baytan, Allan Popa, Carla Pacis, Genevieve Asenjo, Marne Kilates, Abdon Balde Jr., Michael Coroza, José Ma. Fons, Santiago Villafania, Danilo Francisco Reyes, Grace Monte de Ramos, Alice Sun-Cua, John Iremil Teodoro, John Enrico Torralba, Genaro Gojo-Cruz, Ernesto Carandang II and the Neo Nocturne Choir, Noelle Leslie dela Cruz, Joseph De Luna Saguid, Ida Anita Del Mundo, Jaime Oscar Salazar, Johann Vladimir Espiritu, Ceres Abanil, Peter Paul Pichler and Tony Piggott.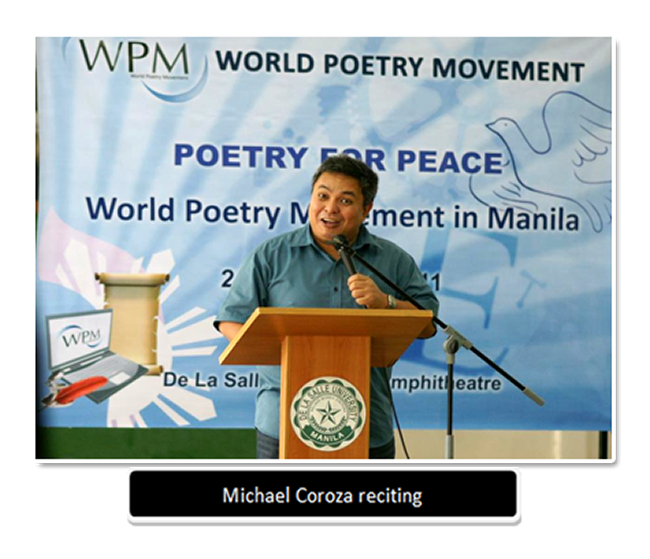 PROJECT 5: Hosting of Visiting Writers/Artists and International Linkages
The Center has widened its linkages through programs that encourage La Sallian writers to share their works in international literary festivals and host the visit of foreign writers. It has formed partnerships with institutions and organizations such as Instituto Cervantes de Manila, British Council, Japan Foundation, Asialink-Australian Arts Council, International Theater Institute (ITI), Korean Language Institute, among others.
Recent visitors were Sally Gutierrez Dewar, Anglo-Spanish visual artist and documentary filmmaker; Alex Fleites, Cuban poet; Alvin Pang, poet from Singapore; Nguyen Phan Que Mai, Vietnamese poet; E. San Juan Jr., Filipino-American scholar; and Beatriz Álvarez Tardio, a Rizal scholar from Spain.
Through the partnership with Asialink-Australian Arts Council, the Center has hosted the visit of Australian writers for a three-month residency. The list includes Beth Yahp, Ma. Lourdes Doronila, John Alsop, Robin Hemley, and Stuart Cooke. During their stay, the visiting writers interacted with writers' groups in and outside of campus, read their work, gave craft lectures, or/and conduct writing workshops.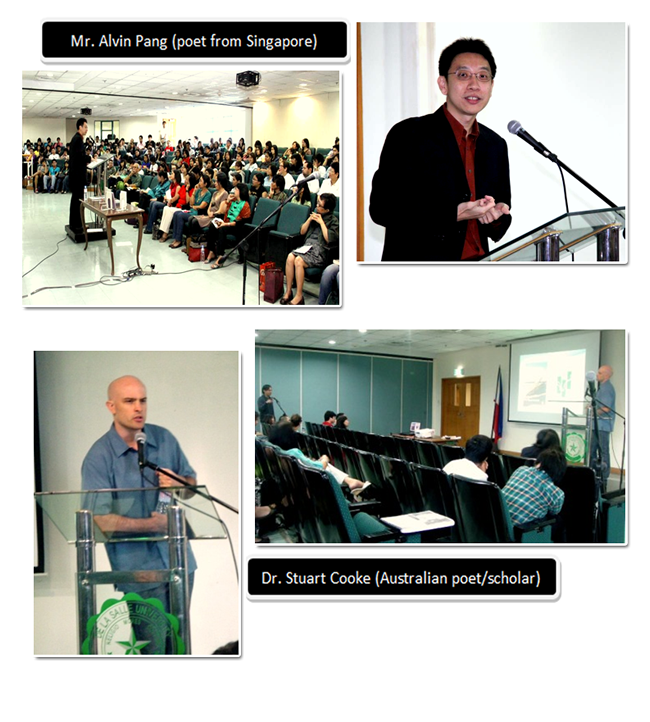 PROJECT 6: The Bienvenido N. Santos Literary Museum
Inaugurated on March 22, 2007, the literary museum houses the books, manuscripts and memorabilia of the late Bienvenido N. Santos, best known as the chronicler of the lives of Filipinos in the US.

PROJECT 7: Premio Ambahan
Premio Ambahan or the Ambahan Writing Contest for Students is a special project to promote the country's traditional poetic form that originates from Mindoro among the Southern Mangyans. Etched on bamboo using the pre-Spanish native script of the Mangyans, ambahan is a poetic rendition of an allegory often using images from nature. The expression may celebrate an occasion such as courtship, wedding, or any communal event. The Ambahan Writing Contest has become a source of excitement among students, particularly of Philippine Literature, who are encouraged to submit entries for the competition. Winners are honored in a ceremony where they read their original works. This project is in cooperation with the Mangyan Center of Mindoro.
In SY 2005-2006, the First Premio Ambahan winners bared three students of the DLSU College of Business and Economics and three pupils of the Pundasyon Hanunuo Mangyan School of Bulalacao in Oriental Mindoro.

PROJECT 8: Conference on Charting Japan-ASEAN Relation: Localizing Global Shifts
The conference theme inquired into the varied ways by which the two regions have continuously adapted to rapid global changes. By looking into the fields of literature, translation, migration and economics, this gathering of scholars, researchers, policymakers and arts practitioners highlighted the value of creative and rigorous exchange across disciplines in understanding how events shape everyday realities. This international conference was co-sponsored by the Japan Foundation on March 26-27, 2009.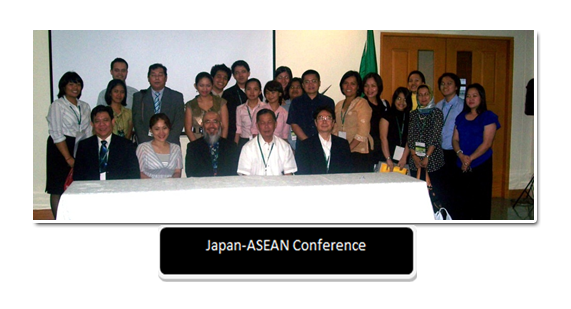 PROJECT 9: Neruda en el Corazon/Neruda sa Puso: a Tribute to Pablo Neruda
This event was a tribute to Nobel lauréate Pablo Neruda held on September 28, 2004 at the DLSU Marilen Gaerlan Conservatory. The Medalla Presidencial Centenario Pablo Neruda was conferred upon National Artist F. Sionil José by the Embassy of Chile. The Neruda Medal is a special distinction created by the Chilean government to commemorate the centennial of Neruda's birth. José was among the 100 awardees worldwide to receive the honor. Eminent poets, including Joi Barrios, Marjorie Evasco, Marra Lanot, Jose Lacaba, Benilda Santos, and Alfred Yuson, read poems of Neruda. This activity was in cooperation with Instituto Cervantes-Manila and the Embassy of Chile.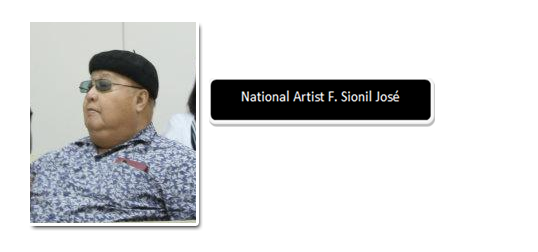 PROJECT 10: Craft Lectures, Book Launchings, and Fora
From time to time, the Center sponsors craft lectures, book launchings, and/or fora.
The Center invites noted writers to discuss a particular aspect of the craft of writing or the techniques of a specific genre.
The most recent booklaunch was held on February 29, 2012. Launched were Better Homes and Other Fictions by Connie Jan Maraan and Geographies of Light: Poems by Dinah Roma Sianturi. This was in cooperation with the University of Santos Tomas Publishing House and the DLSU Literature Circle.