La Salle's future lawyers lead volunteer efforts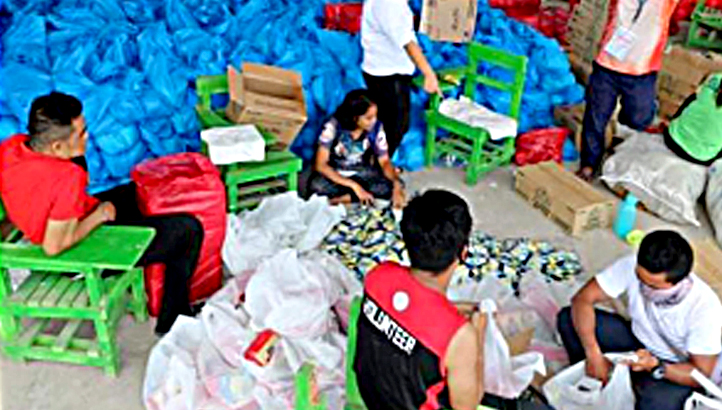 Students of the DLSU College of Law recently initiated relief efforts and other volunteer initiatives for vulnerable communities during the enhanced community quarantine in Luzon and other areas.
Among the many frontliners is Alessandra Gaon, who has embarked on the "Feed a Collector" project for garbage collectors and other struggling families in Pasig and Payatas. Christianne Noelle De Vera with fellow alumnae from all-girls schools launched "Barya Para Sa Bayan," which involves a partnership with the Grain Foundation for PWDs and social workers from District 2 of Quezon City. Isay Yason's "Muntinlupa Food Drive" started with the goal of raising P75,000, but which has already reached about half a million pesos. The fund was used to purchase food packs distributed to over 2000 families living in Muntinlupa. 
In addition, other COL students are rendering service and working as frontliners in their personal capacity or as members of larger organizations. Reynold Noveno is currently volunteering for the government. Byron Yao is providing relief goods to families in Sta. Ana, Manila as an extension of the Muntinlupa Food Drive, while Francisco Bautista is helping to provide groceries every week to struggling families as part of the Victory Christian Fellowship and Operation Blessing project. 
Meanwhile, Mayor Datu Pax Ali Sangki Mangudadatu has returned home to his municipality of Datu Abdullah Sangki, Maguindanao. His office has already conducted three waves of relief operations for 7,000 households. He provided relief support that contained not only food packs but also agricultural products, introduced a mobile market, supported the production of face masks, and constructed an isolation facility for disease control, among other initiatives. 
Another COL student, Race del Rosario, is in Butuan serving as a volunteer and has already provided improvised face shields and hot meals for about 1000 frontliners, a medical tent for Butuan Medical Center, and food relief packs for homeless people, garbage collectors, and construction workers, among others.
The Law Student Government (LSG) meanwhile has raised funds for members of the DLSU community facing health and financial issues during this period.