Post-Graduate Diploma in Management
Post-Graduate Diploma Program in Management
The Post-Graduate Diploma Program in Management is designed for young professionals who are seeking management careers in business and industry. The learning-centered program prepares participants who want to earn a master's degree in management, business and related fields. It is IT-driven, with online learning support, and focuses on management principles, utilization of management problemsolving and decision-making tools, and acquisition of skills.
Vision
To be a world-class graduate school of management inspired by Lasallian values and working with society to make a difference in people's lives.
Mission
To develop outstanding professionals and entrepreneurs who exemplify humanistic value and are socially responsible stewards and change agents.
Admission Requirements
An applicant must have:
™ A bachelor's degree from a governmentrecognized institution
™ Satisfactory admission test scores
™ Satisfactory interview and essay results
™ At least one year of relevant work experience
Program Structure
| | |
| --- | --- |
| Course | No. of Units |
| Business Communication | 3 |
| Management Principles | 3 |
| Business Law | 3 |
| Financial Accounting | 3 |
| Business Economics | 3 |
| Lasallian Business Leadership, Ethics, and CSR | 3 |
| Management Action Research | 3 |
| Quantitative Methods for Decision Making | 3 |
| Management Accounting | 3 |
| Total | 27 |
List of Requirements
For Local Applicants
1. Application Form with 2"x2" picture.
2. Original copy of Transcript of Records
3. Original Copy of NSO Birth Certificate
4. Transfer Credential (for non-DLSU graduate)
5. Two (2) Letters of recommendation (downloadable at DLSU website)
6. Updated Curriculum Vitae/Resume
7. Personal Statement containing Academic and Career Objectives
8. Two (2) pieces of 2"x 2" picture for testing permit
9. Certificate of good moral character from previous school/employer at least six months from date of issuance
10. Photocopy of research output (for Ph.D. applicants only)
For International Applicants
1. Application form with 2″x 2″ picture (downloadable at DLSU website)
2. Photocopy of passport
3. Two (2) copies of Transcript of Records (Authenticated and Original copy)
4. Certificate of Graduation (with degree title and date of graduation)
5. Two (2) copies of Certificate of No Criminal Record (Authenticated and photocopy)
6. Two (2) Letters of Recommendation (form downloadable at DLSU website)
7. Curriculum Vitae or Resume
8. Personal Statement (format can be viewed from the DLSU website)
9. Photocopy of Research output (For PhD applicants only)
10. Two (2) pieces 2″x2″ recent picture for testing permit
Flowchart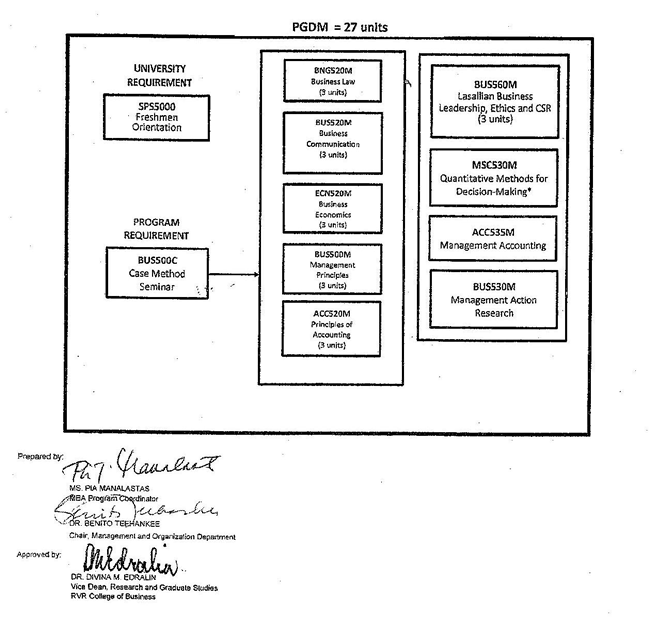 Click to View Flowchart
Contact Details:
Graduate Admissions Office (GAO)
LS Hall Rm. 101
De La Salle University-Manila
2401 Taft Ave, Manila 1004, Philippines
Telephone Number:
Trunk line (632) 524-46-11 local 468
Direct line (632) 303-13-78
E-mail: gaodir@dlsu.edu.ph
Website: www.dlsu.edu.ph