Master in Teaching General Science in Basic Education
Program Description
This is a non-thesis program that aims to enhance the content knowledge and pedagogical content knowledge of basic education science teachers in General Science. Graduates of the program are expected to be able to follow the latest developments in the teaching of General Science. To earn the MT General Science in Basic Education degree, the student is required to write a project paper (an action research) and present this in an oral examination.
Objectives:
The degree program Master of Teaching General Science in Basic Education aims to:
1) equip the basic education science teachers with the necessary knowledge and skills in the design of a curriculum, instruction and assessment of learning science;
2) enhance the critical reasoning, problem-solving and metacognitive skills of basic education science teachers;
3) develop the basic education science teacher's ability to prepare pedagogical plans for any General Science topic at the elementary and secondary levels using appropriate strategies;
4) develop the basic education science teacher's ability to do classroom based research on Science education;
5) equip basic education science teachers with an understanding of how schoolchildren develop scientific understanding as explained in the contemporary theories of teaching and learning Science and make pedagogical decisions based on those theories.
Admission Requirement
MT General Science in Basic Education participants should have a bachelor's degree in education with a grade point average of 2 (B-) or above in the undergraduate field of study or should be a licensed teacher. They should be nominated by their respective schools and have taught basic science subject for at least one year.
Course Requirements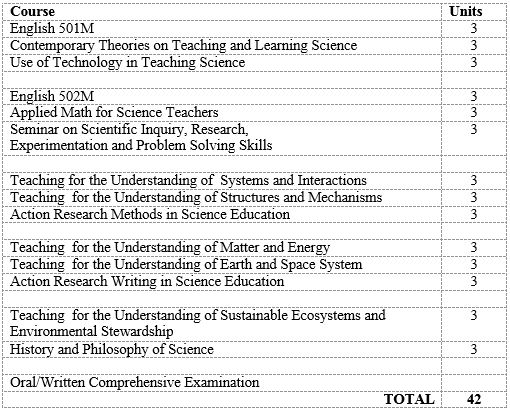 Course Descriptions:
Contemporary Theories on Teaching and Learning Science
This is a three unit course on the contemporary theories on learning Science that influence the design of curriculum, instructional strategies and assessment of learning General Science. It starts with the current issues on the teaching of Science at different levels and how these issues were dealt with by the reform movements on Science education in different parts of the world. Focus is given to the teaching-learning processes that are constructivistic in nature as advocated by the Process Oriented Guided Inquiry Learning (POGIL) and the Transformative Learning and Learner Centered Pedagogy by the American Psychological Association. Students learn how to make a pedagogical plan, implement the plan and assess learning.
Use of Technology in Teaching Science
This course is designed to expose the student to the use of educational technology as a tool for teaching Science. This course also intends to familiarize the students with the use of indigenous materials, hand held technology, Computer-Assisted Instruction (CAI), and other information and computer technology and related issues and concerns about their use in Science instruction.
Applied Math for Science Teachers (3 units)
This is a 3 unit course on the basic mathematics skills and their application in the study of science. It covers topics such as the number systems, functions, relations and graphs, equations, systems of equations, and inequalities.
Action Research Methods in Science Education
This course deals primarily with the current trends in research in science education which are classroom based. It helps the students acquire the skills necessary to design science education research that applies alternative paradigms. These include quantitative and qualitative research paradigms including ethnography, case studies and phenomenography. It familiarizes the students with the issues on these current trends in school science research. It provides the students an opportunity to write a project paper using either qualitative or quantitative research but preferably those that apply the classroom-based research designs. It requires the students to come up with a proposal for an action research in science education.
History and Philosophy of Science
This is a study of the history of science with emphasis on studying historical texts and materials to bring students close to the experience of scientific discovery and to initiate them into the way science is practiced thereby transforming their epistemological concepts of science. It also focuses on the possible ways of integrating history in the teaching of different topics in science enabling the student to understand the connection of science with other disciplines, to see that science has developed, and to comprehend that the same concept can appear in a variety of ways and context. It introduces the students to an array of scientists and their participation in the development of science.
Action Research Writing in Science Education
This is a three unit course where the students are expected to conduct an action research in science education, write their research results, and make a public presentation of their results. This is in preparation of their written comprehensive examination and oral comprehensive examination.
Seminar on Scientific Inquiry, Research and Experimentation Skills
This is a three unit seminar course where the science teachers are exposed to varied opportunities for their students in order to learn and master skills that are relevant to everyday world. Specifically, reference is made on the following three skill areas: (1) scientific inquiry/experimentation skills, (2) scientific inquiry/research skills and (3) technological problem-solving skills. The skills are presented in an ordered series that mark out students' development along the road to mastery of these specific skills. The continua provide teachers with a way of looking at what students can do so that they can plan for further development of their students' skills. In general terms, the skills involved in scientific inquiry and technological problem solving include the following: (1) initiating and planning (e.g., asking questions, clarifying problems, planning procedures); (2) performing and recording (e.g., following procedures, accessing information, recording observations and findings); (3) analysing and interpreting (e.g., organizing data, reflecting on the effectiveness of actions performed, drawing conclusions); (4) communicating (e.g., using appropriate vocabulary, communicating findings in a variety of ways).
Major Courses:
The major courses provide content and pedagogical knowledge of the fundamental concepts, knowledge. The courses will equip teachers with the knowledge of how to help students to integrate scientific and technological knowledge with knowledge in other subject areas, such as mathematics and social studies. The fundamental concepts that are addressed in the curricula for science and technology in the Basic Education are life systems and interactions, structure and function, matter and energy, earth and space systems and sustainability and stewardship. The courses will also emphasize that as students progress through the curriculum, they extend and deepen their understanding of these fundamental concepts and learn to apply their understanding with increasing sophistication.
Teaching for the Understanding of Systems and Interactions
This 3-unit course is focused on the system as a collection of living and/or non-living things and processes that interact to perform some function. It also emphasizes that a system includes inputs, outputs, and relationships among system components. Natural and human systems that develop in response to, and are limited by, a variety of environmental factors are also considered.
Teaching for the Understanding of Structures and Mechanisms
This 3-unit course focuses on the interrelationship between the function or use of a natural or human-made object and the form that the object takes.
Teaching for the Understanding of Matter and Energy
This 3-unit course focuses on the basic Physical science concepts of Matter and energy, where matter is understood as anything that has mass and occupies space and has particular structural and behavioral characteristics. While energy comes in many forms, and can change forms. The course also deals with the understanding that energy is required to make things happen and/or to do work; and that work is done when a force causes movement.
Teaching for the Understanding of Earth and Space System
The objective of this 3-unit course is to understand how the Earth is changing and the consequences for life on Earth with a focus on enabling prediction and mitigation of undesirable consequences. It will include topics such as: Galaxies and Stars, The Solar System and Planetary Comparisons, The Universe: past, present & future, Energy Sources and Cycling of Materials, Weather and Global Climatic Processes, Natural Resources and Environmental Issues, The Rock Cycle and Rock Classification, Agents of Weathering and Erosion and Plate Tectonics and Changes in Earth's Surface.
Teaching for the Understanding of Sustainable Ecosystems and Environmental Stewardship
This 3-unit course focuses on the concepts of sustainability and continuity as well as environmental stewardship. It emphasizes the idea that sustainability is the concept of meeting the needs of the present without compromising the ability of future generations to meet their needs, while stewardship involves understanding that we need to use and care for the natural environment in a responsible way and making the effort to pass on to future generations no less than what we have access to ourselves. Values that are central to responsible stewardship are: using non-renewable resources with care; reusing and recycling what we can; switching to renewable resources where possible are discussed.