Undergraduate Freshman Application Procedures
Please read and understand all the policies and procedures stated below:Online Admission Facility (OAF)De La Salle University in its continuous efforts to make the undergraduate application procedure updated, accessible and convenient to students applying to take the DLSU College Application Test (DCAT) introduces the Online Admission Facility (OAF).  The OAF is a full online application facility wherein an applicant will be able to pay, fill out the application form, submit the requirements and secure the test permit online.The Application Procedure is a two-step process:

Eligibility for Application
An applicant must be any one of the following:
A Grade 12 student expected to graduate at the end of Academic Year 2018-2019;
A Grade 12 student who graduated from a school based abroad prior to AY 2017-2018 and who has not taken any college course;
A 4th Year High School student from a school in the Philippines who graduated prior to AY 2017-2018 and who has not taken any college course;
Passer of the Philippine Educational Placement Test (PEPT), Alternative Learning System (ALS)or Non-Formal Education Accreditation and Equivalency (NFEA&E) Program following DepEd regulations and therefore certified eligible for admission to college/tertiary level;
Scholastic Aptitude Test (SAT) result holder, AP result holder, IB Diploma/IB Certificate holder or A Level certificate holder who has met the DLSU criteria (/oas/undergraduate/exemptions-crediting-1819.pdf). All results and certificates will be subject for evaluation.
Application Procedures
Complete the Application process (Step 1) via the OAF accessible here:
1.1. Registration:  Create an Account using a valid email address to register1.2. Upload all Application Documentary Requirements Please allot reasonable lead time to secure the        following requirements/documents and to prepare a clear scanned copy of each (in JPEG format) in time for        the Application process deadline.
1.2.1. Academic Information
1.2.1.1. High School ID card with photo or Equivalent valid ID with photo
1.2.1.2. Color passport-size photo taken within 6 months, in white background, with neutral facial                         expression; must not be wearing eyeglasses or color contact lenses, and with ears exposed if                         religious customs do not prohibit1.2.2. Proof of Citizenship as defined below: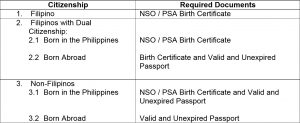 1.2.3. Academic Record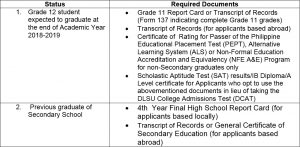 1.3. Provide the following information:
1.3.1. Personal Information
1.3.2. Contact Details
1.3.3. Parent/ Guardian Information1.4. Accomplish the items on Self-declaration1.5. Click the SUBMIT Button1.6. Pay the non-refundable Admission Processing Fee The fees are PhP600.00 for Filipino citizens       (including those who are dual citizens) or PhP2,500.00 for non-Filipino citizens. The processing fee       for graduates of Philippine Science / Public High Schools is waived. The modes of payment       include:
1.6.1. Over-the-counter deposit at any Metrobank or Union Bank branches nationwide.
1.6.2. Online Credit Card Payment via MASTERCARD/VISA
Important Note:  A Verification Process shall be conducted following your submission of documents and payment of application fee.  A Confirmation email shall be sent to your Registered Email address before you will be given access to print your Test Permit.  Please allow seven (7) working days to be able to receive the Confirmation email.1.7. Secure On-line Test Permit
Take the DLSU College Admissions Test (Step 2) on the scheduled date, time, and venue as printed on the Test Permit.  All applicants must bring the Test Permit and Student ID (or equivalent valid ID) on testing day. Guidelines and reminders stated on the test permit must be strictly followed.IMPORTANT REMINDERS:

Applications with incomplete requirements will not be processed.
Applications submitted late will not be considered.
Please keep all original hardcopies of the documentary requirements.  They are necessary and form part of the requirements during confirmation of enrollment.
Any false information given and/or fraudulent document uploaded into the online admission facility will automatically nullify the application and permanently disbar the applicant from pursuing any level of study at De La Salle University.
Test result will be withheld for applicants with incomplete requirements and/or who failed to comply with the specifications of the documentary requirements (e.g. unclear/unreadable scanned copies).  To avoid such inconvenience, inquiries may be sent to admissions@dlsu.edu.ph with the Subject Heading: Online Application Concerns.
Kindly take note of the reminders provided in the test permit.
Please complete the application process early in order to avoid unnecessary inconveniences.
Access the test result from the DLSU website at www.dlsu.edu.ph on the first (1st) week of January 2019.
For inquiries and concerns, please contact:
Office of Admissions and Scholarships
Second Floor, Henry Sy, Sr. Hall
De La Salle University
2401 Taft Avenue
1004 Manila, Philippines
Tel: (632) 523-4230 (Direct) or 524-4611 to 19 local 166 or 167
Office Hours:
Mondays to Fridays: 8:00 am – 12 noon; 1:30 pm – 5:00 pm
Saturdays: 8:00 am – 12 noon only
E-mail: admissions@dlsu.edu.ph
For information on scholarships, please click here
IMPORTANT LINKS
Online Admission Facility (OAF)
Undergraduate Academic Programs and Plans
External Testing Centers