University Research Centers
The University research centers keep abreast of industry practices,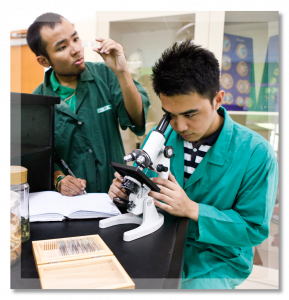 trends and objectives through coordination with other industry sectors, locally and globally. They formulate reference guidelines to set standard practices. There are research centers that have databases of data and observations for easier retrieval of information to member individuals and organizations. Conclusions made in past studies can serve as basis for present day experimentations in order to predict future directions. These are part and parcel of the University's involvement in the total development of the students.
The Center for Business Research and Development (CBRD) is the research and advocacy arm of the Ramon V. del Rosario College of Business (RVRCOB) of De La Salle University (DLSU). As a signatory of the United Nations – Principles for Responsible Management Education (UN-PRME), the RVRCOB has commited to promote the UN-PRME principles. These principles encourage us, among others, to "engage in conceptual and empirical research that advances our understanding about the role, dynamics, and impact of corporations in the creation of sustainable social, environmental and economic value", and to "facilitate and support dialogue and debate" among different stakeholders "on critical issues related to global social responsibility and sustainability."
Research Thrusts
Keeping in mind DLSU's mission "to be a leading learner-centered research university, bridging faith and scholarship in the service of society, especially the poor", CBRD provides support to research programs and activities that address the following themes: responsible management education, multistream management approaches, humanistic management, ethical business practices, sustainable business practices, corporate social responsibility, corporate governance, social marketing, SME development, family business management, and social entrepreneurship.
"FOSTERING A TRADITION OF EXCELLENT CREATIVE WRITING IN THE COUNTRY"
The BNSCWC believes in the value of the work and vision of creative writers and aims to enhance the cultural life of the University.
BNSCWC envisions that the creative writers who will benefit from its programs and projects will also serve the specific communities to which they belong so as to foster and preserve the tradition of excellent creative writing in the Philippines.
Renamed in 2012, the Jesse M. Robredo Institute of Governance (formerly La Salle Institute of Governance) is a research and training unit based at the College of Liberal Arts (CLA), De La Salle University. It aims to be a center of excellence in implementing governance research and training in partnership with local and international institutions.
For almost twelve (12) years now, the Institute has implemented activities, projects, and programs that are innovative and effective in creating knowledge products and developing capacity among key stakeholders. The Robredo Insitute has likewise conducted initiatives that have to do with strengthening performance, participation, transparency, and accountability in governance systems across the public-private divide.
The Robredo Institute has a strong track record in designing and conducting policy studies and implementing projects in the following areas:
Local Governance (participatory local governance, local economic development, local leadership capacity building);
Decentralization;
Development;
Budget Monitoring;
Environmental Governance and Sustainability;
Information;
Integrity systems; and
E-governance.
The Institute offers customized courses to build governance capacity and improve development outcomes. It creates partnerships and knowledge-sharing mechanisms to foster awareness, generate consensus, and build support for policy and institutional reforms. It seeks to find information age solutions to age-old governance problems.
As the Social Science research arm of the DLSU College of Liberal Arts, the Social Development Research Center seeks to fulfill a two-fold mission: to serve as a hub in the Philippines and the Asia-Pacific region for research and advocacy; and to form a bridge between the academic community on the one hand, and the society and community it is serving on the other. Its vision is for Filipinos and Asian and Pacific peoples to enjoy an improved way of life, and to live under decent conditions, in an environment worthy of human dignity and respect.
Apart from providing data and analysis in over 200 studies completed since being established in 1979, the Center's programs and endeavors have resulted in policies and projects that address identified needs.  SDRC has helped put up schools, generate income, organize communities, and promote better service provision in various aspects of health, governance, and social service. Moreover, by encouraging the participation of beneficiaries through activities such as capacity-building and training, it has further earned the trust of donor agencies and increased their belief in people's capabilities.
For more information about the Center, see this link: www.sdrc.org.ph
The research unit of the College of Computer Studies, Advanced Research Institute for Computing (AdRIC) was established in 1994 to pursue the research ideals of the College such as setting the directions and priorities of research activities in the various fields of computing, commissioning and encouraging research and development projects consistent with identified thrusts and priorities, and seeking collaborative ventures with partners in industry, government and academe to serve society through research.
Since 1994, progressive changes have helped make these ideals closer to realization. In 1996, the AdRIC laboratory was opened at G406 with an initial collection of Pentium computers, DEC Alpha workstations and one DEC Alpha server. All were donated by the Department of Science and Technology (DOST). In 1998, AdRIC adopted the publications and seminar programs of CCS to provide researchers with opportunities to disseminate research and gain valuable feedback from peers.
The Bro. Alfred Shields FSC Ocean Research (SHORE) Center, formerly DLSU Marine Biological Station (MBS), is a research facility of the College of Science meant to further research and extension activities in coastal areas. It is located on a one-hectare lot in Matuod, Lian, Batangas, about three (3) hours drive from the Taft campus.
Facilities
Basic laboratory and field research facilities are available in the station including:·
SCUBA diving gear, tanks, and a compressor·
A small outrigger boat ("bangka")·
A dry laboratory
A reference collection of common marine organisms
Computers and various communication and video equipment
Basic housing facilities for faculty and students are also available including two 10-bed dormitory rooms, and a small kitchen.
Freshwater supply is provided from a deep well and a generator is available for emergency power
Established in 1999 out of the complementary goals of its two founding institutions, De La Salle University and the Angelo King Foundation, the DLSU–Angelo King Institute merges its founding institutions' drive for research excellence, policy relevance and overriding concern for poverty alleviation. Supported by a worldwide network of donors and partners, the Institute has established a niche in the area of research by integrating economic and business studies, and by combining macro and micro perspectives.
About the Center
The Center for Engineering and Sustainable Development Research, or CESDR is the research arm of the DLSU-Manila College of Engineering. It is mandated to promote, catalyze and crystallize scientific activities in engineering sciences and technology to achieve strategic advances in complex engineered systems and firm-level technologies necessary for the sustainable development of the country.
Vision-Mission
CESDR is envisioned to become a Center of Excellence in engineering research and technology innovations. It aims to make significant contributions to the growing scientific knowledge in engineering and technology. It shall engage in experimental research and modeling of industrial systems and development of innovative processes and products that shall lead to utilization of sustainable technologies. It shall facilitate the effective transfer of these technologies from the academic research community to industry and society in the pursuit of sustainable development.
Objectives
To provide an intellectually and culturally vibrant environment for academics and students in which teaching and research in the engineering field can proceed as effectively and efficiently as possible.
To enhance the productivity of faculty members and students in the different Centers of Excellence by carrying out research and development for the implementation of practical and effective solutions for the industry and society.
To contribute to the economic and social development of the nation by promoting sustainable technology.
To provide the training ground for future engineering scientists and researchers of participating departments through education, research and publication.
To gain international recognition in the scientific community.
To strengthen close collaboration with the industry, government and other stakeholders including the civil society.
Vision
"CENSER is a dynamic conduit and resource for excellent scholarship in the natural sciences and mathematics. Envisioned as an initiator and a promoter, the center will continually challenge itself for innovation and leadership in advancing the frontiers of scientific knowledge. With tradition rooted in Christian ethics which is imbued with deep sense of moral responsibility, the Center would constantly be a catalyst for socially-relevant researches that extends into the wider horizon of human exigencies."
Mission
Promote a culture of relevant, advanced, multi-and inter-disciplinary research in the College of Science (COS).
Facilitate the dissemination of research outputs and transfer of technology.
Foster intellectual exchange of ideas.
Encourage critical discussion on the social and cultural implications of research activities.
Strengthen linkages with other research institutions and agencies.
Uphold the virtue of intellectual integrity and honesty in research.
Provide the appropriate venue, support, and incentives to COS faculty and colleagues involved in research.
Inspire and deepen camaraderie among S&T researchers.
Objectives
Host externally funded research projects of COS faculty to which it will provide basic administrative and clerical services.
Contain and maintain common pool equipment such as computer workstations and networks, land vehicles, boats, diving equipment, etc. that are to be shared among faculty researchers and are primarily (but not exclusively) for their and their apprentices use. These equipment will be raised from external funding although teaching departments may opt to rent or loan other facilities to CENSER.
Organizational Structure
The Council will set the direction and formulate policies and guidelines aimed at encouraging research activities. The Governing Council comprises the COS Dean, CENSER Director, two representatives each from the Biology, Chemistry, Physics and Mathematics Departments, and the Deputy Director (MBS), Graduate Studies Director, Manila Journal of Science Editor-in-Chief, and the URCO Director as ex-officio members. An elected member chosen among departmental representatives chairs the council. The term of office of the Chair is valid for one school year. The CENSER Governing council will perform the duties of the College Research Council (i.e. research proposal evaluation and other relevant functions).
The Lasallian Institute for Development and Educational Research (LIDER) was established in 1993 as the Research and Development arm of the DLSU College of Education. Through this Institute, the College pools the expertise of various education professionals to serve the needs of different sectors of the educational community. LIDER assumes the dual purpose of generating knowledge and helping solve the nation's developmental and educational problems. Its establishment also responds to the growing demand for cooperative and multidisciplinary efforts to address these problems.
In general, the LIDER aims to:
contribute to nation building by conducting research studies, training educational leaders, and developing innovative strategies and culturally relevant educational materials;
provide leadership in pushing the frontiers of education by offering varied and creative programs in different disciplines;
initiate interdisciplinary research-based educational technology, human development, and formation programs.
In realizing its objectives, the LIDER encourages the participation of researchers and other human resource development experts from diverse disciplines. Moreover, it facilitates linkages with various end-users—policy makers, funding agencies, parents, teachers, students, community leaders, and researchers.
Heeding the call to address the problems and needs of the youth in the country, the DLSU College of Education, thru LIDER, embarks on long-term, multi-year, multi-component programs, which started during the SY 2007-2008, with its main thrust of Understanding the Youth in their Developmental and Educational Contexts: Realizing A Lasallian Response.
In the area of Understanding the Youth, the following issues relevant to the development and education of the youth will be explored:
the learner: cognitive, metacognitive, and motivational domains, socio-cultural and developmental issues, and individual differences;
the teacher and other education professionals: cognitive, metacognitive, motivational, and socio-cultural domains; issues relative to individual differences; personal and professional development;
teaching/learning environment: curriculum, pedagogy, teaching/learning resources, teaching/learning processes, use of technology and classroom management;
school culture: mission/vision, organizational climate, support system, relationships and communication system;
family: socio-economic-cultural conditions, parenting, and family dynamics;
community: its support system, value system, and the socio-economic-political system;
educational policies: institutional, national, and global perspectives;
globalization: trends, impact and responses
In the aspect of Realizing A Lasallian Response, the following projects and activities are and will continue to be pursued:
Design, Implementation and Evaluation of:

Curriculum and Instruction
Continuing Professional Education Programs
Community-based multidisciplinary development projects
Alternative Delivery Systems
Psychospiritual/Psychosocial Programs
Models (School Leadership, Counseling, Counselor Education and Supervision, Educational Measurement and Evaluation, Teacher Development Programs, Management Systems, Physical Fitness Programs)
Educational and Psychological Assessment

Networking and Inter-institutional Linkages
Effective Lasallian Education (Models and Indicators)
Sharing of Knowledge and Best Practices
Advocacy and Policy Formulation
The Southeast Asia Research Center and Hub (SEARCH) is based in De La Salle University.  Its mission-vision is to become a cutting-edge research center and networking hub that addresses regional concerns; and serves as a social advocacy arm for De La Salle Philippines.  Its role is to generate Southeast Asian research, collaborate with specialists, network with other centers and institutes of Southeast Asian Studies, provide resource materials, and serve as a hub for all matters concerning Southeast Asia. Its goal is to be a research center of, for and by Southeast Asians.