One Life, Live it, Volunteer: The Lasallian Volunteer Program
The Lasallian Family can look back at a long legacy of volunteerism, of competent and compassionate graduates and teachers, Lasallians who took a different path, who chose to devote an important part of their lives by being with the poor.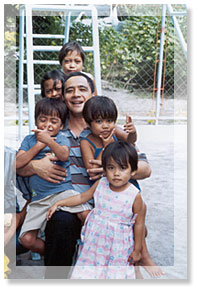 In 1994, the Lasallian Volunteer Program was set up by the District to formally recognize the volunteer spirit and initiatives which had expanded over the years.
Since the, batches of graduates have been trained and sent off to teach and serve in La Salle schools and poor communities all over Luzon, Visayas and Mindanao. Wherever these LaSallian Volunteers (LSVs) were sent, they vowed to share a human and Christian education with the young and the poor in their everyday ministry.
Today, communities of LaSallian Volunteers are found in poor mission areas where there are pressing needs, primarily in the education of children and youth-at-risk. Graduates, teachers and staff members from Lasallian schools make up these LSV communities. The LSV communities enter the mission area with a set goal of initiating and implementing a sustainable educational program for youth-at-risk in the area.
The educational programs introduced are eventually turned over to the care of the community within a specified period of time, thus empowering the mission area in program conceptualization, implementation and evaluation.
Mission Areas and Programs
Kaagapay Community – Canumay, Antipolo City
KaMag-Aral Program (Alternative Learning System Accreditation and Equivalency)
Balik-Aral (Basic Adult Literacy)
Community Leaders' Formation
Tulong-Aral (Tutorial classes – public elementary and high school students)
Environmental Awareness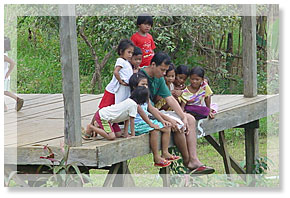 Padayon Community – Sipalay, Negros Occidental
Partnership with the Parish of the Sacred Heart of Jesus
Youth Ministry and Formation
Choir Formation
Alayon Community – Langilanon, Iligan City
Early Childhood Education (Kinder 1 and Kinder 2)
Balik-Aral Program (Basic Adult Literacy and Alternative Learning System Accreditation and Equivalency)
Tulong-Aral (Tutorial classes – public elementary and high school students)
Kaakibat Community – Bagac, Bataan
Early Childhood Education (Kinder 1 and Kinder 2)
Read "'Sang buhay" by Frances Santiago
The LSVP Vision
Identity
It is a community of Lasallian Lay Missionary Volunteers who, in their search for meaning, strive to live the teachings of Saint John Baptist de la Salle, and in the spirit of inter-faith collaboration aim to contribute to social transformation
Core Purpose
To provide a venue for the members of the Lasallian Family where they commit their expertise, talents and skills to the service of marginalized communities, thereby attaining fullness of life for all.
Envisioned Future
The LaSallian Volunteers envision a Filipino society where basic needs are met, where rights are respected and duties are fulfilled, where the environment is valued and protected, where every person has the freedom to participate in governance and where women, men, and marginalized groups are treated equally with respect.
Support for Volunteers
Orientaton and seminars prior to being sent off to the mission area
Continuing formation will be provided through visits, community life, spiritual guidance, skills enhancements, retreats, mid-year and year-end evaluations
Given a monthly allowance by LSVP, such amount allowing for a simple standard of living
Board and lodging will be arranged by LSVP and the mission area
Stipend for the volunteers' travel cost to and from the mission area will be provided, such covering the periods of deployment, mid-year and year-end evaluation
Volunteers are also covered by medical and group life insurance
You can be a Lasallian Volunteer if you are
an alumnus / alumna, faculty member or staff member of any La Salle school or supervised school
not more than 35 years old
in good health
willing to serve anywhere in the Philippines for a term of at least one school year
dedicated and committed to a Lasallian educational ministry
an effective withness to the Lasallian values of faith, zeal for service and communion in mission
For information and inquiries, contact Ed Rico of the Center for Social Concern and Action (COSCA) or Roselyn Sumande, National Coordinator of the Lasallian Volunteer Program, La Salle Provincialate, 343 Ortigas Avenue, Mandaluyong City. 721200 loc. 606 lsvp_roselyn@yahoo.com