Dr. Emerita Quito
AY 1986-1987
Status: RETIRED | Rank: PROFESSORIAL LECTURER | Department: PHILOSOPHY | College: COLLEGE OF LIBERAL ARTS | Present Role in the University: PROFESSOR EMERITUS
A Life of Philosophy
From the Introduction to sections in the Festschrift
"A Life of Philosophy"
Edited by Dr. Estrellita V. Gruenberg and Dr. Marjorie Evasco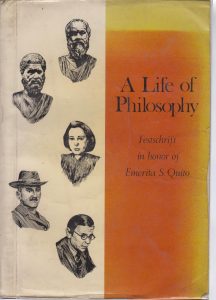 1965 – 1970
The 1960's in the life of Emerita Quito were presaged by her post-graduate studies at the Université de Fribourg in Switzerland. From 1958 to 1965, she immersed herself in the works of Bergson, Husserl, Jaspers, Heidegger, Marcel, and Sartre among others. Her European studies gave her firm grounding on the philosophy of Plato, whose marked influence is seen in her dialogical method of scholarly inquiry. It also enabled her to integrate the ideas of the best of the existentialists into her way of seeing the world. Of them all, Jean Paul Sartre exerted the profoundest influence: "…much as I refuse to admit, I am greatly influenced by Sartre because existentialism enabled me to see things differently and with more depth."
She returned to the Philippines after having earned, cum laude, a doctorate in Philosophy. In the mid-60's, the Philippines was undergoing a challenging and dangerous social transformation. The civil rights movement and the rise of student power in Europe, America, and neighboring Asian Nations, found its particular expression among the students and intellectuals of the country. Into this milieu of intellectual ferment Quito gave her energies, writing as assistant editor of UNITAS, the faculty magazine of the University of Santo Tomas (UST), and chairing the Philosophy Department of UST's Graduate School.
From 1967 to 1970, she published three major books and monographs: A New Concept of Philosophy (1967. UST Press), which was her inaugural address for schoolyear 1967-68: La Notion de la Liberté dans la Philosophie de Louis Lavelle (1969. Studia Friburgensia), the first work in French written by a Filipino and accepted for publication by the University of Fribourg; and Herbert Marcuse and Contemporary Society (1970. UST Press), which exerted a catalytic effect on the phenomenon of student protest in the Philippines. During this period, she also became a visiting professorial lecturer in Philosophy at the Ateneo de Manila University, De La Salle College, and Assumption College, extending her influence on the students who were in the midst of the activist movement.
Thus, in January 29, 1970, as head of the Division of Humanities of UST's Graduate School, she shook the halls of academe with her St. Thomas Moore lecture on fellow-Fribourger, Herbert Marcuse, who espoused the idea of the Great Refusal. Three days prior to the lecture, students had demonstrated in front of Congress protesting against corruption in government. A day after her lecture, student activists of the First Quarter Storm held the siege of Malacañang, During the same day, these activists became victims of the Mendiola massacre.
Quito captured not only the imagination and fervor of the students but also of the media. She was called "the darling of student philosophers, rebels, intellectuals, and even demonstrators," Paying heed to the fact that at the height of classroom boycotts, student demonstrators continued to attend her lectures. Like Marcuse, Quito believed that the risk of putting The Great Refusal into practice was worth it: "…it must take the risk of failure for in doing so it can consolidate its strength and expose the banalities of civil obedience to a reactionary regime."
Aside from giving lectures and conducting teach-ins, Quito wrote indefatigably. She wrote articles on Bergson, Husserl, the meaning of existentialism, and the theme of absurdity in Albert Camus. By 1970, Quito wrote for the Manila Chronicle an article on Marcuse entitled "Students make the best demonstrators." In April of that year, in an article published by Horizon magazine of De La Salle University, she asked the explosive question: "Should communism be taught in the universities?" In March 1970, Emerita Quito was one of UST's main discussants on the issue of Filipinization, moving for a Filipino oriented curriculum and challenging teachers to teach in Pilipino by July, the opening of schoolyear 1970-71. By April, she had stirred faculty members of UST and many colleges, universities and schools in Manila with her article in the UST Varsitarian, challenging the faculty with apathy and lack of concern over the social and political forces of the time. After conducting a teach-in with 200 of UST's faculty in attendance together with faculty members of other schools, Quito led the formation of the National Association of College and University Professors (NACUP), believing that the faculty can be a third force in directing the country's social and political transformation. In the face of escalating student protest, Quito was convinced that organized faculty members could ensure that the tremendous force for positive growth and the contribution teachers could give the country, would be put to optimum use. Josefina D. Constantino, in her Manila Chronicle article, declared that through Quito and many other faculty activists, "UST had broken into her second great era."
Emerita Quito, scholar-philosopher-teacher, had embarked on a journey into a dimension of life chartered first by the mind and translated into meaningful action in the profession she had chosen. In these first five fruitful years of her prime, she had shown her students and peers alike what a life of philosophy can do, and how for her, sound ideas were the true sources of right action in any society of freedom-loving human beings. (Part I Introduction by Marjorie Evasco)
1971 – 1980
The 70's were very prolific years. This period saw a further clarification and deepening of Professor Emerita Quito's knowledge in Philosophy brought about by her contacts with Asian and Western minds through frequent travels, wide readings and extensive lectures.
In 1971, she wrote four articles on Structuralism which were published in the Manila Chronicle and UNITAS, the official publication of the faculty of the University of Santo Tomas. It was also in this same year that she became a full time faculty member at De La Salle University, as well as Chair of the Philosophy Department upon the invitation of Brother Andrew Gonzales, FSC, then Academic Vice-President.
Her new post as a school administrator did not slow down her writing. Instead, she started probing into the psyche of the Orientals and the Occidentals which in later years led her to the synthesis of these two cultures. Meantime, the Manila Chronicle continued publishing her "Mind" series of articles like "The Filipino Mind", "The Oriental Mind", "The Greek Mind", "The Medieval Mind", "The Renaissance Mind", and "The Contemporary Mind". It was also at this point when she started her crusade in the propagation of Filipino in academe. She challenged her fellow Filipino philosophers to write in the national language her article "Philosophy in Pilipino, Anyone?" which was also published by the Manila Chronicle. To prove that this was possible, she wrote the following year (1972) her book Ang Pilosopiya sa Diwang Pilipino, making her the first Filipino philosopher to write a major philosophical work in the national language.
The same year also saw her being invited to the University of Santo Tomas to lecture on such theological concerns as "The Concept of God in Existentialism" and "Reflections on the Death of God". She likewise continued her work on Structuralism through lectures delivered in various schools among which were Ateneo de Manila University and St. Theresa's College.
In 1973, the French Government acknowledge her potential contribution to the world of philosophy by awarding her a grant to pursue further studies in Comparative Philosophy, as well as Sanskrit, at the University of Paris at the Sorbonne.
The following year, 1974, she was chosen as the first ASAIHL annual lecturer in Singapore. The lecture she delivered entitled "Oriental Roots of Occidental Philosophy" was published as a monograph both in Manila and Kuala Lumpur. Simultaneous with this was the publication of another major work in Pilipino, Ang Kasaysayan ng Pilosopiya.
In between classes at De La Salle University where she has been constantly rated outstanding by both her graduate and undergraduate students, she pursued the refinement of her concepts on Oriental and Occidental philosophy and wrote such articles as "Self-Realization, East and West", "Hinduism" and "A Short Introduction to Oriental Philosophy".
In 1978, she was invited by the Asian Women's Institute based in Luchnow, India to read her paper on "The Role of the University in Changing Women's Consciousness" at Ewha Woman's University in Seoul, Korea. Her association with women's groups led to her publication in later years of a monograph on women philosophers. In 1978, she was appointed Dean of the Graduate School of De La Salle University.
As if all these activities were not enough, the year before the close of the decade saw a windfall of more invitations to write and lecture in other foreign countries. She was invited as visiting professor at the Waseda University in Tokyo, Japan. This assignment resulted in the publication of a monograph on "Lectures on Comparative Philosophy". The year 1979 also saw her going to Kuala Lumpur in Malaysia to serve as visiting professor at the University of Malaya. It was also during this time that her Four Essays in the Philosophy of History" was published. Her interest in further illustrating the close link between philosophy and history was shown when she delivered a lecture on "The Historicist View of Philosophy" at the First International Congress of Philosophy held in Taipei, Taiwan in 1979.
The beginning of the decade of the 80's witnessed the publication of another important work in Filipino, Ang Pilosopiya ng Tao which she co-authored with Dr Romualdo Abulad of De La Salle University.
In recognition of Professor Emerita Quito's numerous and outstanding accomplishments as a teacher, writer, scholar, and philosopher, De La Salle University awarded her Distinguished Professorial Chair of Humanities in December 5, 1980, a Chair which she still holds to the present. Her inaugural lecture was "Homage to Jean-Paul Sartre", one of the three philosophers who greatly influenced her life and works. (Part II Introduction by Estrellita Gruenberg)
1981 – 1988
On her 52nd year in 1981, Emerita Quito received and accepted the invitation from the French government to teach at the University of Nancy II and at the University of Paris III. Greatly saddened by the country's deteriorating social, political, economic, and cultural life, she had refused to read any newspaper or view the television during the ignominious height of the Marcos dictatorship. Thus, when she taught "Philippine History and Culture" in these French universities, she carried in her heart and mind the burden of the Philippines' sad state of affairs. But the physical distancing served only to intensify her study of Philippine culture within the text of lived historical experiences.
During this period, her intellectual energies were focused on her continued advocacy for Filipinization in education. She wrote several articles advancing her views. Among these were: "Ang Pilosopiya: Batayan ng Pambansang Kultura" (1981); "A Filipino Philosophy of Value" (1983); "Isang Teoriya ng Pagpapahalaga" (1984); "Filipino Volksgeist in Vernacular Literature" (1984); and "Pilosopiya ng Edukasyon sa Diwang Pilipino" (1985). Two of her major works were published by the De La Salle University Press: Homage to Jean Paul Sartre (1981), and Three Women Philosophers (1986), both of which were delivered as professorial chair lectures.
Recognition also came from many universities and institutions all over the world. Her lectures took her to Malaysia during the 1000th anniversary of Avicenna; to Hawaii for the international conference on "God: The Contemporary Discussion"; to Portugal for the world conference in philosophy and theology; and to Thailand for the UNESCO meeting of experts in Philosophy to write the country report on the "Teaching and Research in Philosophy in the Philippines." In 1984, she was awarded by the French government the highest academic decoration Chevalier dans l'ordre des Palmes Academiques. A year after, she was honored as the Most Outstanding Educator of the Philippines by Metrobank Foundation.
But these academic achievements did not insulate this academician-scholar from the realities of the times. She held true to her involvement with the country's historical events, raising the social consciousness of her students and colleagues in the countless symposiums conducted at De La Salle University and other schools in Manila. Just before the fall of Marcos, she had driven home the point during a discussion on civil disobedience that in the fluxes of history, there is always the ripe moment or Kairos where the inevitable finds its point of expression. Needless to say, she marched in the rallies and demonstrations against the Marcos dictatorship after the death of Benigno Aquino.
Her involvement also included forming ALAB, or the association of female faculty members od De La Salle University. In touch with the burgeoning women's studies in many parts of the world and the celebration of the UN Decade of Women, Quito led ALAB in 1987 in the conduct of consciousness-raising lectures and discussions on the role of women in national development. Her 1986 professorial lectures were devoted to the discussion of the philosophy of Hannah Arendt, Simone de Beauvoir, and Ayn Rand. She aptly dedicated this book to newly-elected President Corazon Aquino and women who have the moral fiber and courage to lead their people towards the fulfillment of a vision of a humane and humanizing society. After almost forty years of outstanding scholarly work and teaching, Emerita Quito says with humility characteristic of the true intellectual: "I know now that I have always done what I wanted to do. I recognized what I can do as well as what I cannot do." The learning, however, hasn't stopped. In 1987-1988, she concentrated on Hermeneutics with the same intellectual vigor with which she had studied the philosophy and theories of existentialists, structuralists, deconstructionists and post-structuralists. She confesses, 'hermeneutics was a hard nut to crack but it was a challenge I could not resist."
Now on her 60th year, Emerita Quito has verily become an institution. To her colleagues, peers, students, and friends, she exemplifies what the hermeneute Paul Ricouer calls "the best of symbols" because she "invites us to think." Reading her lifework is an intense engagement with an inquiring mind whose wealth of experience gifts others with clarity of vision and lucidity of insight.
During her birthday in September 1988, while we were in Baguio, we had the rare privilege of participating in the private life of Emerita Quito. As we sat there at her balcony facing a mountain, Quito recalled her life as a young student in Switzerland, her travels around the world, ang her quiet sense of grace for having been given the energies and opportunities to do the work she loved best, and to live the life she had chosen. We savored the rich silences between the re-telling as we fine-tuned to the life she continues to live: reading and writing philosophy, once in a while looking out of this balcony towards the mountain, finding strength in its steadfastness and marveling at its constantly changing faces depending on sun, rain, or mist.
The poet, Merlie Alunan-Wenceslao captured that time-out-of-time in a poem entitled "Emy," committing to our memories the disciplined sparseness of Emerita Quito's daily living and the intense enthusiasms with which she celebrates the life of the mind. (Part III Introduction by Marjorie Evasco)
EMY
by Merlie Alunan
            "…a comfortable thing to keep,"
she says, "no need to water or feed it
or bring it out for sun or air."
While we gape, "It's never scared
of the dark, never outgrow this space.
It's safe from fire, flood and wind,
even earthquakes, it would seem,
for they tried to blast it
and failed. So they built the house
right around it –and there it is."
There indeed it is, immense
monstrosity of stone in her kitchen
where a shelf or a cupboard could be.
We stare at it with puzzled glee
thinking up some smart-ass ribaldry
to say, like "When it's chilly
can you cuddle up to it?" or
"Does it talk? Would it tell you'
some grumpy morning, 'Honeybags,
you're all I want for breakfast,"
but chewing back the words quick
before the saying betrays us.
We have lived too long with the slap-
dash sea bringing vagrants to our door
–carcass of crab or octopi, fire-scarred
trunks of trees, half-drowned kittens,
the innocents, the starvelings, sea-dazed
creatures with dark hollows in their hearts—
shapes of many lives broken or whole
that drift sadly in or are flung up
like laughter from the restless waters.
It is the sea inside us, we suspect,
the same salt in the blood that senses
surely the tidal flux and its call
to all our unreason—the crowded hearth,
the littered floor, the presences
living or dead, whose absence we mark
in the usual place at mealtimes
or the empty room upstairs.
We have long since been unmoored
from this repose her mind decrees
upon this austere space, her home
at Green Valley. Spare as a nun's cell,
uncluttered, serene—but for this rock
she shelters, neither for its need or hers,
this mass of stone that billows huge
to her ceiling from the mountain's core.
"Big, bold, "she wickedly declares,
"tough and intractable, but cleaner,
cleaner and immutable."
Yield she would not
her rock's imperatives—her vagrant
perhaps, stirring its own call—
to the abysmal necessities
ruling the salt streams of our blood.
"Agree! Agree!" we cry back to her.
Sometime this we would say:
that we couldn't be so different,
she who lives with a rock
and we who keep the sea
each in our separate houses.