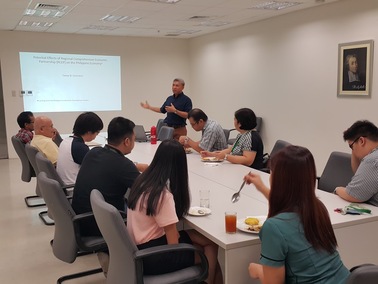 The Economics Department and SHS offerings
Adhering to the mandate given by the Department of Education and the Commission on Higher Education, DLSU School of Economics envisions to be one of the leading resource pool of faculty, instruction, and applied work for the enhanced basic education system of the Philippines implemented in 2011.
​Since June 2016, the Economics Department has been tapped by educational institutions to offer Applied Economics for Grade 12, under the strand of Accountancy, Business, and Management (ABM). The deployment of faculty is supervised by SOE administrators through the Economics Department Chair.
The following institutions were currently served by the Economics Department in facilitating instruction for Grade 12:
Apart from instruction, materials development is also one of the thrusts of the Economics Department. With the SHS, Dr Tereso Tullao Jr has recently published his textbook Applied Economics for a Progressive Philippines (Phoenix Publishing House, 2016).
The Economics Department in-charge for SHS coordinates the mentoring and certification programs for high schools who wish to be aligned with DLSU economics curriculum. A number of schools have been signifying interest and are initially undergoing mentoring and certification since 2016.
The university has also its Connect-ED program, which maximizes the potentials of the change in curriculum in basic education through the implemented K to 12 program of the Department of Education.