Internationalization Program
Osaka City University students and faculty visit SOE anew
by Dickson Lim
Undergraduate students and faculty members of Osaka City University (OCU) visited the DLSU campus on October 6, 2016 to attend paper presentations, seminars, and roundtable discussions with SOE faculty and students. Led by Dr. Yoshihiro Nakajima and Dr. Kohei Wakimura of OCU and Prof. Leigh Lim of SOE, the activity is part of the OCU-SOE collaboration in terms of economic research and student life.
The following day, undergraduate students and faculty members from both universities visited the First Philippine Industrial Park, a joint development of the First Philippine Holdings and Sumitomo Corporation partnership, located at Sto. Tomas, Batangas. The group then toured the industrial park and the Honda factory and learned about the history and business operations of Honda Corporation in the Philippines."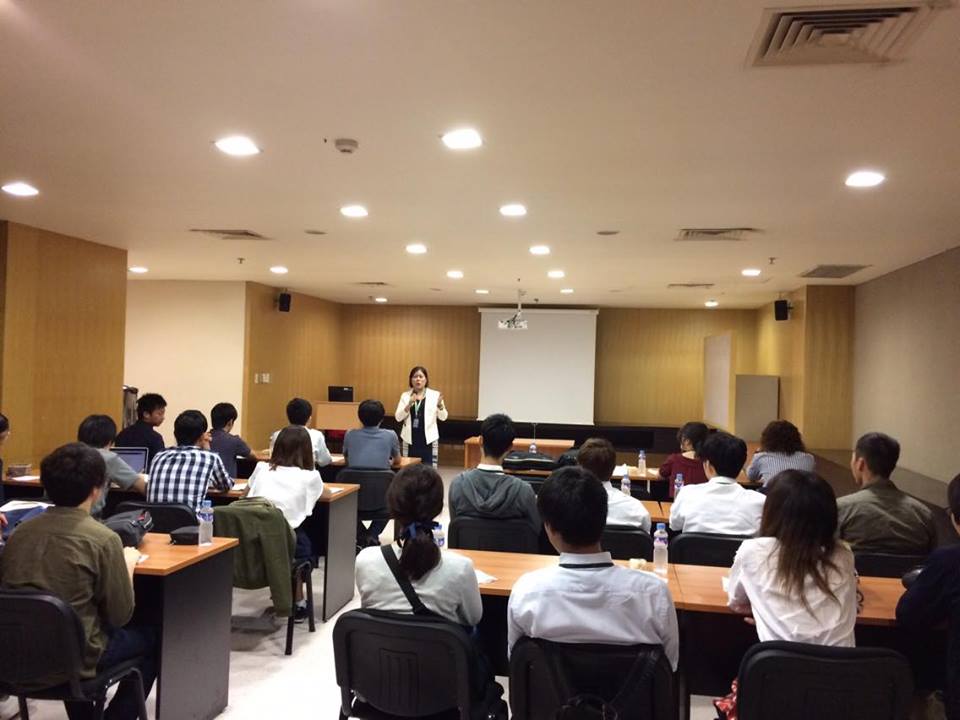 Dr Marites Tiongco welcomes OCU delegates.  Photo by Relian Soriente
DLSU School of Economics and Australian National University sign MOU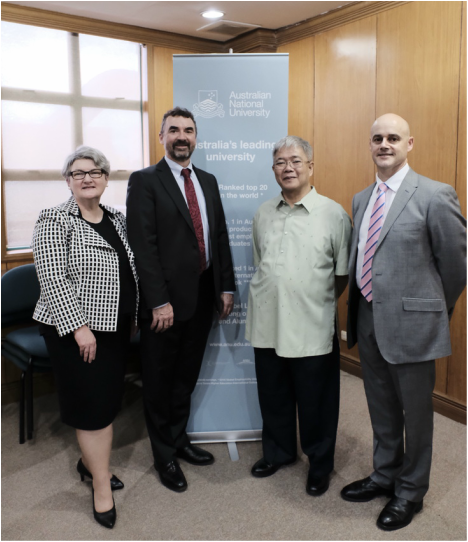 Prof Veronica Taylor (Dean of ANU College of Asia and the Pacific), Prof Robert Braunig (Director of ANU School of Public Policy), Dr Gerardo Janairo (DLSU Chancellor), Mr Mat Kimberley (Deputy Head of Mission, Australian Embassy).  Photo from Mark Flores
by Mariel Monica Sauler
Last August 2, 2016, representatives of De La Salle University (DLSU) and the Australian National University (ANU) gathered to sign a Memorandum of Understanding between the two universities. The highlight of the MOU is a collaborative, articulated degree program wherein students may acquire a Diploma in Development Economics, administered by the School of Economics, and have the opportunity to attain either a Masters degree in International and Development Economics or in Environmental and Resource Economics, as administered by the Crawford School of Public Policy at the Australian National University.
The event was attended by Dr. Gerardo Janairo, Chancellor of De La Salle University, Professor Veronica Taylor, Dean of the College of Asia and the Pacific, Dr. Robert Breunig, Acting Director of the Crawford School of Public Policy, Dr. Marites Tiongco, Dean of the School of Economics, Mr. Mat Kimberley, Deputy Head of Mission at the Australian Embassy Manila, and Dr. Rica Sauler, External Affairs Director of the School of Economics. Other members of the School of Economics, the Australian Embassy, and the Philippines Australia Human Resource and Organisational Development Facility also gathered at the event.
This newly formed partnership between DLSU and ANU will hopefully lead to other avenues of collaboration between the two universities in the future.
SOE hosts macroeconomics and financial integration workshop
Faculty and delegates from the De La Salle University School of Economics and the School of Development Economics at NIDA (National Institute of Development Administration, Thailand) convened in the ASEAN Macroeconomic and Financial Integration workshop on 29 September 2015, held at the Brother Andrew Gonzalez Hall, DLSU Manila.
​
A number of working papers and ongoing research projects were presented and discussed, highlighting issues and policies appropriate for the goal of the ASEAN to be integrated as a community with a focus on macroeconomic policy and financial economics across the region.
On 30 September 2015, representatives from both schools sat in a meeting to discuss other avenues for collaboration and cooperation between DLSU SOE and NIDA.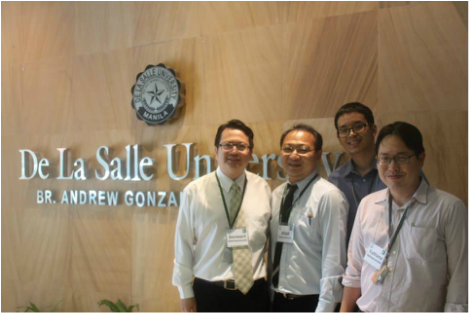 NIDA (Thailand) delegates to present research and working papers on macroeconomics and financial integration. Photo from Rica Sauler
Osaka City University visits SOE
Undergraduate students and faculty members of Osaka City University visited SOE on 29-30 September 2015 to attend paper presentations, seminars, and roundtable discussions with SOE faculty and students. Led by Dr Yoshihiro Nakijima and Dr Kohei Wakimura, this endeavor is a part of the Philippines-Japan friendship and collaboration of the university, in particular, in terms of economic pedagogy, research, student life, and other interests shared by the two universities.
Dr Nakijima also was one of the guests of the SOE Recognition Rites for graduating students on 30 September 2015.
The Economics department was also assisted by members of the DLSU Economics Organization (EconOrg) in this endeavor.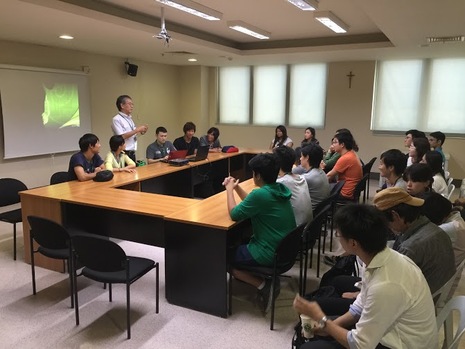 Faculty and students in a roundtable discussion. Photo from Krista Yu
Workshops and trainings 
Faculty members of SOE attended various advanced short-term courses abroad to expand exposure on recent developments in economics and state-of-the-art tools. 
Prof. Mitzie Conchada took the Basic Computable General Equilibrium (CGE) Modeling course at the University of Laval, Quebec, Canada; Prof. Rica Sauler attended two consecutive courses on Banking, Global Liquidity and Financial Stability; and Liquidity, Business Cycles and Public Policy at the Centro de Estudios Monetarios y Financieros (CEMFI) Summer School, Madrid, Spain; and Prof. Rachel Reyes completed the course Empirical Analysis of Imperfectly Competitive Markets (also at the CEMFI Summer School.
SOE is known as a regular participant in ASEAN University Network (AUN) activities, and other student competitions and workshops sponsored by different institutions of higher learning within the region.
In particular, SOE is known to be an active participant in the annual ECONOMIX students' conference, sponsored by the Faculty of Economics, University of Indonesia. In particular, SOE is known to be a reputable contender in this competition: In 2014, SOE delegates were awarded the overall champion.
SOE student delegates also landed second place in the recently concluded AUN students' conference in Kuala Lumpur, Malaysia.
Students received financial support from the university and academic inputs from SOE faculty.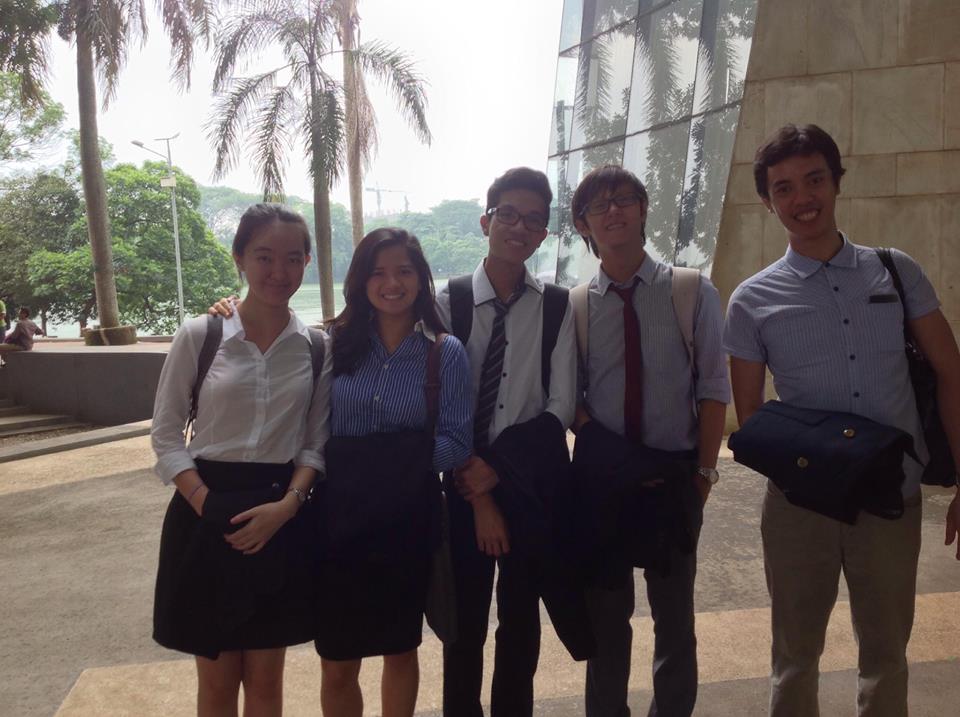 Economix 2013 delegates. [L-R] Ailyn Shi, Nina Quinio, Jeffrey Jon Mecitas, Steven Hung, and Prof. Luisito Abueg. Photo from Jeffrey Jon Mecitas
Lecturers, visiting scholars, esteemed faculty
SOE and the Center for Engineering and Sustainable Research of the Gokongwei College of Engineering are jointly hosting Dr Joost R Santos as a DOST Balik Scientist from July 8 to August 12, 2012. An esteemed professor of George Washington University, he received his PhD in Systems Engineering at the University of Virginia, with distinction (Louis T. Rader Outstanding PhD student) and is an active researcher documented in more than 30 archival papers.  He won two best paper awards from the Society for Risk Analysis and is a recipient of the Leontief Memorial Prize from the International Input-Output Association. 

Last July 6, 2012, Sang Seok Lee from Exeter College and Department of Economics, University of Oxford visited the School of Economics and gave a lecture on the Aggregate Wealth Dynamics under Knightian Uncertainty.  Sang earned his undergraduate degree from DLSU Manila and a former faculty member of the Economics Department.

Dr. Edward See of the University of Florida gave a lecture entitled, Effects of College Education Standards: Evidence from Florida, last June 29, 2012.  A former faculty member of the SOE, Dr See also earned both his undergraduate and master's degrees from DLSU Manila.  He then pursued graduate studies abroad: MA Economics at Mississippi State University, and PhD Economics from the University of Florida.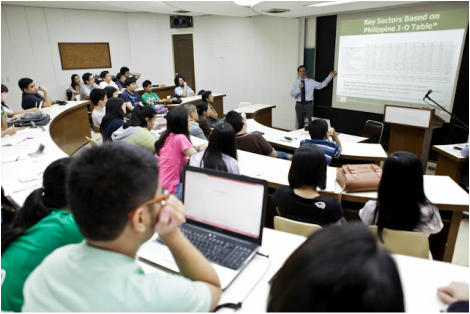 Lecture of Dr Joost  Santos. Photo from Rachel Reyes