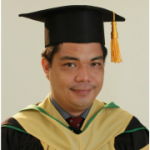 Areas of Interest
DSGE Models for Business Fluctuations and Cycles
Forecasting and Simulation
Intergenerational Social Mobility
Human Capital, Skills, and Occupational Choice
Labor Markets and Informal Economy
Selected Publications
Understanding the Educational Mobility of Men and Women and the Schooling Progression of Boys and Girls in the Philippines: A Regional Perspective (Connie B. Dacuycuy). In C.B. Dacuycuy (Ed.). Outside Looking In: Gendered Perspectives in Work and Education. Quezon City: Philippine Institute for Development Studies. 2019;
Decomposing temporal changes in covariate contributions to wage inequality (Connie B. Dacuycuy). Applied Economics Letters. 2012;
Explaining male wage inequality in the Philippines: nonparametric and semiparametric approaches. Applied Economics. 2006;
Wages, Housework and Attitudes in the Philippines. (Connie B. Dacuycuy) Journal of Asian and African Studies. 2017;
On Implementation Delays, Marginal Costs and Price Dynamics: A Theoretical Note with Implications for the Philippines. (Dickson Lim and Mariel Monica Sauler). The DLSU Business and Economics Review. 2019.