DLSU's Brother Andrew Gonzalez College of Education and DLSL Provides Free Training to Lipa City Public School Teachers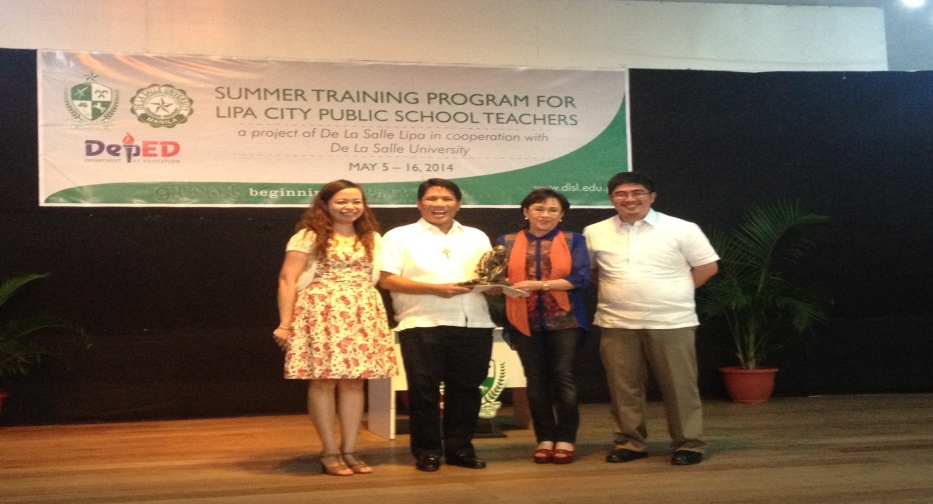 De La Salle Lipa in cooperation with the Br. Andrew Gonzalez FSC College of Education conducted a summer training program for selected Lipa City public school teachers last May 5-16, 2014 at De La Salle Lipa.  The summer program is a project of Br. Kenneth Martinez FSC, President and Chancellor of De La Salle Lipa. The project aims to provide a free training program for Math, Science, and English public school teachers from the different districts of Lipa City, Batangas. Trainers from the Brother Andrew Gonzalez College of Education were comprised of Dr. Maricar Prudente, Dr. Socorro Aguja, Dr. Lydia Roleda, Dr. Minie Rose Lapinid, and Ms. Pauline Mangulabnan for the Math and Science training programs. The English training contingent  were headed by Dr. Remedios Miciano, and  Dr. Joahna Estacio, Dr. Jennifer de Ramos, and Ms. Bernie Gonzalo.
Four Years of Extending  Lasallian Leadership and Expertise in Education

Now on its fourth year of implementation, the Brother Andrew Gonzalez College of Education teacher training program was originally commissioned by the Department of Education in 2008 to train 80 English teachers from different regions in the country. In 2009 and 2011, the college has trained 600 public school teachers from Tanauan City in Batangas for English, Math and Science. The college aims to pursue this engagement further with different local government units all of over the country and train more public school teachers. In his address during the opening ceremonies held at the Henry Virgil Gymnasium at DLSL last May 5, Br. Martin touched upon the core thrust of the summer training program: to enhance public school teachers' competencies and, ultimately, contribute to the province's educational system. Lipa City Vice Mayor Eric Africa, who sponsored twenty public school teachers to enroll at the MA Learning and Teaching program at the College of Education, underscored in his closing remarks that there is a compelling need to invest in public schools as it will benefit a greater percentage of students within the country. Gov. Vilma Santos-Recto also expressed the need for the expansion of the teacher training initiative to other districts of Batangas so as to benefit more teachers in the province.