Social Development Research Center Celebrates its 40th Year with Lessons Toward a Sustainable Future
Categories

SDRC

Date

2019-05-22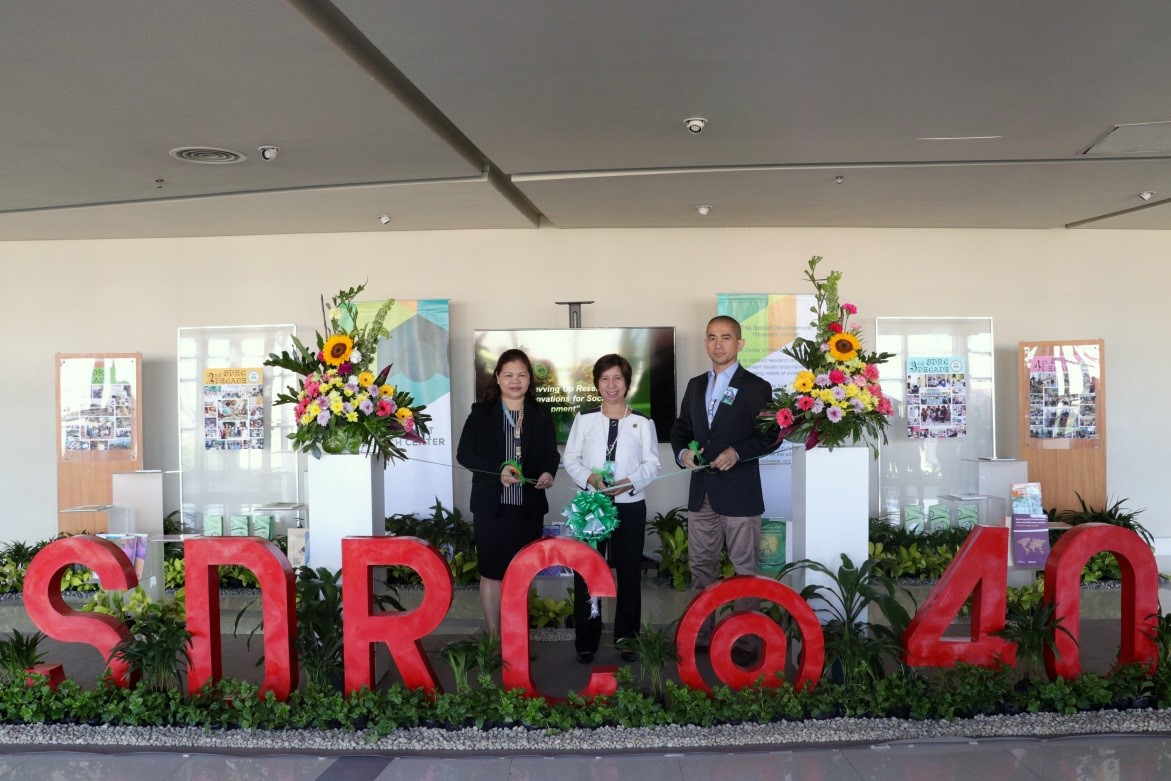 How can academe contribute to finding effective and lasting solutions to Philippine development?
This has been, and continues to be, the mandate of De La Salle University's Social Development Research Center, which has served since 1979 as the College of Liberal Arts' social science research center. In its four decades of operations it has completed an estimated 240 studies, primarily in the areas of health, rural and urban development, governance, social inclusion and culture issues. This it has done in fulfilling its three-fold mission to conduct research on socially relevant issues responsive to the changing needs of society; disseminate findings to the academic community and other stakeholders for advocacy and capacity building; and establish linkages with research and academic institutions in the ASEAN Region.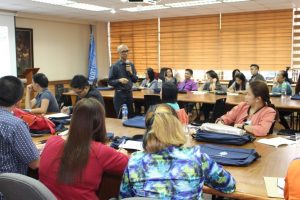 To commemorate the Center's 40 years of service to the University, a number of activities were held to lead up to the anniversary. The first of these was a capacity building training series, conducted by the Center's research fellows, in line with DLSU's Lasallian Mission and the invitation for all units to contribute to the University's becoming a resource for Church and nation. Six research workshops were held nationwide—two in Luzon, one in Visayas, and three in Mindanao. Through the sessions, the Center succeeded in fulfilling its goal of training 40 participating schools/institutions, primarily its partner schools St. Louis University in Baguio, De La Salle Lipa in Lipa City, the University of St. La Salle in Bacolod City, La Salle University in Ozamiz City, Xavier University in Cagayan de Oro City, and Western Mindanao State University in Zamboanga City. The capacity building training sessions focused on leadership and competencies development, participatory approaches to research, proposal writing, evaluation research, program management and monitoring, basic research methodologies, and statistical methods for social science.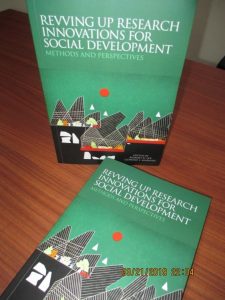 The second activity was the publication of a book that sought to share and disseminate knowledge that the SDRC research fellows have developed in the course of their research productivity. Specifically, the chapters in the book Revving Up Research Innovations for Social Development pertain to methods and perspectives in the conduct of research, which is strategic for promoting research productivity in Philippine universities. Edited by SDRC Fellow Dr. Romeo B. Lee and Publications Coordinator Connie J. Maraan, the book contains chapters on the following locally-based conceptualizations of research methods: collaboration; the key disciplines of Sociology, Psychology, and Political Science; health systems and health financing; the population sub-sectors of indigenous peoples, women, and children; and the youth in relation to the core technology of the times, the Internet. The book is published by the DLSU Publishing House.
In relation to the special publication, the Center also held a Research Fellows Lecture series, during which a number of presentations expounded on chapters in the book. Seven lectures were delivered in the series:
"Mindful of Our Children: Good Practices in the Conduct of Research by Social Scientists" by SDRC Director Dr. Maria Caridad Tarroja, which was a discussion of the Revving Up Research Innovations chapter she co-authored with Psychology Department faculty member Ma. Araceli Alcala and SDRC doctoral apprentice Patricia Simon;
"Beyond Essentialism: Operationalization of Indigenous People in IP Study" by Dr. Crisanto Regadio, which was a backgrounder on his chapter in the book, entitled "Learning the Proper Rules of Engagement in Research with IP Communities";
"Advancing Women Empowerment in Development Intervention Efforts through Participatory Research Methodology" by Dr. Myla Arcinas, which was likewise based on her book chapter, stemming from the SDRC project "Enabling Women for Participatory Community Development";
"Marrying Older 'White' Men: The Formation of Filipina 'Bride-Machines' and their Transgression of Patriarchy and Coloniality" by Dr. Janet Arnado, which sought to address the question "What are the social contexts in which Filipina bride-machines emerge?";
"The Internet of Children and the State of Internet Studies in the Philippines" by Dr. Rhoderick Nuncio, also a discussion based on his book chapter entitled "The State of Youth Internet Studies in the Philippines: Implications for Future Research and Policy Studies";
"Action Research as Professional Development" by Dr. Abdul Jhariel Osman, which sought to encourage professionals to reflect on their own experiences and the changes they can generate through deliberate collaborative action; and
"Parental Involvement in Children's Education: Perspectives of Parents, Children and Teachers" by Dr. Melvin Jabar, which focused on the SDRC study on the "Baseline Study and Formative Assessment of Holcim Philippines' Fostering a Child's Education (FACE) Project."
Two special lectures were presented as part of the Anniversary activities—"Good Health and Well-being: Access to Healthcare among Filipino Women in Aichi Prefecture, Japan" by Dr. Reginald Salonga, a former faculty member of University of Santo Tomas (UST)'s Faculty of Pharmacy and currently Lecturer of Education for Health and Well-being, and Raising Human/Environmental Awareness at the School of Humanities and Social Sciences of Nagoya City University, held on February 19 in cooperation with the International Studies Department of the College of Liberal Arts; and "Protecting Children in the Philippines who are Sexually Exploited: The Implications of Globalisation and Technology", a presentation of preliminary findings made by Ms. Imogen Fell, SDRC's visiting doctoral researcher from the Centre for the Study of Modern Slavery at St Mary's University in London, held on March 20.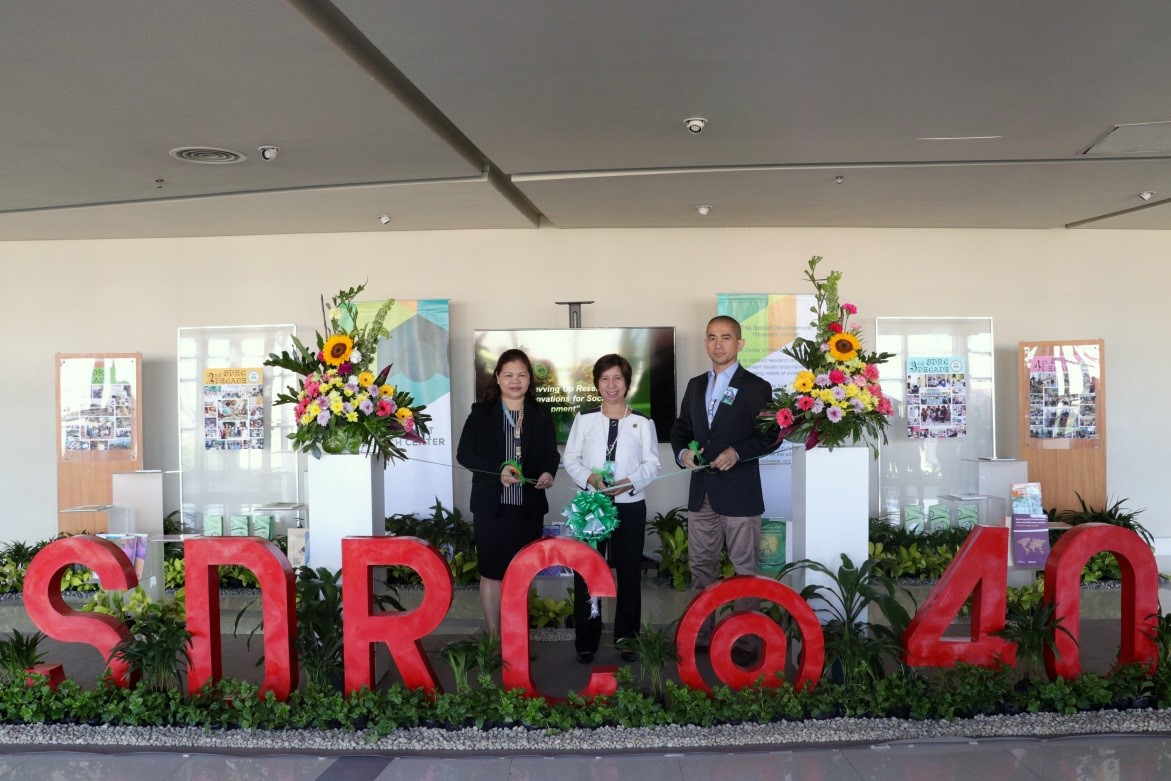 The week-long activities for the 40th anniversary celebration opened with a Young Researchers Forum held on March 18, in coordination with the CLA Graduate Student Council. With the theme "Introducing Social Development Research: Conceptualizing, Issues and Challenges, and Practical Implications," the forum had as resource persons University Research Coordination Office Director Dr. Petronilo Feorillo Demeterio III, who spoke on publication as a tool for thesis/dissertation, and shared practical writing and outlining guidelines as well as important considerations to make when submitting for publication; and former Social Development Research Center Director Dr. Jesusa M. Marco, who gave a brief history of SDRC, and—based on the study "Women with Disability taking Action on REproductive and Sexual Health" which she co-investigated, cited the need for accountability, policy and advocacy support, building partnerships with stakeholders, and the ability to source funds and manage economic costs, as crucial factors in the conduct of social development research.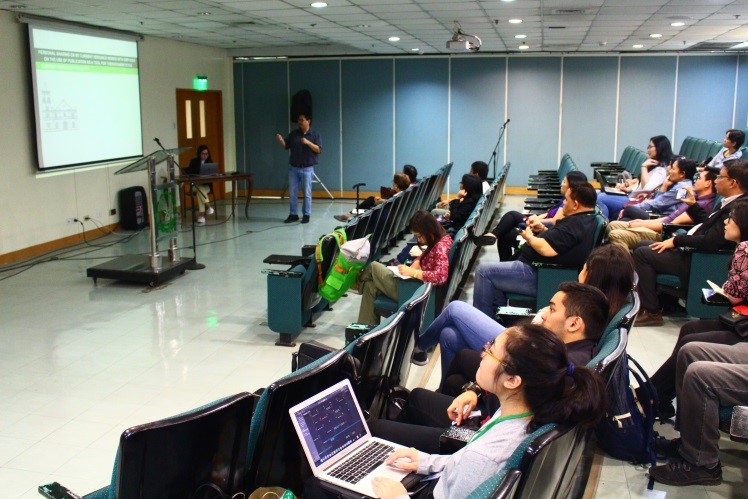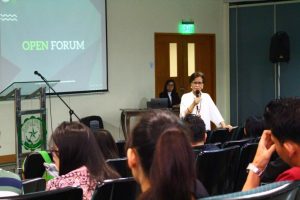 On March 20, the Center held a roundtable discussion on "SDRC's Best Practices in Research Project Proposal Development and Procedures in Project Preparation." Conducted primarily to introduce SDRC's policies and procedures to administrators, members of DLSU research centers and faculty researchers from other Lasallian schools, the discussion was led by SDRC Director Dr. Tarroja with the support of Ms. Relly Limliman, Assistant for Administration and Budget; Ms. Lyndia Navarro, Disbursement and Operations Liaison Officer; Ms. Connie Maraan, Coordinator for Research Dissemination and Publications; Ms. Maria Catherine Domingo, Resource and Information Assistant; and Ms. Ailene Agang, Secretary. The presentation explained how SDRC works in collaboration with other offices in the University to ensure a smooth flow of its operations, and demonstrated how the Center's policies and procedures align with University policies and respond to its research programs and initiatives.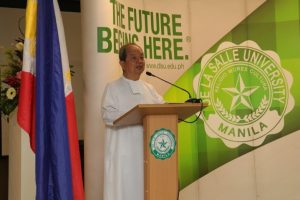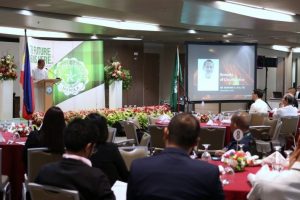 The anniversary events were capped by a fellowship night held on March 22, celebrating the theme "40 Years of SDRC: Research Lessons toward Building a Sustainable Future." The program opened with remarks of circumstance from Br. President Raymundo Suplido and Br. Chancellor Bernard Oca, who reminded guests of the groundbreaking efforts of then Vice President for Development and Research and later University President Br. Andrew Gonzalez to establish a culture of research at DLSU, and his vision to establish a research university. University Fellow and SDRC Senior Research Fellow Dr. Pilar Ramos-Jimenez—with over three decades of experience in social development and health social science research, teaching, training and networking to her name—presented the history of the Center, sharing her memories of working with researchers in pioneering projects in basic services, migration, poverty alleviation, and reproductive health conducted from the 1980s to the 2000s. Secretary of Socioeconomic Planning and Director General of the National Economic and Development Authority (NEDA) Dr. Ernesto M. Pernia, via a videotaped message, and Dr. Adoracion M. Navarro, Undersecretary for Regional Development of NEDA, extended their congratulations on SDRC's accomplishments, and spoke on the current state of social development research in the country and the directions it would be moving in, in the foreseeable future.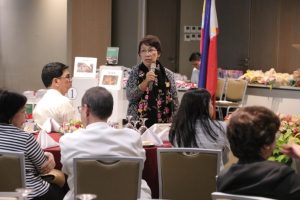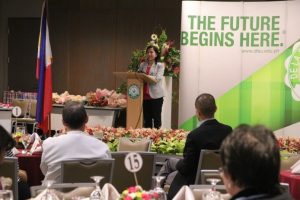 Two book launchings were held during the fellowship night. These were for the special anniversary publication Revving Up Research Innovations for Social Development, and the two publication outputs from SDRC's "Batanes Province Project on the Construction of Ivatan Houses in Basco with Related Publications" project, coordinated by National Historical Commission of the Philippines Chair Dr. Rene Escalante: Tataya – Documenting the Story of the Ivatan Boat, an enduring symbol that showcases the innovation of the early Filipinos, and Vahay – Documenting the Story of the Ivatan House, the traditional house made of lime and stone topped by a thick cogon roof.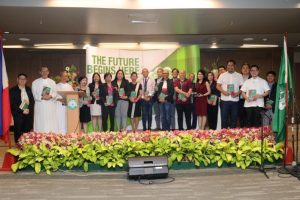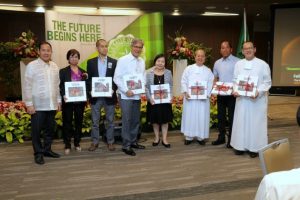 As SDRC Director Dr. Tarroja expressed in her welcome remarks on the fellowship night, the Social Development Research Center moves forward from its four decades of service by continuing to work toward the attainment of the United Nations' Sustainable Development Goals, particularly in ensuring healthy lives and promoting well-being for all at all ages. This it will do in generating knowledge toward the prevention and treatment of non-communicable diseases and the promotion of mental health and well-being, as well as toward ensuring universal access to sexual and reproductive health care services, including for family planning, information and education, and the integration of reproductive health into national strategies and programs. In doing so, SDRC renews it commitment to the conduct of research on socially relevant issues that are responsive to the changing needs of Philippine society.