DLSU-Manila and SDRC Host International Workshop on Capacity Building in Asia for Resilience Education
Categories

SDRC

Date

2019-04-29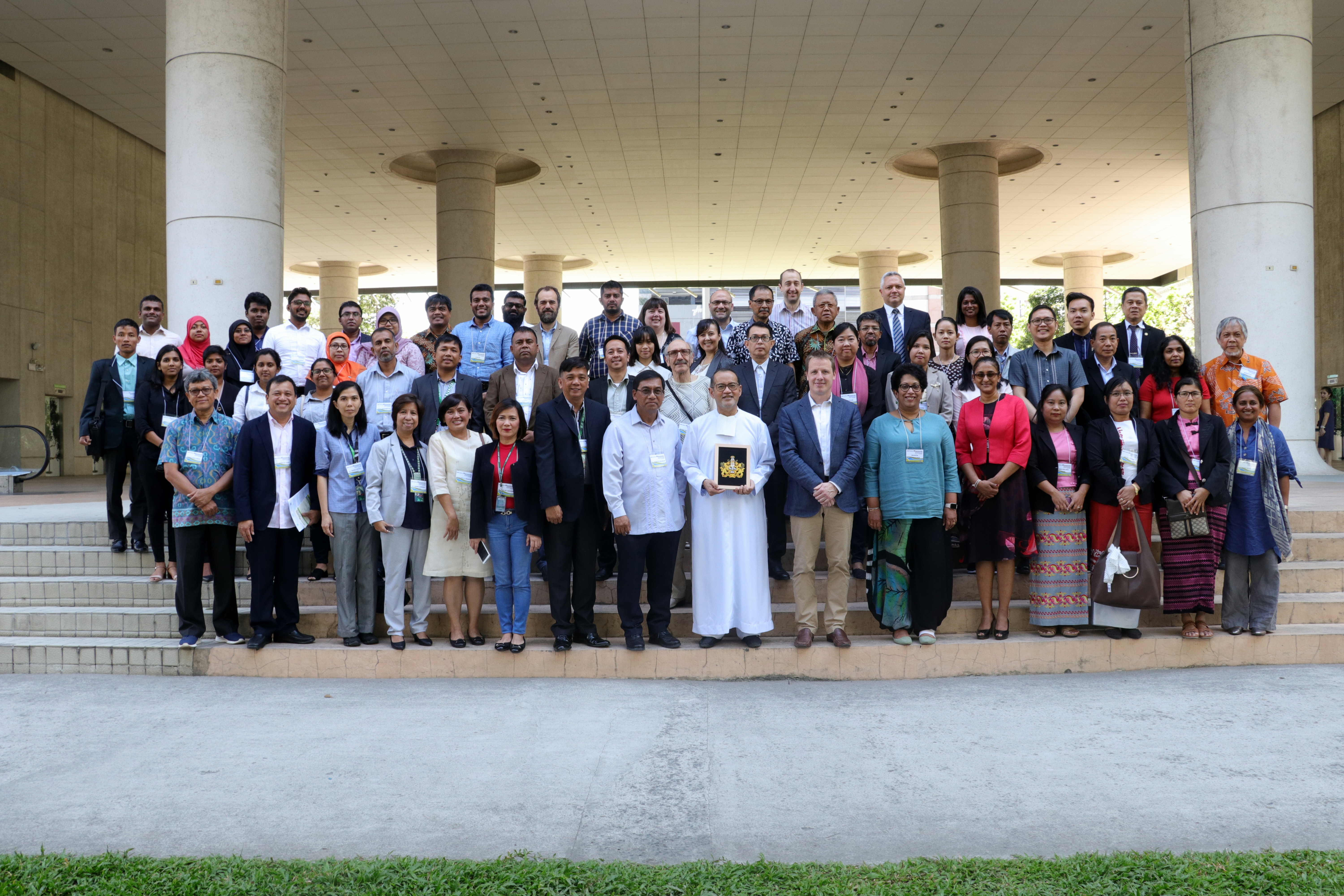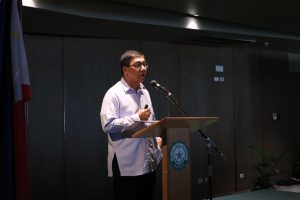 HEIs are crucial in guiding communities to resilience.
This was a vital point made by DOST Undersecretary Dr. Renato Solidum, Jr. during his keynote address, which opened the 5th Steering Committee Meeting and International Workshop of the Capacity Building in Asia for Resilience Education project, or CABARET, held from March 25 to 30, 2019 at the De La Salle University Taft campus. Participated in by scholars from universities in five European and five Asian nations, CABARET project seeks to involve Higher Education Institutions (HEIs) in developing effective multi-hazard early warning systems and increased disaster resilience among coastal communities. The Manila workshop was hosted by the DLSU and the Social Development Research Center and followed previous events held in Colombo, Santander, Kandy, and Yangon. It focused on issues in Education, Advocacy and Knowledge Development.
Addressing a number of issues faced by DOST's Disaster Risk Reduction and Climate Change Department, as well as by the Philippine Institute of Volcanology and Seismology which he also heads, Director Solidum emphasized that recovery from disasters should be fast enough to prepare an appropriate response to the next impending event. He identified DOST's priorities related to DRR as understanding risks and coming up with technology solutions, applications and services to resolve disaster setbacks. A mobile app called the "Fault Finder" is now part of the Department's Earthquake Monitoring Network.
Day Two of the five-day workshop was highlighted by the keynote address of Dr. Enrico Paringit, Executive Director of the Philippine Council for Industry, Energy and Emerging Technology Research and Development at DOST. He spoke of two PCIEERD showcase pieces—the Disaster Risk Assessment, Exposure and Mitigation-Light Ranging and Detection Technology (DREAM LiDar) 3D mapping project, which addressed and helped mitigate the effects of flooding disasters in the country; and the subsequent PHILLiDAR programs 1 and 2, which created detailed, high resolution flood hazard and resource maps, the latter including agriculture, coastal, forest, and hydrological and renewable energy maps. Both projects covered more than half of the Philippines' total land area, in 800 municipalities.
The two DOST officials cited the importance of communications—an aspect of knowledge development—in their agencies' efforts. Dr. Solidum noted the importance of warning and risk communication—rather than waiting for media to call a press conference, he said, decisions should be made on which official should be interviewed, so that details are not muddled. Dr. Paringit, meanwhile, explained that PCIEERD communications focus not on personalities but on impact and benefits, which helps to convince government to continue with the Council's initiatives.
The week-long CABARET event was also an opportunity to engage with local officials and with students—two groups of socio-economic actors that the project seeks to engage. The first event was a dialogue forum on "Strengthening Multi-Hazard Early Warning Systems in Batangas Province" held on March 25. The forum was participated in by representatives of 16 municipalities in Batangas, particularly the host town of Lian. Lian Mayor Isagani Bolompo welcomed the opportunity to share knowledge and experience on disaster management, particularly in his municipality which has 7 coastal barangays accounting for 28,000 residents. He cited the locally-fabricated tsunami early warning system SIGAW, or the Solar Isotropic Generator of Acoustic Wave, as being one effective means Lian has of coping with disaster events. CABARET EU team members Dr. Ruben Paul Borg of the University and Dr. Boyko Ranguelov of the Sofia University of Mining and Geology of Bulgaria proceeded with presentations on Best Practices of Multi Hazard Early Warning Systems for Tsunami, Earthquake and Volcanic Eruption, as a guide for the workshop on "How to Improve Provincial/Municipal MHEWS" facilitated by Dr. Edgar Vallar of the DLSU College of Science and Dr.  Ignacio Aguirre Ayerbe of the Environmental Hydraulics Institute of Cantabria (IH Cantabria). The workshop sought participants' responses on what disasters they have experienced, the type of Early Warning Systems (EWS) operating in their communities, the initiatives that can help to improve their EWS, and the challenges their EWS pose to performing their work.
The second off-campus event was the post-workshop activity "Mentoring for Resilience" held at the Ateneo de Manila University School of Science and Engineering. Co-sponsored by the Ateneo Institute of Sustainability – Climate Change and Disaster Risk Program (AIS-CCDR), the event sought to provide opportunities for graduate students and practitioners working on DRR to share their research and practice, and to be mentored by CABARET's disaster resilience experts. Outstanding Young Scientist of the Philippines for Environmental Management Glenn S. Banaguas gave the keynote speech on "Climate Smart Philippines: A T.R.I.P. to Resiliency," in which he described the CS program—which has covered 40,028 barangays nationwide—as utilizing a Track-Risk-Impact-Policy framework. To resolve what he identified as the major obstacle of lack of funds to implement CS initiatives, he cited the role of academe and the private sector, which must partner with LGUs to monitor and implement projects and, consequently, ensure continuity.
Nine graduate students from the PhD in Civil Engineering program at DLSU, Master of Urban and Regional Planning program at the Institut Teknologi  Bandung, and the Master in DRR and MA in Counselling Psychology programs of AdMU made capstone presentations and received feedback from Dir. Banaguas and CABARET experts including Overall Project Coordinator Prof. Richard Haigh of the University of Huddersfield, Prof. Ranjith Dissanayake of the University of Peradeniya, and Dr. Harkunti Rahayu of Institut Teknologi Bandung, who later conducted one-on-one mentoring sessions with them and with other graduate students. The event concluded with the turnover of the symbolic CABARET project tarpaulin from the Philippine team to the Indonesian team. The final CABARET workshop and steering committee meeting will be held in Bali in January 2020.
The CABARET project is conducted in collaboration with the University of Huddersfield in the United Kingdom and is co-funded with the Erasmus+ Programme of the European Union. The Philippine Team is headed by Country Coordinator and SDRC Research Fellow Dr. Marlon Era and composed of SDRC Director Dr. Maria Caridad H. Tarroja, Dr. Edgar Vallar of the COS Department of Physics, Dr. Mario de Leon of the COE Department of Civil Engineering, CED Assistant Dean for External Affairs Dr. Abdul Jhariel Osman, and Mr. Leo Tadena, COSCA Coordinator for Lasallian Sustainable Development, for DLSU; and Dr. Crisanto Lopez, Chairperson of the SOSE Department of Biology, and Dr. Charlotte Kendra Gotangco and Mr. Raymond Rodolfo of the SOSE Department of Environmental Science, for Ateneo de Manila University.