Remembering What We Once Knew: The Complicated Mandate for IP Education
Categories

SDRC

Date

2020-11-24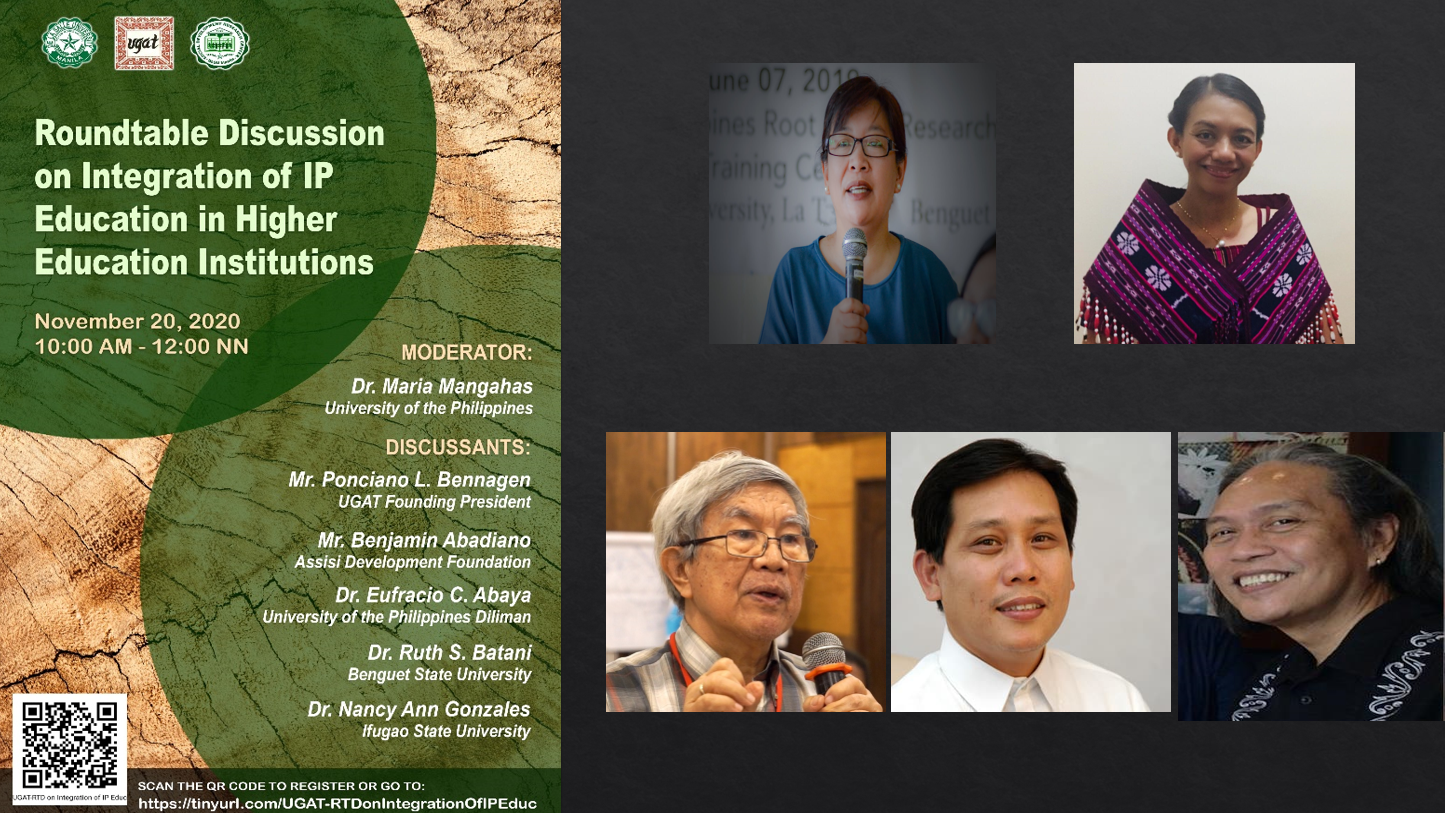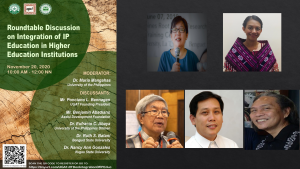 It promised to be a rich conversation, based on the number of questions that begged to be addressed: What exactly is Indigenous Peoples' studies? Should it be conceptualized for IPs, or for non-IPs? What would make such a program authentic? What does it mean to "incorporate" IP studies into the curriculum? Who uses IP knowledge? And who would do the work of creating a program and its subjects?
Such were the issues raised and attempted to be answered by a panel of educators during the virtual Round Table Discussion on the Integration of Indigenous Peoples Studies in Higher Education Institutions held on November 20 via Zoom. Co-sponsored by the De La Salle University Social Development Research Center and the Ateneo de Manila Department of Sociology and Anthropology, this was the culminating event in the Luzon leg of the two-week 42nd annual conference of the Ugnayang Pang-Aghamtao, Inc. or UGAT.
To open the conversation, anthropologist Dr. Eufracio Abaya of the University of the Philippines-Diliman rendered his thoughts on what IP Studies is by reviewing the history of government policies leading up to the Integration of IP Studies/Education in Relevant Higher Education Curricula CHED Memorandum Order issued in 2019. From there, he identified the topical areas that should be included in an IP Studies program as poverty and human rights abuse; history, culture and identity; IP rights to ancestral domain; self-governance and empowerment; social justice; and rights to cultural identity. He cited Nakata's definition of indigenous studies as being a "cross-discipline that circulates an ever-expanding corpus of knowledge," and the University of Toronto's Center for Indigenous Studies' description as engendering "a rigorous and respectful understanding of indigenous peoples' languages, knowledges, cultures, histories, politics, arts, intellectual traditions, and research methodologies."
Speaking from his experience as founder and president of the Pamulaan Center for Indigenous Education in Davao City, Mr. Benjamin Abadiano spoke of the need to make indigenous knowledge more relevant to the present generation and those yet to come. He depicted the Center as an institutional response to indigenous peoples' awareness of the importance of culturally inclusive education for socio-cultural and economic development, and for building a common future. The Center defined IP Education as a recognition of indigenous peoples' "right to quality, relevant, responsive and meaningful education in the context of their identities (and) realities," and one that "promotes their inherent values, wisdom, lifeways, systems and practices". Stemming from this vision, Pamulaan offers culture-based tertiary education courses in Social Entrepreneurship, Education, Agri-Business, Development Anthropology, and Peace Education. The Center was also instrumental in bringing together more than 21 like-minded private institutions and SUCs in a consortium known as NICHE (the National Coalition for Indigenous Higher Education), a platform for on-going dialogue, learning exchange and joint advocacy for developing culturally inclusive and relevant educational programs.
Cultural anthropologist Dr. Ruth Batani of Benguet State University shared a practical application of IP knowledge in a research study entitled "Engaging Local Knowledge on Healing and Medicinal Plants in a High School Science Project" funded by the Philippine Council for Health Research and Development (PCHRD). She shared that the study recognized that Western education has marginalized indigenous knowledge systems, with science seen as "true" knowledge and IKS as merely beliefs and customs. Thus the research team employed a hybrid of these, with the natural environment as its context. The experiences and reflections of high school students from Kadaclan—an ancestral domain in Mountain Province that was never colonized—were the basis of exploring how "marginalized" knowledge could be mainstreamed. While the research had originally been meant only to identify rediscovered plant resources to be digitized for preservation in library use, the inclusion of students as ethnographers provided added value with the benefit of their ability to elicit stories through interaction with elders.
The situation at Ifugao State University, meanwhile, was relayed by Vice President for Academic Affairs Dr. Nancy Ann Gonzales. Celebrating its centennial this 2020, IFSU had already been integrating Indigenous Knowledge Studies into its programs prior to the announcement of the CHED Memorandum Order. Dr. Gonzales shared that in 2009, the University produced an IK workbook in collaboration with Japanese project partners that contained ten chapters on the different forms of the indigenous knowledge of Ifugao—pilot testing determined that students increased their knowledge of IK when the workbook was introduced, leading to its incorporation in the school's program. This year it launched the development of contextualized learning modules through partnership in CITIPHILSS, or the Center for Taiwan-Philippines Indigenous and Local Knowledge and Sustainable Studies, which facilitates the exchange of academic materials, educational visits and joint research projects. An ongoing endeavor is the training of Department of Education faculty members on indigenous knowledge and the production of IKSP learning modules.
Challenges faced in disseminating indigenous knowledge in higher education institutions ranged from the amount of time required to determine what contents should be shared in IK systems with students, as Dr. Gonzales noted the need for up to three years to finalize book material, which is further compounded by the reality that globalization has distracted institutions from preserving their own culture; to the consequences of road concreting which, as cited by Dr. Batani, has led to more reported motorcycle accidents and a changing picture of morbidity; to the necessity of considering IPs' sociopolitical conditions, as Dr. Abaya emphasized the need to revisit the concept of power and the fact that indigenous groups are often victims of militarization. On the other hand, Mr. Abadiano shared his observation that the pandemic could be seen as an opportunity in reminding educators that indigenous knowledge can help to better prepare for the "new normal."
The discussants left participants with takeaways from the conversation on the integration of IP studies into the curriculum, and what they saw as possible ways of moving forward. Dr. Abaya's recommendations included lobbying for strong government support to ensure fiscal stability, conducting more research and capacity building activities, and forging inter-university collaborations. Dr. Batani found it essential to take time to review and evaluate existing programs, and to put together knowledge resources for a better perspective of how to do IP education. Dr. Gonzales likewise hoped that state universities and colleges would find importance in developing measures on how to integrate IK into the curriculum, as sometimes it was up to them to take on the work. Mr. Abadiano acknowledged the efforts of the different institutions and their interest in the new CHED mandate, and was pleased that government had finally recognized the value in IP education. He noted that while the effect might not be immediately apparent, the beauty of the process was that many organizations could learn from the different initiatives.
The moderator for the round table discussion was Dr. Maria Mangahas, head of the CHED Technical Committee for Anthropology and editor of the UGAT Aghamtao journal.