It's (Not) Complicated: How to Take Action in the Face of Compounding Disasters
Categories

SDRC

Date

2021-02-16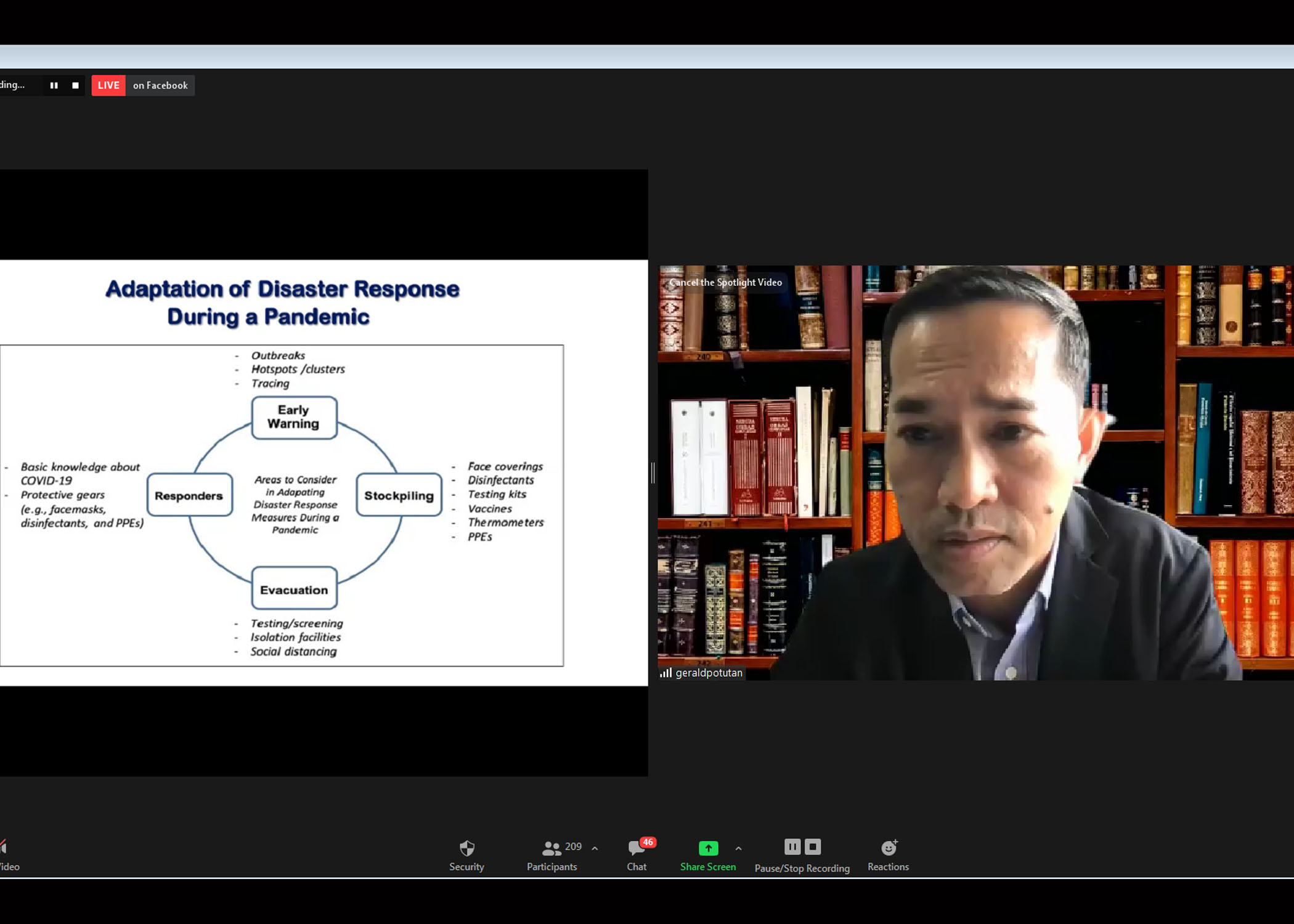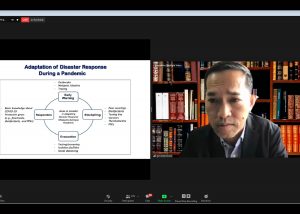 Anticipation over SDRC's first webinar for 2021 began when its director announced the Center had generated the highest number of registrants for the event since the series began. Shortly after the schedule was released, there were already more participants than could be accommodated via Zoom, so reminders had to be sent that it would be first come, first served. A few days later, the number of registrants had increased further, and then doubled before the long holiday weekend. "Wow," one of the core staff members exclaimed. "Daming supporter ni Doc Gerry!"
Indeed, such eagerness over a discussion on disaster was out of the ordinary. It was likely the opportunity to hear how the pandemic could be managed, given the other myriad disasters the Philippines routinely faces, that spurred the rise in interest. "Doc Gerry" – the webinar's resource person, was Dr. Gerald Potutan, a senior researcher at the Asian Disaster Reduction Center (ADRC) in Kobe, Japan, and previously a member of project teams at SDRC. He shared his knowledge on "Evolving Disaster Response Practices during the COVID-19 Pandemic" via Zoom and Facebook Live on the morning of February 15.
Prefacing his presentation with an introduction to ADRC, a group of regional intergovernmental organizations from 31 member countries in Asia (including the Philippines), Dr. Potutan began by discussing the challenges faced by disaster response—a major one being the surge in concurrent disasters, or several hazards taking place simultaneously. One example he cited of a concurrent—or cascading, or compound—disaster (different terms all referring to the same situation) was the Great East Japan Earthquake, a magnitude 9.0 tremor that took place off the Pacific coast of Tohoku in March 2011. Not only did the event involve an undersea megathrust quake, but because it occurred along the coastline it triggered a violent tsunami, in turn resulting in nuclear accidents at the Fukushima Power Plant. When the earthquake struck, residents had only five or six minutes to evacuate—not enough time to be brought to safety, given all that had happened in succession. Consequently, there was a lack of evacuation centers and food, a power outage and no heating in below-zero temperatures, scores of missing persons and those trapped in their cars, and the threat of contamination from the meltdowns. Thus, while most countries often only prepare for a single hazard, the Tohoku quake illustrated the need for preparedness in the event of multiple crises occurring all at once.
Other challenges faced in disaster response were administrative in nature, since agencies addressing the pandemic and disaster management are often separate, leading to issues of coordination, bottlenecks and delay. In a World Bank study cited by Dr. Potutan, it was found that Indonesia, Tonga and New Zealand were countries in which COVID-19 and DRRM systems were handled by the same agency, thus reducing management glitches. There is also a need to boost readiness in disaster response during a pandemic, since apart from the traditional measures of early warning, training of responders, stockpiling of food and other necessities, and evacuation procedures, additional consideration is now needed in the light of travel restriction, social distancing, testing and tracing, use of disinfectants, and protective gear.
As he proceeded to discuss how disaster response practices are evolving during the pandemic, Dr. Potutan explained that standard operating procedures and guidelines for traditional measures have needed to be updated. Thus, early warning now includes providing information on where outbreaks and hot spots are located, and involves contact tracing; responders receive basic skills training on handling COVID-19, and are equipped with protective gear; stockpiling of necessities incorporate face coverings, testing kits, thermometers, and vaccines; and evacuation involves screening and testing, social distancing, and the provision of isolation facilities.
Due to movement restriction and border closures, there is also increasing digitalization of some aspects of coordination and decision-support systems, such as in issuing warnings, identifying and assessing disaster risk areas and COVID hot spots, and determining the planning process. In India, the monitoring of human mobility has been done through the distribution of IDs that indicate travel across states. A digital app in Taiwan can likewise be downloaded to locate where masks and disinfectants are available, saving users time in the process.
Other developments in the evolution of disaster response include dispersed evacuation, as the need to social distance has reduced the capacity of evacuation centers—tents are used in South Korea in order to avoid transmission; and significantly, psychosocial support, which has become a growing practice due to increasing rates of suicide and schizophrenia stemming from the fear of infection, inability to be with loved ones, and the difficulty of simply living under the stress of the pandemic. Volunteers in Korea and the Philippines have been noted to assist DRM agencies by spending time to listen to those in evacuation centers or who have been infected.
Dr. Potutan's takeaways from these changes in disaster response practices are threefold: The need for inter-coordination, as seen in Singapore which employs a whole-of-government approach where response is now integrated, and in Nepal which harmonizes data on infection and disaster risk and uses it to improve its programs; employing a multi-hazard approach—while many countries have different systems that operate in silos, some, like Tajikistan, have established risk profiles per administrative region, enabling them to integrate their activities and avoid duplications; and psychological first aid, which can be done remotely, to support citizens in the aftermath of crisis events.
In response to participants' comments and queries, Dr. Potutan offered the tools available on the ADRC website that can be useful in assessing and managing issues of hazards and risks on the ground; suggested visiting the United Nations Disaster Risk Reduction Office for guidelines on making cities and municipalities resilient, for psychosocial interventions in addressing mental health crises; and the need to integrate resilience awareness into culture and lifestyle in order for it to be sustainable. With regard to the Philippine government's response, particularly on the part of LGUs, he acknowledged that context matters, and that religion, economic conditions, political affiliations and government capacity are all factors that define the quality of risk response. He stressed that what is important is maintaining the essentials of social distancing, use of masks, and basic necessities at evacuation centers—everything that needs to be in place to save lives. If response is improved—as evidenced during the absence of a spike in COVID cases in the aftermath of Typhoon Ambo in May 2020—it is certain that fewer people will be impacted by disaster.
Participants in the "Evolving Disaster Response Practices during the COVID-19 Pandemic" webinar included viewers from various Local Government Units, National Government Agencies, state colleges and universities, and private organizations. Some of the  institutions that were represented were the Department of Education, Manila Central University, National Christian Life College-Marikina, University of the East – Caloocan, Amanperez Elementary School – Pangasinan, Asian Institute of Technology and Education – Tiaong, Batangas State University-Malvar, Bicol University, Caba District Hospital – Province of La Union, Ilocos Training and Regional Medical Center, Laguna State Polytechnic University, San Pedro Relocation Center National High School Department of Education Schools Division Office, Davao del Sur State College, University of Southern Mindanao, and De La Salle University.