Student Organizations
International Students Oriented Organizations
UNISTO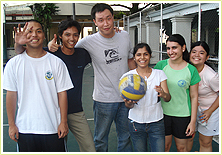 The United International Students Organization is focused on the rights and development of International Students studying at De La Salle University – Manila. Its goals are to further awareness of the International Student population to the students, faculty and personnel involved with DLSU while forming camaraderie among International and Filipino students. Through celebration of all represented cultures and exploration into the foreign culture that its members reside in, UNISTO hopes to further the spirit of respect and multiculturalism that transcends beliefs and nationality.
AIESEC-DLSU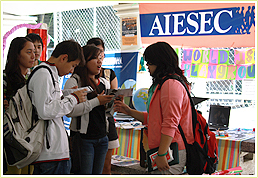 AIESEC De La Salle University hones its members through an integrated global learning experience better known as the AIESEC experience. This training includes the exchange program, leadership opportunities and participation in a global training environment such as international conferences. AIESEC believes everyone possesses the potential of being a leader, and through AIESEC, it is up to you to discover and develop your skills.
AIESEC offers its members activities ranging from team building, social activities and seminars to inter-school, national and international conferences. These activities mold our members to play smartly, keeping the essence of a hard worker. Through this, a global network will start to grow from you. From dealing with exchange participants from other countries to being an exchange trainee sent elsewhere, it is a challenge up to you to take. Thus if you want to step up and take this challenge, this is what you need.
ENGLICOM-DLSU
ENGLICOM is an official organization for Filipino & Chinese students that aims to strengthen relationships among the Filipino and Filipino-Chinese members of the Lasallian community. It dedicates its efforts to cultural appreciation, social awareness, and active participation in value formation and proposes to create a truly harmonious molding of Filipino and Chinese worldviews.
Special Interest Groups (SPIN)
SPIN organizations enhance one's special interest and talents whether in the field of sports or arts. For a complete list of organizations under SPIN, click here.
Socio-civic Organizations (SCORE)
SCORE organizations endeavor to develop socio-civic awareness and responsibility among Lasallians, as well as religious upliftment. For a complete list of organizations under SCORE, click here.
Organizations from different Colleges