Retro Reflections: The SEMA in Malaysia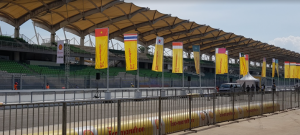 Wilfredo Sevilla Jr., Team ICE manager writes about his experiences during the recently concluded Shell Eco-marathon Asia 2019.
March 10, 2018. Everything seemed to run smoothly now after months and months of trouble. Bumakaya seems to now be ready to be in the limelight, like how its predecessor Delta was last year and the year before. It is not without basis that I thought we could get the top spot this year as Bumakaya ran well during the test run in Clark. If it could go well there, why not here?
Unfortunately, we only placed seventh out of the twenty ICE cars. It looks like there will be no Philippine team who would go to London again. It was disappointing indeed but I continued to believe that we can make it next year and I also believe that the others do too. Despite the fact that we were tired and disheartened , we tried to make the most of our trip in Singapore by going around the sites in the city.
During the post-event meeting sometime after the event, I was appointed the manager for the ICE team. Having an experience in business, I know I could lead the team well to reclaim what was rightfully ours. I was already playing an important role before so I have an idea of what has to be done from securing funding to shepherding the team through the competition proper. I was confident that with my leadership, the team will win in 2019.
The year turned out to be as turbulent as before but finally, the time has come to face our destiny.
After a sleepless night preparing everything the team would bring to Malaysia, we went to the airport before the sun rose early April 27. As we were cruising over the sea, I was nursing a headache which thankfully passed.