The Lasallian Reflection Framework
Anchored on the core values of Faith, Zeal of Service and Communion in Mission, the Lasallian Reflection Framework (LRF) is a guide to all formation and engagement activities. LRF has three important stages: "See-Experience" ("Masid-Danas") understanding of the situation and the social issues; "Analysis-Reflection" ("Suri-Nilay") elevating the situation to cognitive level of analysis and critical reflection; and the "Commitment-Action" ("Taya-Kilos") engaging the Lasallians into the work-mission where plans are put into action (Lasallian Mission Office, 2011)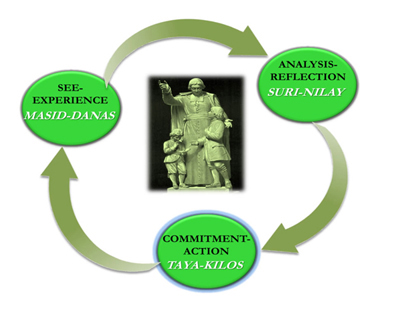 1. See-Experience/Conscious Experience ("Masid-Danas"). The Tagalog terms "masid" or "to observe closely"and "danas" or "to experience" when combined ("masid-danas") means "conscious experiencing".   The first stage of "see-experience" does not only invites us to see the situation (that can easily be acquired in reading books, watching documentary films or even hearing reports and accounts of events) but to experience it firsthand, especially the reality of the poor through exposure (e.g. a day experience with an urban poor family in a resettlement area in Quezon City) and immersion (e.g. a 3-day to a week stay with an Aeta community in Tarlac).  This stage leads us from conscious sense-experience (see, hear, touch, smell and even taste) to a purposive encounter of knowing and feeling oneself and others (in ourdifferences, similarities and oneness).  The first stage ends with feeling-level realizations, mixed emotions, nagging questions, disorienting dilemmas and longings for answers and clarity.
2. Analysis-Reflection/Critical Reflection ("Suri-Nilay").  "Suri" is Tagalog term for "analysis" while "nilay" is "reflection" when combined ("suri-nilay") means "critical reflection".  The second stage which is the heart of LRF leads us to go further and deeper in the process, from sense-experience to a second level seeing, that of analysis.  We begin to ask the why of the situation: looking for interconnections of personal and social structures (economic, political and socio-cultural); and going beyond looking at surface problems to identification of root causes of issues, problems and crises.  However, one does not stop on analysis, "critical reflection" subjects us to the questioning: looking at one's own meaning formation, perspectives, mindsets and biases.  Then, the second stage guides us to the final questions of Christian Faith and Lasallian Values/Principles (What is the situation in the light of the Gospel and the Church Social Teaching?…In the context of the Lasallian Guiding Principles? What about its relation to DLSU Vision-Mission?).  The second stage ends with the challenge of faith and a challenge of being Christian and Lasallian.
3. Commitment-Action/Committed Action ("Taya-Kilos").  "Taya" typically means "to bet" but it can also mean "to offer" (e.g. "Taya ako sa pamasahe…" or "I offer to pay the transportation fare…") and depending on the value of the offer, it may mean in some occasion "to commit" that connotes a certain sacrifice  (e.g. "Tinataya ko aking pangalan…" or "I commit in my name…").  "Kilos" on the other hand means, "to act".  Combining the two terms ("taya-kilos") means "committed action".  This stage starts with a commitment flowing from the preceding stage of "suri-nilay" anchored on clear values/principles and standards (Gospel, CST, LGP, DLSU-VMG, etc.).  From this, a concrete plan of action will be drawn up (context-sensitive, life-affirming, mutually empowering and capacitating).  Implementation of the plan can be done individually or by collective (by association in communion); on the local level to global level. The stage ends with an evaluation of the act, program or intervention, giving much emphasis on the quality of output and consistency of process, then another LRF cycle starts.