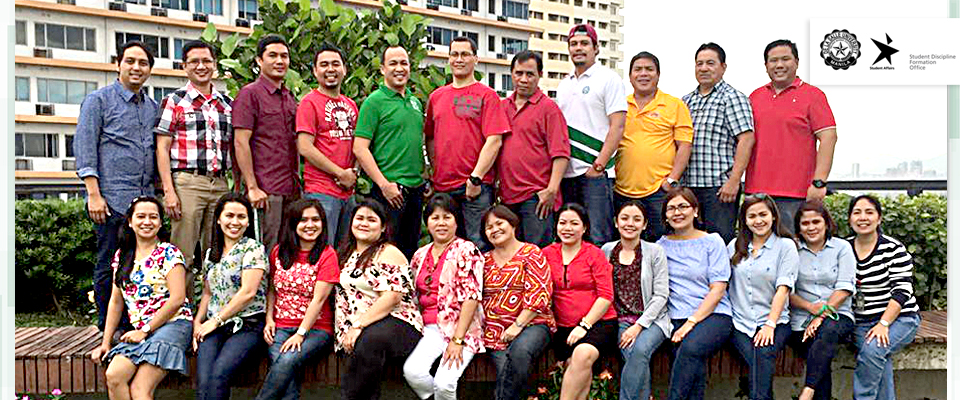 The Student Discipline Formation Office (SDFO) is the unit primarily responsible for promoting student discipline formation, ensuring and maintaining proper students' decorum, and instilling the values of responsibility, initiative, and vigilance to students. To achieve these, it implements the provisions of the Student Handbook within University premises and also during University-supervised activities held out of campus.
As a formative unit, the SDFO strives to prevent, rather than correct, unseemly student behavior by expanding and promoting preventive discipline approaches such as discipline orientation and lectures, formative programs, and discipline-related student advocacies.
To aid in the efficient implementation of its programs and services, the SDFO is functionally divided into three sections, namely:
Discipline Education, Advocacy, and Programs Section (DEAPS)
Discipline Enforcement Section (DES)
Lost and Found Section (LFS)
Vision – Mission
A leading learner-centered student discipline formation unit committed to upholding and strengthening the character formation of Lasallians' holistic self-development, integrating faith-life, leadership, and community engagement towards social transformation.
History
Formerly known as the Discipline Office (DO), the SDFO was first conceptualized and established in1973. The DO was formerly a sub-unit of the Safety and Security Office (SSO) with four (4) personnel implementing school policies.
The DO's primary task at the time was to enforce University policies, ensure the safety and welfare of students, and maintain peace, order, and cleanliness in the University. In terms of maintaining student discipline, the unit's thrust was more on corrective measures for student misbehavior. Hence, operations were focused on the referral for appropriate investigation and sanctions.
In the years that followed, there was an emerging need to widen the unit's approach to discipline. Focus shifted on preventing, rather than correcting, unseemly student behaviour. Thus, the office expanded its methods and promoted preventive discipline approaches through regular discipline orientations for students and other stakeholders, and through formative programs for students with discipline infractions.
In October 2011, the unit's name was changed to Student Discipline Formation Office, encapsulating its formative methods and processes. Henceforth, the SDFO continues to develop and apply relevant, dynamic and innovative discipline formation programs and services and initiates thorough evaluation procedures to ensure that each student's needs are being addressed.
The office's direction is toward the development of Christian men and women sustained by the Lasallian core values of religio (faith), mores (zeal for service), and cultura (communion in mission) in order to ensure better observance of University's rules and regulations.
As the office's thrust and nature develop through the years, from corrective to holistic student discipline formation, it advances into a unit that facilitates students' initiative, vigilance, and empowerment, aligned with the University's commitment to produce graduates who are not only academically and professionally competent, but also self-disciplined, morally upright, and responsible individuals aware of self and others, with high respect for rules, regulations, laws and authorities – producing compassionate, professional Lasallian leaders for God and country.