Fellowship lecture
in cooperation with the DLSU Society of Fellows
Forging a Dynamic and Inclusive ASEAN Economic Community
in 2025 and Beyond
Ponciano Intal, Jr.
Senior Research Fellow
Philippine Institute for Development Studies
22 September 2017, Friday
Br. Andrew Gonzalez 20/F Conference Hall
The Fellowship Lecture presents (1) some results of an ASEAN-wide survey on what ASEAN means to ASEAN people, including their aspirations and expectations for 2025; and (2) three key global developments. It then proceeds to discuss key measures for a dynamic and inclusive integration in ASEAN. The lecture concludes with some projections on the possible state of the ASEAN economies by 2025 and 2035
Dr. Ponciano Intal, Jr. is a Senior Economist at the Economic Research Institute for ASEAN and East Asia (ERIA) in Jakarta, Indonesia, which the 2016 Global Go To Think Tank Index Report has cited as the top international economics think tank in ASEAN. Dr. Intal was conferred the title of University Fellow in 2004.
Lasallian Mission Week seminar
Using the economist in you: understanding "change is coming"
Celia M Reyes
Senior Research Fellow
Philippine Institute for Development Studies
16 November 2016, Wednesday
2:30 p.m. Yuchengco Hall Rooms 407 and 408
Visiting lectures and seminars
The never-ending challenge of managing water resources
Randolph Barker
Cornell University
19 October 2016, 2:00-4:00pm
Yuchengco Hall Rooms 407-408
Dr Barker will discuss the evolution of the Asian Irrigation, the problems of surface irrigation, the groundwater revolution, and implications for the Philippine irrigation sector.  Note that the national government Food Staples Sufficiency Program (FSSP) is actually 70% irrigation. In fact, irrigation accounts for 35-40% of total agriculture sector allocation from the national government. Hence, an understanding of this sector is quite relevant in understanding food security in the country.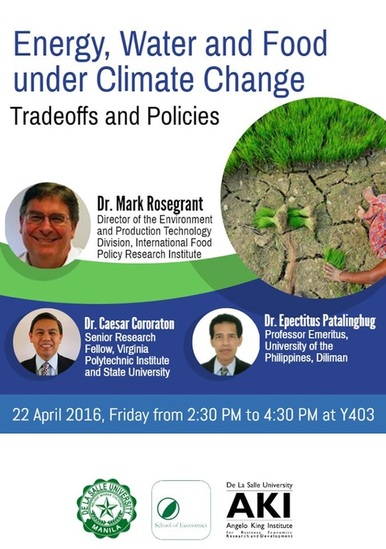 Workshop on local ​
​economy-wide
impact evaluation
25-29 April 2016
Profile of Dr Caesar Cororaton
American growth and inequality: why Kuznets saw his curve in 1955 when there is none in 1800-2016
DLSU School of Economics Brownbag Seminar
15 March, Tuesday
Yuchengco Hall, 4th floor
(note: powerpoint presentation same as in UPSE Seminar presentation, 11 March 2016)
​A century of Philippine spatial inequality
DLSU Research Congress 2016, Plenary session
08 March 2016, Tuesday
Henry Sy Sr Hall, 5th floor
Professorial lecture and workshop
A course on the analytics and policy design of migration
Oded Stark, Distinguished Professor
University of Warsaw (Poland)

​18-22 January 2016, Wednesday