DOCTOR OF BUSINESS ADMINISTRATION
COURSE INFORMATION
Context
The context of business and management has undergone rapid and profound changes within the last decade. No longer can the study of business and management be confined to the functional and technical areas, as was the tendency in the past. Moreover, business and management practitioners must now manage and be accountable for the substantial impact of their activities not only on internal members, financial stakeholders and customers, but also on members of the immediate community, on society as a whole, and on the environment. There is an urgent need to advance the state of business and management knowledge to reflect these new realities.
Aware of these developments and guided by Lasallian values, De La Salle University aims for the creation and dissemination of practice-oriented management knowledge that will help uplift society. In pursuit of this mission, the Doctor of Business Administration (DBA) Program is designed to advance the professional development of practicing managers, entrepreneurs, management academics and other professionals in the business and public management arena by: expanding their knowledge and perspectives in critical areas of management related to promoting humanistic, socially responsible and sustainable business; and equipping them with research and change management skills.
Anchored on SOCIAL RESPONSIBILITY
GOAL
The goal is to produce the Lasallian DBA – a practice-oriented management scholar who is able to source, assimilate, evaluate, create, disseminate and apply management knowledge guided by humanistic and ethical values.
The DBA Program involves intensive coursework (36 units) and dissertation writing (12 units), which may be completed in a minimum of three years or a maximum of ten years. Classes are held from 6 to 9:15 p.m. on weekdays, and from 8:00 to 11:15 a.m. or from 12:00 to 3:15 p.m. on Saturdays. Students must be prepared to take classes during any of these time slots.
Admission Requirements
Applicants should possess an MBA degree or an equivalent Master's degree in business or management.
Applicants holding a Master's degree without a substantial management and research component may be required to demonstrate competence or complete coursework in the following areas; Business Ethics, Financial Management, Human Resource Management, Marketing Management, Operations Management, Organization Behavior, or Strategic Management.
Applicants must be proficient in oral and written English as well as the use of desktop computer applications and the Internet and must demonstrate potential for doctorate level research through completed research work. Applicants must have at least 3 years management experience (responsibility for planning and achieving goals, budget allocation and personnel decisions) and at least 5 years of work experience.
Applicants must have use of an Internet- and wifi-capable computer for research, writing and presentation and personal Internet access throughout the Program.
DBA Curriculum
FOUNDATION COURSES (9 UNITS)
Management and Organization Theory- 3 units
Statistics for Management Research 1 – 3 units
Management Research 1 – 3 units
ADVANCED METHODS COURSES (9 UNITS)
Action Research – 3 units
Statistics for Management Research 2 – 3 units
Management Research 2 – 3 units
CORE COURSES (15 UNITS)
Business Ethics and Corporate Social Responsibility – 3units
Strategic Management and Corporate Governance – 3 units
Entrepreneurship and Intrapreneurship – 3 units
Sustainable Business – 3 units
Leadership, Spirituality and Organizational Transformation — 3 units
ELECTIVE (3 UNITS from any related program related to the student's dissertation work)
DISSERTATION WRITING (12 UNITS)
Dissertation writing 1— 6 units
Dissertation writing 2– 6 units
Dissertation writing -3 to 15 no unit equivalent, but may be required for completion of dissertation
Dissertation proposal defense
Dissertation final defense
BENITO L. TEEHANKEE
DBA PROGRAM COORDINATOR
GRACE DE LOS SANTOS
DBA PROGRAM SECRETARY
FULL-TIME FACULTY
Faculty Name
Highest Educational Attainment
Field of Specialization
Divina M. Edralin
DM, De La Salle University

Entrepreneurship
Labor Relations
Gender
Work-life Balance
Human Resource Management
Innovation
Child Labor

Brian C. Gozun
PhD, National Graduate Institute for Policy Studies

Statistics
Management and Organization Theory
International management
Sustainable Business
New Business Models
Synergy between public and private sphere
Multivariate Analysis

Raymund R. Habaradas
DBA, De La Salle University

Research Methods
Innovation
Value networks
Social enterprise

Andrea L. Santiago
CPA, DBA, De La Salle University

Family Business
Corporate Social Responsibility
Business Ethics
Leadership
Human Resource Management
International and Higher Education
Sustainable Business

Benito L. Teehankee
DBA, De La Salle University

Corporate Governance
Business Ethics
Management and Organization Theory
Action Research
Catholic Social Thought and Management

PART-TIME FACULTY
Jose Albert
PhD, SUNY
Jaime T. Cempron
PPh.D, De La Salle University
Emiliano T. Hudtohan
EdD, De La Salle University

Ethics and Corporate Social Responsibility

Philip Juico
DBA, De La Salle University
LIST OF ADMISSION REQUIREMENTS
FOR LOCAL APPLICANTS
Application Form with 2×2 picture.
Original copy of Transcript of records
Original copy of NSO Birth certificate
Transfer credential (for non-DLSU graduate)
Two (2) Letters of recommendation (downloadable at DLSU website)
Updated curriculum vitae/Resume plus Certification of work employment and management experience
Personal statement containing academic and career objectives
Two (2) pieces of 2″x 2″ picture for testing permit
Certificate of good moral character from previous school/employer at least six months from date of issuance
Photocopy of research output (for PhD applicants only)
For International AppIicants
Application form with 2″x 2″ picture (downloadable at DLSU website)
Photocopy of passport
Two (2) copies of Transcript of Records (Authenticated and Original copy)
Certificate of Graduation (with degree title and date of graduation)
Two (2) copies of Certificate of No Criminal Record (Authenticated and photocopy)
Two (2) Letters of Recommendation (form downloadable at DLSU website)
Curriculum Vitae or Resume plus Certification of work employment and management experience
Personal Statement (format can be viewed from the DLSU website)
Photocopy of Research output
Two (2) pieces 2″x2″ recent picture for testing permit
FLOWCHART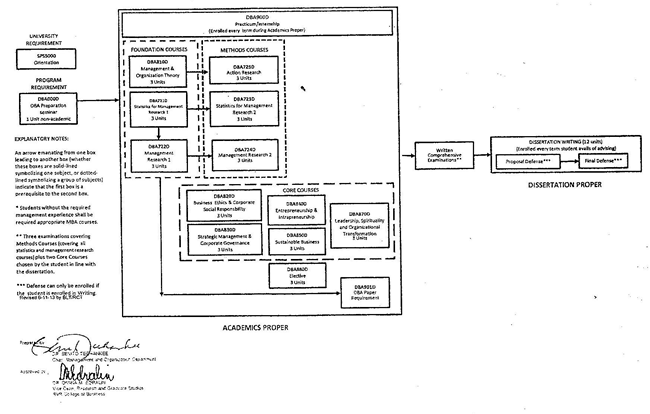 Click image for larger view
Contact Information
Office of Admissions and Scholarships (OAS)  
Second Floor, Henry Sy, Sr. Hall De La Salle University 2401 Taft Avenue
1004 Manila, Philippines
Tel. Nos:
(632) 523-4230 (Direct) or 524-4611 to 19 local 166
Office Hours
Mondays to Fridays: 8:00 am – 12 noon; 1:30 pm – 5:00 pm
Saturdays: 8:00 am – 12 noon only
E-mail: admissions@dlsu.edu.ph
Website: Graduate Studies Admission