BS/MS Honors Program for Industrial Management Engineering minor in Information Technology (BS/MS IME-IT)
The Industrial Engineering Department offers the ladderized B.S. Honors/M.S. Program for qualified Industrial Management Engineering minor in Information Technology students who have maintained a cumulative grade point average of at least 3.0 before their senior level in the BSIME-IT program. The student is expected to obtain both BS and MS degree in 5 years and one term. Students who are accepted in the program are provided one-on-one faculty mentoring with a computer and an office space.
Goals and Objectives of the Program
As a critical and creative thinker
As an effective communicator
As a reflective life-long learner
As a service driven citizen
An innovator and constant seeker of improvement
Program Learning Outcomes (LO):
An ability to apply knowledge of mathematics, physical and information sciences, and engineering sciences to the practice of industrial engineering
An ability to design and conduct experiments as well as to analyze and interpret data
An ability to design, build, improve, and install systems or processes which are efficient, effective, as well as robust to meet desired needs within identified constraints
An ability to work effectively in multi-disciplinary and multi-cultural teams
An ability to recognize, formulate, and solve engineering problems
A recognition of professional, social, and ethical responsibility
An ability to effectively communicate orally and in writing using the English language
An understanding of the effects of engineering solutions in a comprehensive context
An ability to engage in life-long learning and an understanding of the need to keep current of the developments in the specific field of specialization
An ability to use the techniques, skills, and engineering tools necessary for engineering and business practice
An ability to perform services in the form of analysis, design, preparation of plans, specifications, estimates, and implementation of: work standards, SPC, production planning and material control systems, manufacturing and service facilities, operations research models for production and operations, and information systems
Knowledge and understanding of engineering and management principles as a member and leader in a team, to manage projects in a multi-disciplinary environment.
Program Study
Program of Study for BS/MS IME-IT
ID 110, 111, 112, 113, 114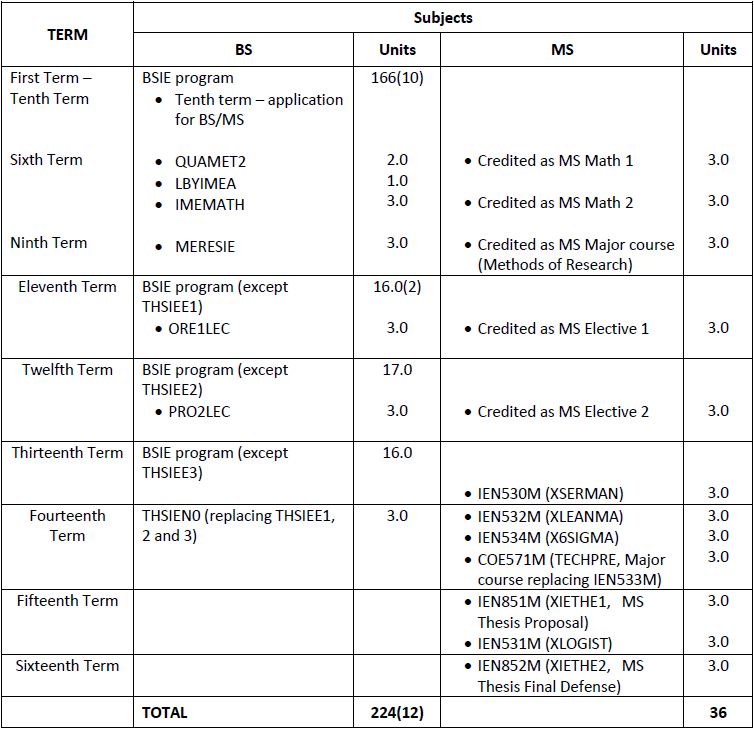 Click image for larger view.
For 
PDF
 version of 
Program Study
 please click 
here
.
Course Descriptions for BSMS Programs
Course Description
The BS/MS student needs to take up all the course requirements for the Bachelor of Science in Industrial Management Engineering minor in Information Technology (BS IME-IT) and additional courses from the Master of Science in Industrial Engineering (MSIE) as shown below:
Courses
No. of Units
Type
COE571M
Technology and Entrepreneurship
3
Major Course
IEN531M
Inbound and Outbound Logistics
3
Major Course
IEN532M
Lean Manufacturing
3
Major Course
IEN533M
Information Systems Design and Management
3
Major Course
IEN534M
Six Sigma Quality Systems
3
Major Course
Thesis
6
TOTAL
21 units
Additional Courses:
COE571M Technology and Entrepreneurship
3 units
This course covers entrepreneurship in technology ventures, and takes the master's course student through the commercialization of an assigned technology idea into a viable enterprise, thereby simulating the entrepreneurship challenge faced by the non-inventor consultant, business partner or venture capitalist (named the "Steve Jobs model" in recognition of his skill/insight in spotting and creating the commercial opportunities from existing but under-appreciated inventions). It examines how technology ideas may be developed into opportunities and eventually into viable businesses; it takes the students through the process of crafting the business model, and then the business plan, which will be the final output of this course.
IEN531M Inbound and Outbound Logistics
2 units
This course covers the principles of a supply chain system and emphasizes on the elements of Inbound and Outbound activities and how to manage the flow of goods and materials. This course also includes discussions on the Extended Supply Chain Model.
IEN532M Lean Thinking/Lean Manufacturing
3 units
This course contains the principles of lean manufacturing, value stream mapping, waste elimination (muda), and cycle time improvements.
IEN533M Information Systems Design and Management
3 units
This course covers principles on how to design information flows and databases, flowcharting techniques, and new developments in Information Systems.
IEN534M Six Sigma Quality Systems
3 units
This course deals with the concept of six sigma and how it works. It also covers the DMAIIC methodology and important quality tools necessary to complete a six-sigma project such as SPC, DOE, VOC, Gage R and R, Process Capability Analysis, Multi-Variate Analysis, Process Mapping, and many more. The course focuses on linking the quality tools into a structured approach for achieving zero defects.
Contact Information
Office of the Chair
Brother Andrew Gonzales Hall, 8th Floor
2401 Taft Avenue
1004 Manila, Philippines
Tel. Nos.: (632) 524-4611 loc. 220
Telefax: (632) 524-0563
Email (Chair) : chairIE@dlsu.edu.ph
Website: Industrial Engineering
URL: www.dlsu.edu.ph