Bachelor of Science in Mechanical Engineering with Specialization in Mechatronics Engineering
Program Description
Mechanical Engineering is one of the broadest professions. The women and men in the mechanical engineering profession work in almost every industry, in private practice, in government, in medicine, in law, and in universities. Mechanical engineers touch almost every aspect of technology. They create machines, products and technological systems that benefit society. Their work can take them around the world – anywhere there are machines, there are mechanical engineers.
The Mechanical Engineering program in DLSU is among the most advanced and up-to-date ME programs in the country in line with the demands of the information age. It is fully complemented by a highly effective faculty, up-to-date teaching facilities – laboratory, computers and Internet, and library facilities, research orientation through the thesis program, and underscored by relevant industrial practice through the Industry-Academe Linkage. The Commission on Higher Education (CHED) bestowed the Center of Excellence award on this program for two straight years.
DLSU ME students undergo very extensive training in the use of Computer-Aided Drafting/Design, in particular the use of AutoCAD, SOLIDWORKS, and ANSYS. The ME curriculum is always updated to emphasize two main areas of concentration in the final year – Mechatronics and Energy & Sustainability.
Mechatronics. Mechatronics is an integration of mechanical, electronics, computer, and controls engineering. The key mechatronic areas include sensors and instrumentation systems, drives and actuators, and computer-aided engineering design.
Energy & Sustainability. The area of Energy and Sustainability integrates the knowledge acquired in the fields of thermal, fluid, and environmental sciences, power engineering, economics and management.
The job opportunities for mechanical engineers are outstanding. This means greater opportunities to do interesting work and the flexibility to do the work you like to do. Since machines and mechanical systems are almost everywhere, mechanical engineers can usually find employment where they want to live.
The training provided by the program prepares the students in various career options in industry, academia and government. The fields of practice include operations, maintenance, installation, testing, research and development, design, consulting, management, sales, marketing, and teaching.
Through activities hosted by the American Society of Mechanical Engineers-International and American Society of Heating, Refrigerating, and Air-Conditioning Engineers, the students are given opportunities for international exposure thereby preparing them for global practice of ME.
Considering the quality of its instructional program, research and community service, the ME Department is awarded the lone Center of Excellence in the Philippines by the Commission on Higher Education.
Program Requirements:
| | | |
| --- | --- | --- |
| Academic Units | : | 211 |
| Non-academic Units | : |  10 |
| Total Units | : | 221 |
Expected Learning Outcomes:
Apply knowledge of mathematics and science to solve mechanical engineering problems;
Design and conduct experiments, as well as to analyze and interpret data;
Design a system, component, or process to meet desired needs within realistic constraints, in accordance with standards;
Function in multidisciplinary and multi-cultural teams;
Identify, formulate, and solve mechanical engineering problems;
Understand professional and ethical responsibility;
Communicate effectively;
Understand the impact of mechanical engineering solutions in a global, economic, environmental, and societal context
Recognize the need for, and engage in life-long learning
Know contemporary issues;
Use techniques, skills, and modern engineering tools necessary for mechanical engineering practice;
Know and understand engineering and management principles as a member and leader of a team, and to manage projects in a multidisciplinary environment;
Program Learning Outcomes (LO):
The Program Educational Objectives of the BSME Program of De La Salle University-Manila are statements that describe the career and professional accomplishments of the BSME graduates after about five years from graduation.
PEO1 (leadership): Graduates will be leaders in the field of mechanical engineering, its allied disciplines such as manufacturing, and/or business enterprise.
PEO2 (life-long learning): Graduates will continue to be engaged in life-long learning, understanding and applying knowledge and ideas in mechanical engineering and allied fields.
PEO3 (social responsibility): Graduates will be informed and involved members of ME professional society/ies or other professional organizations as well as in community-based organizations.
Alignment of Student/Learning Outcomes and PEOs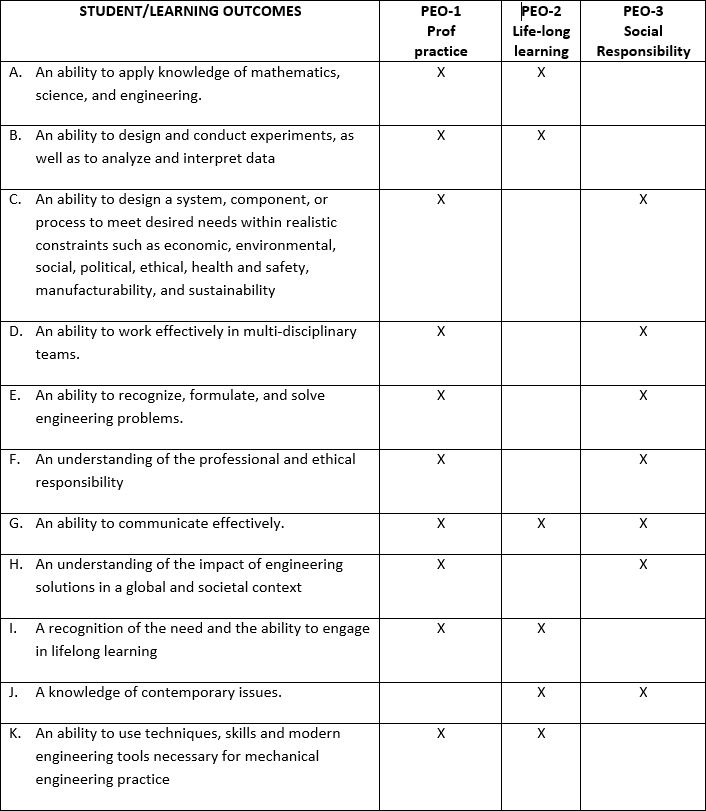 Program Checklist
Individual course checklists provide students with information on where they are at any point in their course of study. This serves to guide the student on the appropriate courses to take upon each enrollment, particularly if pre-requisite courses are required.

Click image for larger view
For PDF version of Program Checklist please click here.
Curriculum Map
The matrix shows the major courses in the Program and their alignment with the student outcomes
Curriculum Mapping of Major courses