Bachelor of Science (Honors) and Masters of Science in Mechanical Engineering
Background
The De La Salle University – Gokongwei College of Engineering has been offering engineering programs since 1948. One of the first engineering degrees granted was B.S. in mechanical engineering which was given government recognition in 1952. From introducing a specialization in computer applications to incorporating options or concentrations in energy and environmental technology, mechanical design, and mechatronics, the baccalaureate curriculum has undergone changes through the years to make it relevant and innovative.
Today, the Department of Mechanical Engineering is offering M.S. (government recognition in 1994) and Ph.D. (temporary permit in 1998) in mechanical engineering.
With Asia-Pacific Economic Council's (APEC) agenda to liberalize professional services and the increasing market demand for professionals with postgraduate studies, the Mechanical Engineering Department proposes a B.S. Honors/M.S. Program in mechanical engineering to graduate globally competitive mechanical engineers. The proposed program would allow students to graduate in five year instead of six years and one term duration for a regular B.S. and M.S. programs.
Rationale
The Mechanical Engineering Department proposes the above B.S. Honors/M.S. program for the following reasons:
To attract more bright and promising high school students into the mechanical engineering program of De La Salle University.
To motivate students to strive for academic excellence.
To further improve the quality of mechanical engineering graduates.
To further enhance the competitive advantage of mechanical engineering graduates of De La Salle University in the job market.
To reduce the number of years of study in obtaining a B.S. and M.S. degrees.
Program of Study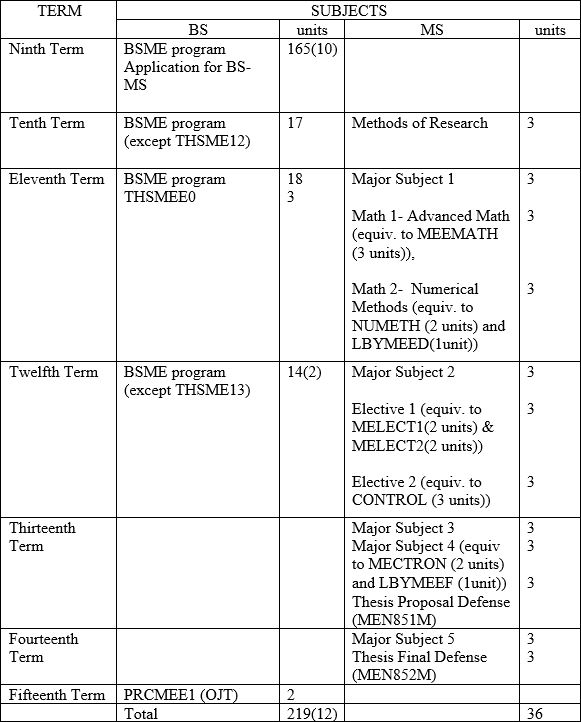 Program Learning Outcomes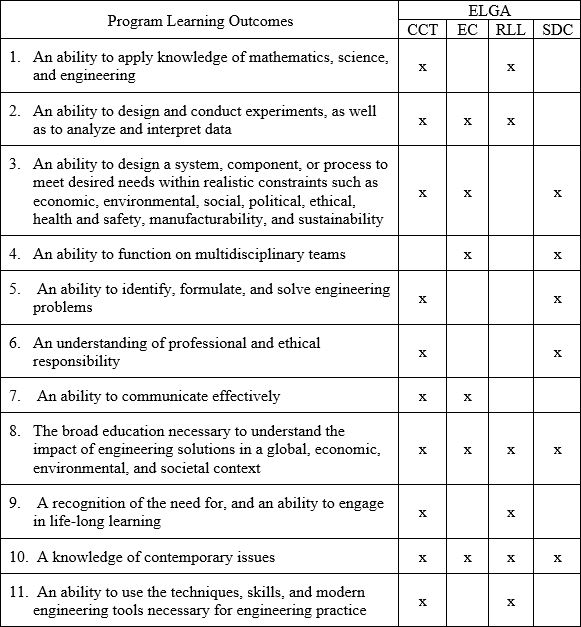 ELGA- Expected Lasallian Graduate Attributes,
CCT – Critical and creative thinker,
EC – Effective communicator,
RLL – Reflective Lifelong Learner,
SDC – Service-driven citizen
Curriculum Map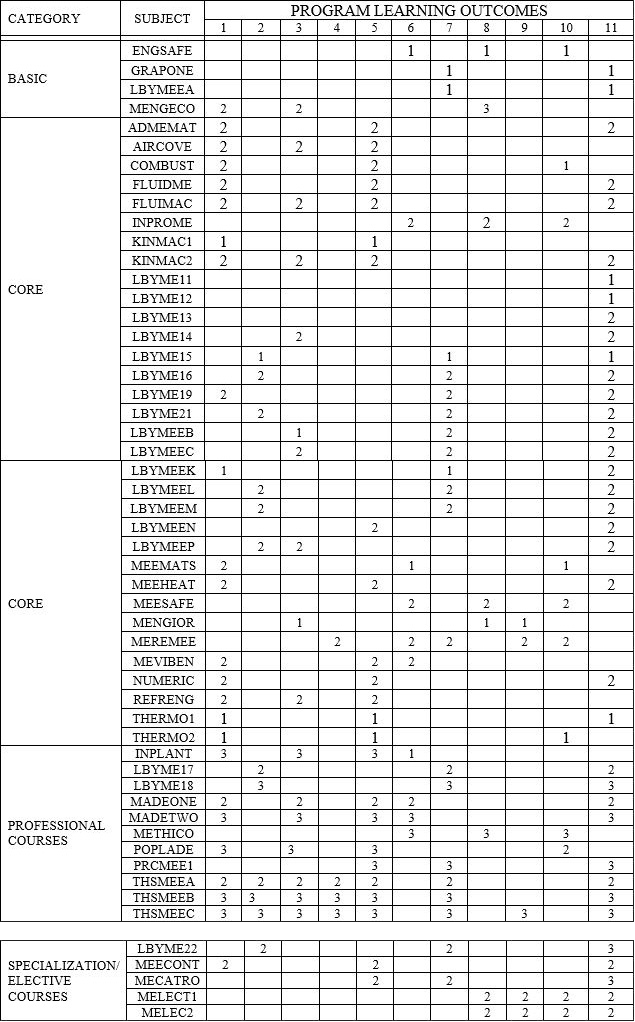 Please adjust category/subject according to your curriculum.
Place check mark (or asterisk) in appropriate box. Alternatively, you may place 1, 2, 3 to indicate the degree to which the subject contributes to the program learning outcome